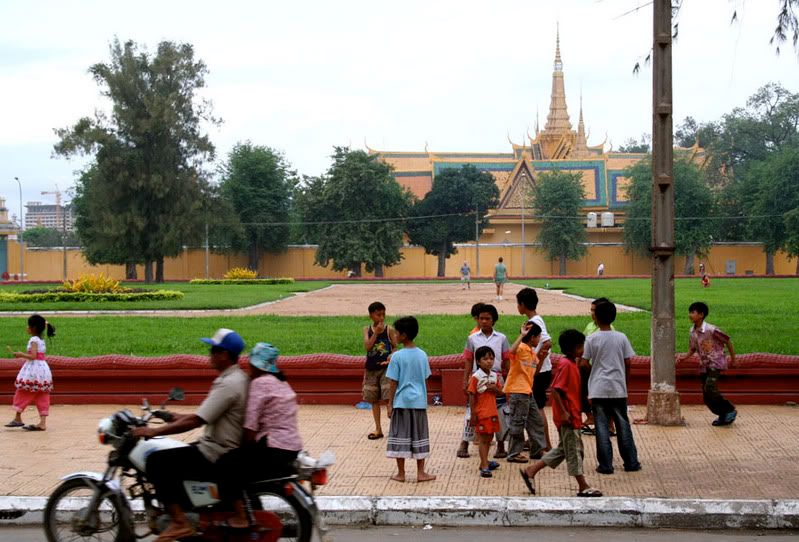 While the week before my birthday was spent among the jungled ruins near Siem Reip, the actual day of my 24th was spent in Phnom Penh, Cambodia's capital. It was a chance to enjoy some urban pleasures, in one of the strangest capitals in the world.
Phnom Penh was a fascinating city, both more pleasant and more jarring than I had expected. After weeks in Southern Laos and rural Cambodia, it was a strange confrontation to be in such an urban space. There were hip cafes and trendy bakeries, serving tasty coffee and elegant pastries. There were leafy avenues, packed with traffic. And there were disturbing signs of poverty and misfortune: amputees sitting on sidewalk corners, mother beggers with sick children in tow.
For my birthday, Bordeaux woke me with breakfast in bed, and some gifts he had cleverly gathered. In search of coffee, we walked along the riverbank, peeking in at the disappointing cafe at the dismal Cambodiana Hotel. We found good lattes at Cafe Fresco, and spent most of the afternoon relaxing. For dinner, Bordeaux took me to the Foreign Correspondent's Club. While the Phnom Penh branch of the FCC isn't quite as sexy as the modern white branch in Siem Riep, the restaurant had a nicely casual atmosphere and a beautiful river view. We first visited the top floor, where we ordered cocktails. We then moved downstairs, into the pale-yellow walled dining room, where Bordeaux had reserved a table looking out over the river. I ordered a spicy crab curry, which was incredible. We even ordered wine (a rare luxury for us in Southeast Asia). For dessert, we had an unusual sticky rice dessert, served with melty vanilla ice cream. We also ordered more alcohol- two shots of a warming port that were the perfect end to a great day. The fact that my birthday was so pleasant is all credit of Bordeaux- who not only knows me so well, but was somehow able to plan an incredible day in a foreign city we'd never been to before.