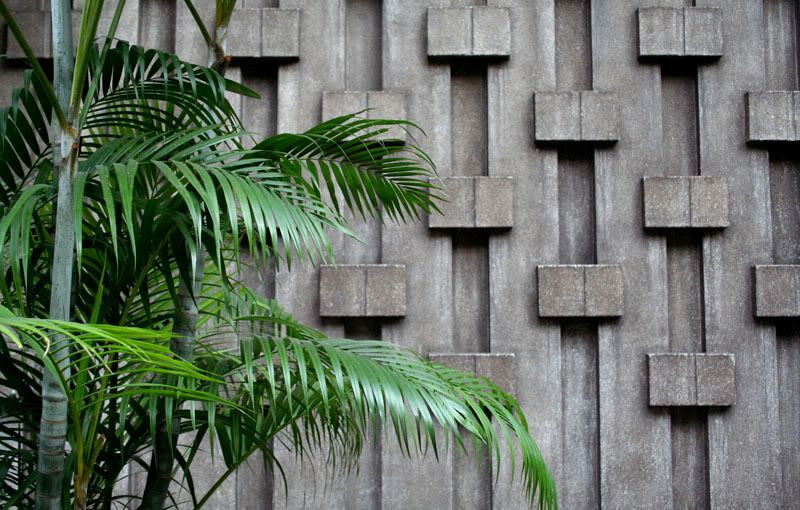 As a Valentine's Day gift, Bordeaux booked a night for us at a hotel in Silom, a stylish urban neighborhood near the city center. It's an area that we both like, and one that we thought we knew well. Yet spending the night there revealed a different side to the streets of Silom.
Bordeaux had booked a room for us at the Luxx, a boutique hotel on a leafy soi off of Silom. The stylish room was perfect for our night away. A huge bed with crisp cool white sheets, refreshingly spare decor, and a wooden bathtub with a rain shower.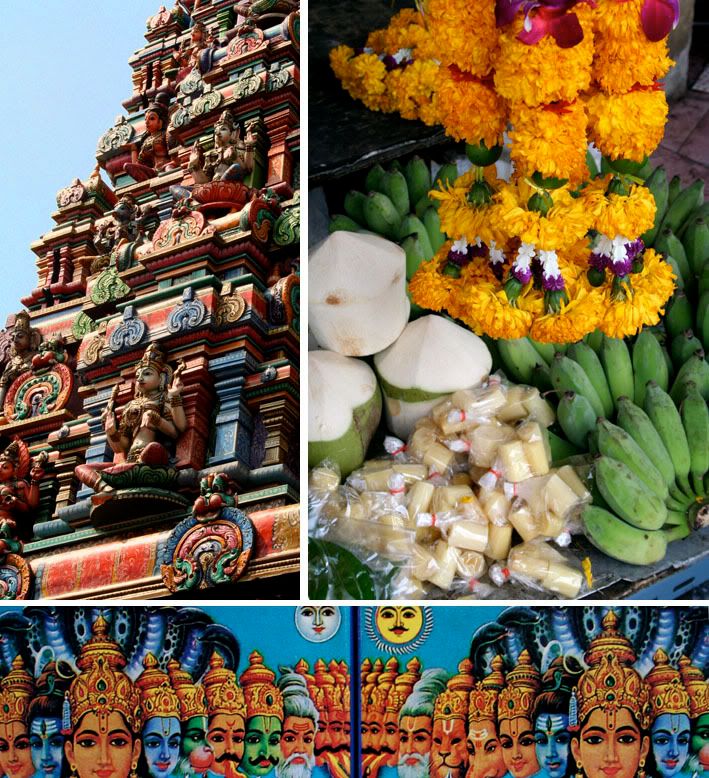 In search of lunch, we came across a Hindu temple that we had never seen before. The air around the temple smelled sweetly of incense, and the sidewalks were crowded with tables of offerings, garlands, and lottery tickets. Down the street we visited the
Kathmandu Gallery
, which was showing a mix of work by some very witty Thai artists.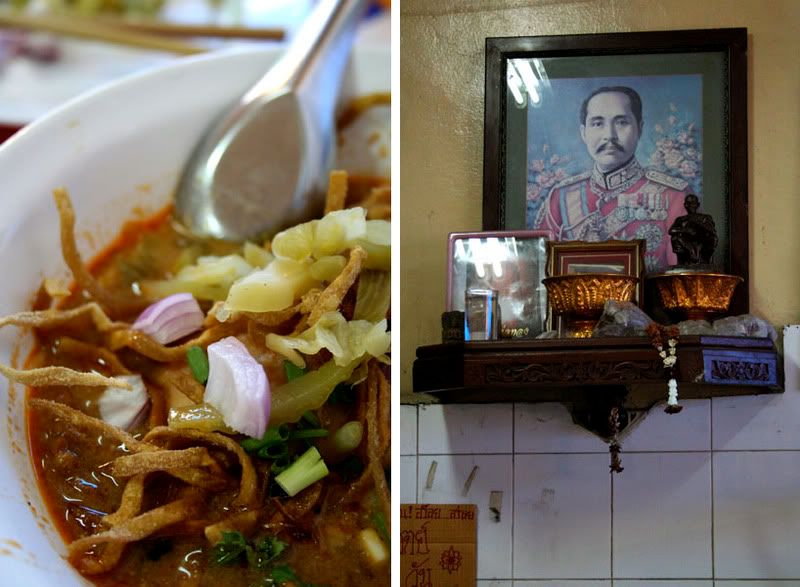 For lunch, we ate at a hole in the wallacross from the temple called
Khrua Aroy Aroy
. It's a popular little curry house, with a long lunch counter at the front of a small tiled room. Their greasy laminated menus show a mix of Thai regional dishes, from massaman curry to khanom jeen. I ordered the khao soi, a Northern Thai style curry dish that's somewhat difficult to find in Bangkok. The soft chicken and rich spicy broth were piled with delicious crispy noodles; seasoned with onions and pickled vegetables, it was an incredibly tasty dish.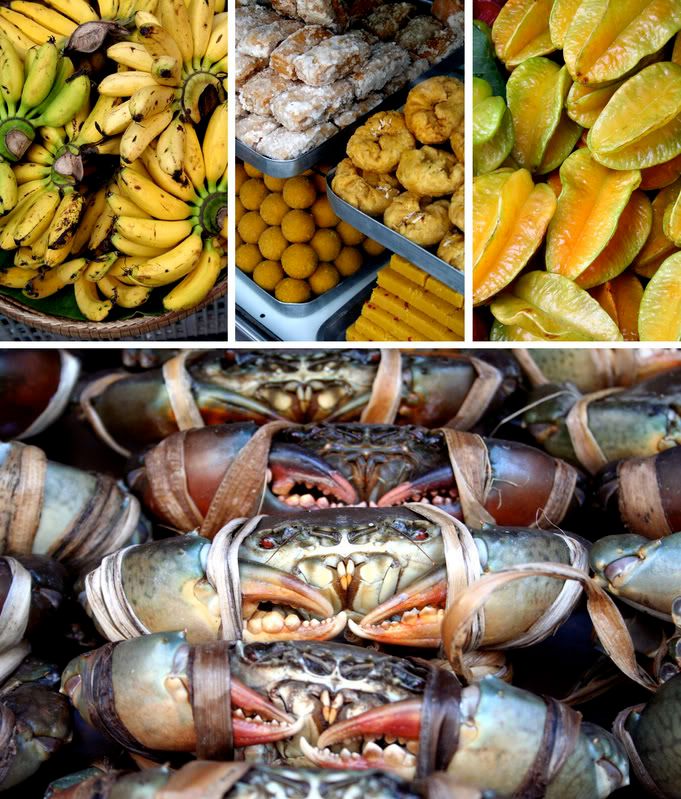 After lunch, picked up sweets at a nearby Indian bakery, and set out to explore the neighborhood. We wandered around the busy sois of the neighborhood. Up Silom Soi 20, we found a busy market, where citrus tinted fruits were stacked in piles. A woman flagged us down, trying to get us to buy Thai gay magazines, but we politely declined.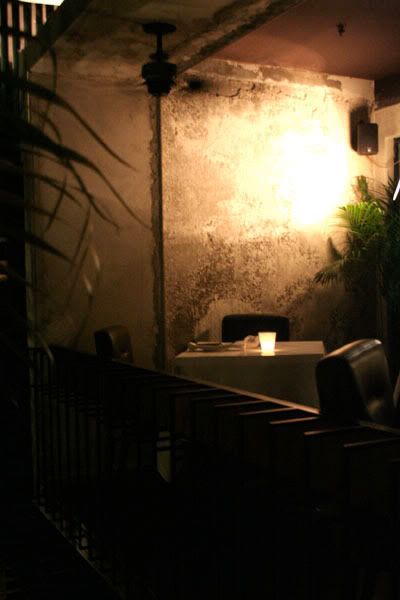 After a rest and a coffee, we went out for dinner at
Eat Me
, a chic restaurant and gallery. Set back from Thanon Convent in a palm shrouded compound, the atmosphere at Eat Me was seductively tropical. We sat on a long patio balcony, where jungle leaves cast shadows across bare concrete walls, and black fans swirled the air above every table. Over a long and leisurely evening, we had a lavish spread of dishes: duck spring rolls, herb braised fish, salmon and tarragon, which we paired with exotic cocktails. The highlight of the meal for me was perhaps the dessert, three scoops of creamy ice cream in spicy flavors: a refreshing milky lemongrass, a fiery ginger, and a potent chili vanilla.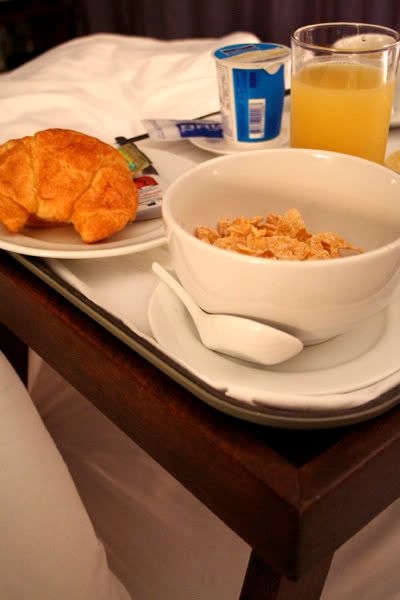 A solid night's sleep was followed by breakfast, which was brought to the bed on wooden trays.
Silom is a neighborhood that I enjoy, but not one that I often think of as being particularly exotic. Exploring the alleyways and hidden corners of the neighborhood revealed that side to me. In a way, Silom has got it exactly right: it's stylish and hip, but refreshingly tropical. It offers cosmopolitan charms, while still harboring delicious Thai flavors. It's the combination that makes Bangkok the amazing city that it is.