Being able to shop at Chatuchak market was perhaps at least a small part of the reason I wanted to come back to Bangkok. The first time I went, I had been in Thailand for less than a week- all of the people, the tight spaces, and the mountains of knock-off Puma sneakers were rather overwhelming. But eventually I relaxed, and ended up really enjoying the visual onslaught of the world's biggest market. This time around, I was more prepared. And even better, I was actually able to shop- required to, even- as I had a bed at home that needed sheets.
Chatuchak surprised me the first time I visited; I had been expecting the knock-off handbags and cheap t-shirts, but I wasn't expecting the rather chic outlets that have stands at the market. There are home stores selling expensive decor and hip linens, and stylish stands selling lemongrass candles and coffee soaps.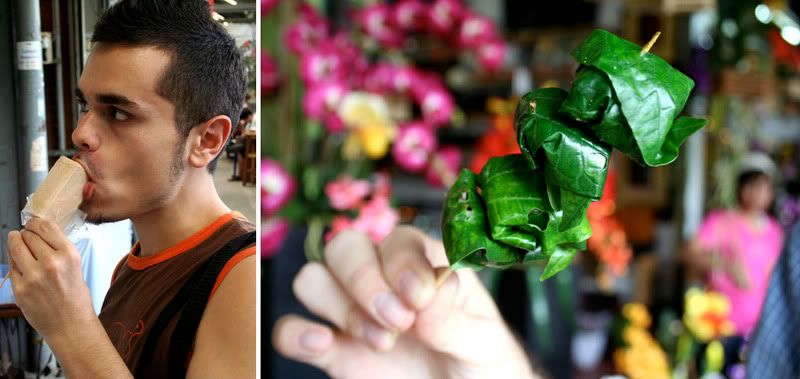 Though we were there ostensibly to shop, we likely spent more of our time eating. The market is a good time to try out new foods from the numerous vendors that are positioned at every intersection; though not all of these experiences end well (see: the
fishball incident
). While walking through the rather chic home wares section in the far corner of the market, we found a man selling home-made ice-cream popsicles from a cooler. He had several strange flavors, like durian and banana; Bordeaux selected black-bean, and I had coffee. Both were incredible: soft, creamy, and deliciously flavored. A bit later, we found a woman selling miang kham on a stick. These are little packages of coconut, peanuts, chili, lime, and dried shrimp, wrapped in a bitter green leaf. They're one of our favorite Thai snacks, and they worked perfectly as a simple, skewered treat.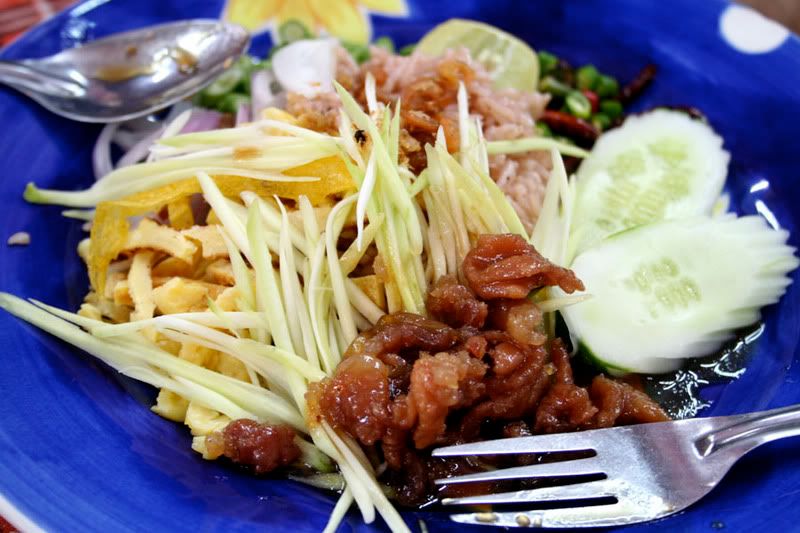 Eventually, we decided to stop and rest for a real meal. We found a cluster of foodstands, and ordered at the one that had the strangest menu. Our meal was an odd but rather delicious salad. On the plate were several piles of ingredients: shredded papaya, raw green beans, strips of fried egg, pieces of caramelized pork, tiny chili slices, scraps of purple onion, and two big slices of cucumber, all circled around a mound of brown rice. We could then mix the ingredients in each bite, adding extra chili for heat or pieces of pork for flavor. Aside from the pork, it was all rather fresh, and had a lightness that worked well for the heat of the market.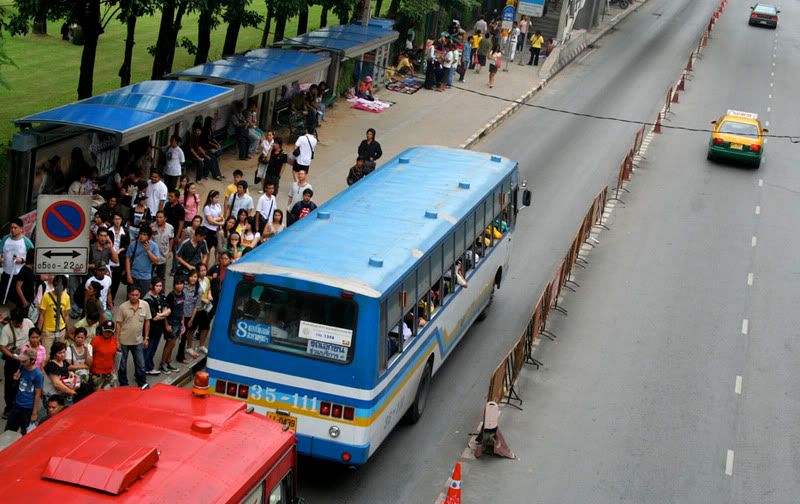 We eventually found a few places selling nice linens, in simple, solid colors. We considered the sets from one stand, who sold sheets and pillow cases in fun, co-ordinating colors. In the end we instead selected our fitted sheet and pillow cases (in Thailand no one uses a flat sheet) from a cheap discount stall. We'd had enough of the market by that point, so we managed to find an exit and get out. We live on the other side of town, but thankfully it's just the opposite end of the skytrain line, so getting home was extremely simple. Once we had the bed dressed, we found that the fitted sheet was actually a somewhat dull mint-green. Thankfully, the pillow cases are a beautiful deep chocolate brown. Perhaps we'll go back to look for a new fitted-sheet (and a lot of other things) once our first real paychecks come in.