Roadtrip, Part 3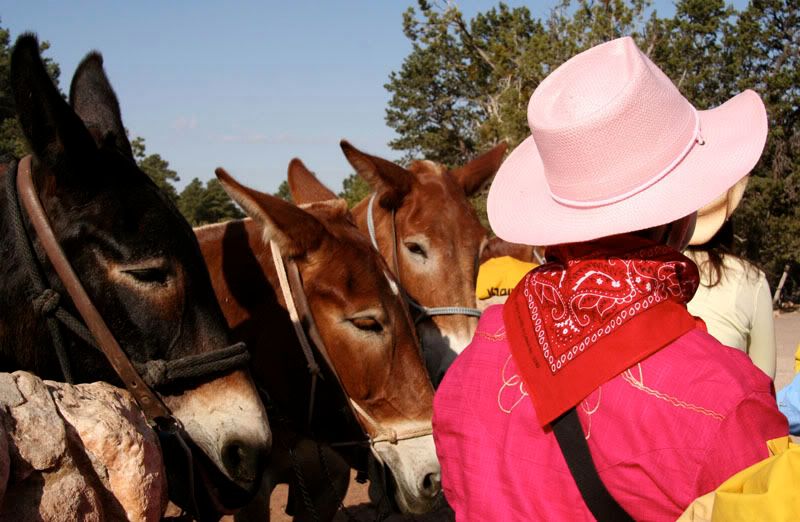 From the quiet, unusual beauty of the desert, Bordeaux and I traveled to the monumental wonders of the Four Corners.
The sky became dark as we approached Sedona, and it was raining by the time we found a place to have lunch. Outside, the red cliffs and pinnacles were alternately drowned in shade and caught in pools of light as the storm moved overhead. When the rain cleared we walked around town, which, as it turns out, is extremely tacky. Bordeaux and I wandered around town, and wondered what the correlation is between New Age culture and a lack of taste.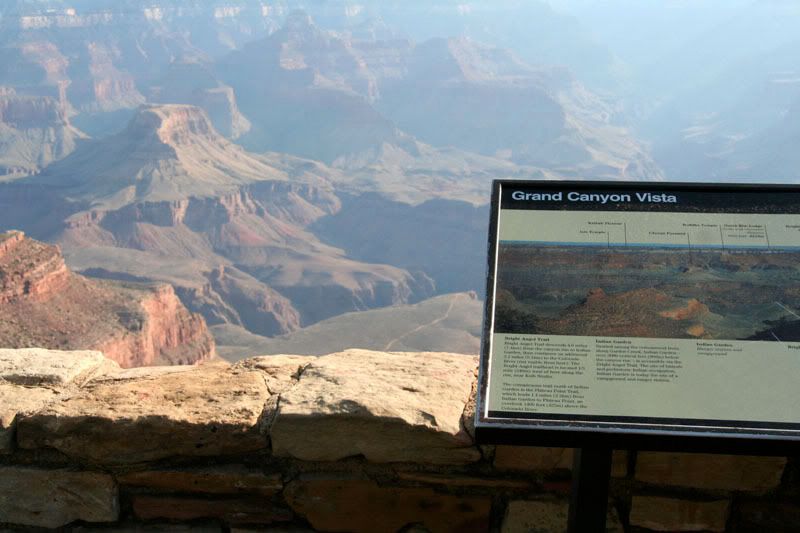 Bordeaux and I arrived at the Grand Canyon that evening, escaping a second storm. We set up camp, made dinner, and went to sleep without seeing the canyon. The next morning, we took the shuttle to the ridge. The Grand Canyon is always an odd sight to visit, since it's image is so common in books and magazines. It's still an incredible sight, but it's hard for it to be really outstanding, since it always has an element of familiarity. Still, I like the Grand Canyon- especially since the place has kind of a '50s family vacation feel.
I'd seen the Grand Canyon from the rim several times, but on this visit Bordeaux and I decided to hike down into it. We had hoped to sleep in the canyon for one night, setting up camp at Indian Garden, but found that they had given out all the backcountry camping passes already. We settled instead on simply taking a morning hike down Bright Angel Trail- about 3 miles down and back. On the way to Bright Angel Trail we passed the mule pen. I hadn't realized how many people came to the Grand Canyon to ride mules- the appeal of which is lost on me. I was fairly fascinated by the crowds of middle-aged men and women, dressed in cowboy hats and bandanas, that waited for their turn for a mule ride. We passed the mules throughout our hike. Aside from the mess they made of the trail, the mule trains were fun to watch- giant obese men in cowboy hats, and dozing off old ladies propped up on the sadly plodding animals.
Bordeaux and I camped, but we still found time to check out the Grand Canyon Lodges. I think my favorite is the Bright Angel Lodge- it's not as dramatic and grandiose as the El Tovar (which was modeled on European hunting lodges), but it has a funny 1930s Western theming that makes it much more charming. It has a soda fountain, a log-cabin giftshop, and a dark bar with smoke-stained murals of a Native American Pueblo. On our last night Bordeaux and I had drinks on the patio at El Tovar, and watched the sun set over the canyon.
Just outside of the park, we stopped at Chief Yellow Horse, an over the top souvenir stand. The exterior, with massive signs, and a giant boat-car (painted in the same yellow house paint as the signs), was far more interesting than the interior, which was filled with dusty turquoise and postcards. Leaving Chief Yellow Horse without purchase (which would have been hard if we ahd wanted anything, since the place seemed deserted), we continued on our way to Utah. As Bordeaux and I had noticed throughout our trip, if you drive for 30 minutes in the Southwest, the landscape will change dramatically. From the dry woody Grand Canyon, we passed into scrubby grassland, punctuated by strange mesas and multi-colored rock formations.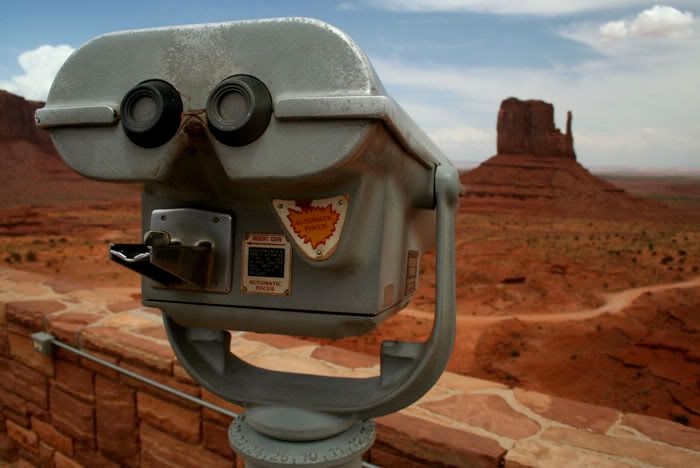 Just past the Utah border, Bordeaux and I entered Monument Valley. Compared to the Grand Canyon, Monument Valley has a strange sense of remoteness. It's not an unfamiliar place, as its dramatic buttes are featured in all sorts of adverts and movies. However, despite its use in the media as an icon for the West, not many people think to visit Monument Valley. There are no hotels nearby, and not many restaurants, making it seem like a distant outpost, even with the Dutch and French tourists milling around.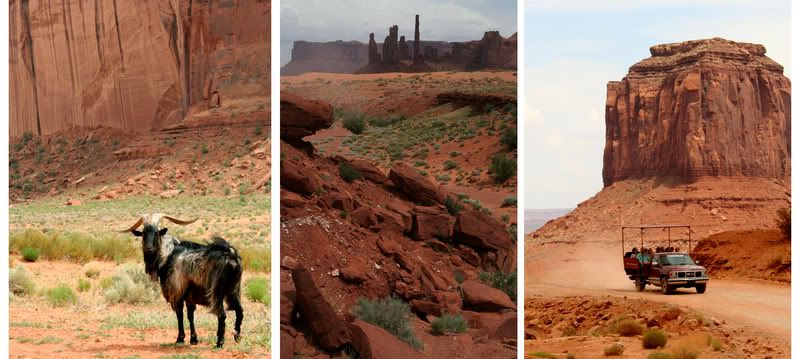 When I last visited Monument Valley, the scene was of a rugged desert landscape. Red buttes rising out of dusty red earth. But due to the recent rains, Monument Valley was in bloom this time. Green shrubs, purple flowers, and white yucca blossoms sprouted from the soil, giving the area the softer, less barren look of a grassland. Bordeaux and I made the driving circuit of the park- through a herd of skittish goats, under massive red clay walls, and to a windswept stand selling dream catchers. Completing the circuit, Bordeaux and I decided not to camp at Monument Valley- we'd seen the park, and the constant film of red dust was getting annoying. Instead, we continued to Southern Colorardo.
I have been to Southern Colorado many times, but I never realized how beautiful it is. There was still a fair amount of snow on the mountains, which contrasted with the lush green fields that skirted the highway around us. With the rolling forested hills, dramatic snowy purple peaks, and rushing frosty rivers, the scene looked perfectly American, like an ad for a pickup truck or a domestic beer.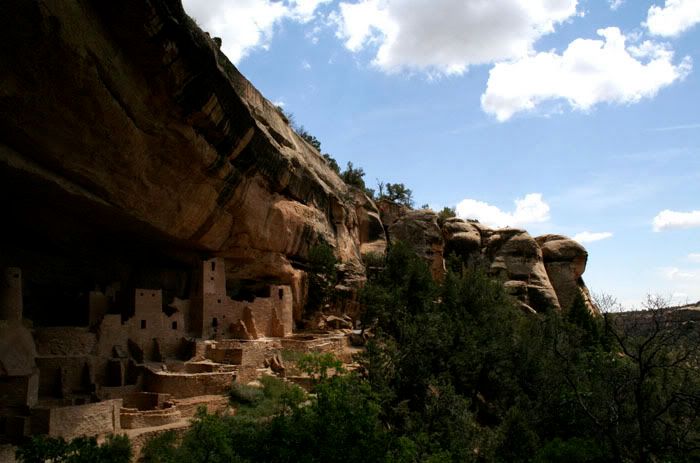 In the morning we backtracked a little to Mesa Verde, which sits almost right on the four corners. The park offices were designed in a pueblo-modern style, and contained such novelties as a taxidermy cougar and a practice-tunnel to prepare visitors for exploring the ruins. Bordeaux and I bought tickets to tour Cliff Palace, which is the biggest ruin site, and does not contain any tunnels. We drove out through burned forest to the site, and waited for the tour to start. Our tour guide was a scholar on Native American history, who seemed somewhat resigned to the jokey tour he recited.
We spent two nights at a cabin in Pagosa, Co, though we spent more time out in Durango, where New-Age devotees mixed with drunken college students. We passed through Pagosa proper as we left town, and decided to stop at the Malt Shoppe. The place was crowded, the orange formica booths full, so we got our malts to go and continued on the road.
Once again the landscape changed, flattening out into grassland. We had our second large wildlife setting an hour outside of Pagosa- a herd of bison. They were farmed bison, but beautiful none the less. As we approached Great Sand Dunes, we realized that we were heading into a storm. Caught in a sliver of light from between the dark clouds, the sand dunes themselves looked particularly strange: peaked golden hills, glowing in front of the dark, distant mountains.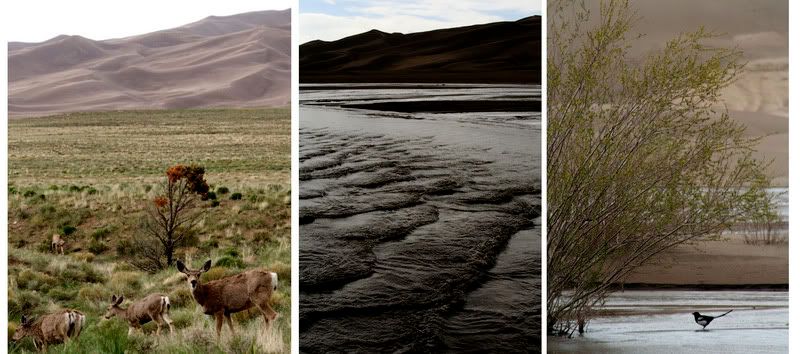 I had expected the Great Sand Dunes to look something more like Namibia, but the setting was far stranger. The sand dunes were high but fairly sloping, rising from beyond a shallow stream. Just beyond them were a crest of snowy mountains, preventing any sense of being in a Saharan desert. We walked along the stream, our shoes making shallow grooves in the wet earth that filled up with water as soon as we raised our feet.