Since coming to Southeast Asia, I've been introduced to many new flavors and exciting dishes. As a result, the position of "favorite food" has gone through a lot of contenders. Massaman curry, haw mok, meang kham, dragonfruit, and squid with cashew nut have all held the top spot. My current favorite food is poo phat phong karii, yellow crab curry. It's an unbelievably tasty dish, and with its roots in Chinese cooking and Indian ingredients, it perfectly reflects Southeast Asia's diverse influences. Unlike most Thai curries, this dish uses curry powder- the result is a slightly lighter, though still rich dish.
1. I ate my first bowl of yellow crab curry for dinner on my
25th birthday
, perhaps foreshadowing to the degree to which I would grow to love this dish. I was in Phnom Penh, and my boyfriend took me to the FCC for dinner. Though delicious, the dish didn't immediately get me hooked. The emphasis on their version (pictured at top of page) was more on the spicy leaves, which to some degree dominated the flavor of the meal.
2. My second dish came just a few weeks ago, at our beach-side hotel in Prachuap Khiri Khan. We had initially shrugged off the idea of eating dinner at our guesthouse, but once on the beach we decided that it might just be the easiest way to relax. The hotel's manager arranged for dinner to be delivered from a nearby restaurant, and when we arrived at the dinner table we were amazed by the spread. There was a whole crispy fried fish, a rich and spicy tom yum koong, a sweet and savory seafood stir-fryed cashew nuts, and a platter of yellow crab curry. Everything was delicious- the tum yum koong was the most flavorful I've ever had, and the seafood stir-fry had a number of creative ingredients, like sweet dates and crisp water chestnuts. But it was the yellow crab curry that left me stunned- fitting, since Prachuap Khiri Khan is famous for their crab.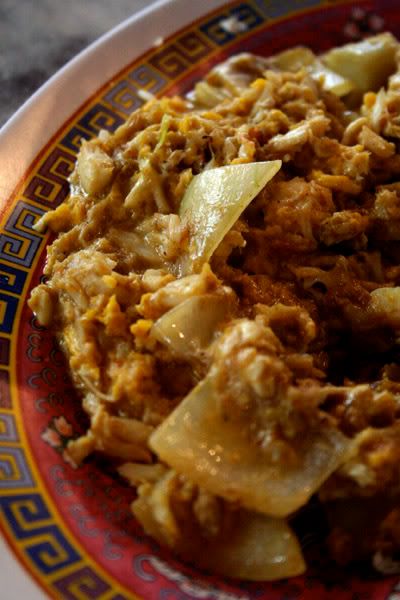 3. A few weeks later, Bordeaux took me for Sunday lunch at a dark corner restaurant here in Bangkok. The dish (pictured above) wasn't much to look at, but it was extremely rich and flavorful, with more emphasis on the curry sauce than on the flavor of the vegetables.
4. Some friends of Bordeaux's came to town, and for dinner they decided to go to the
Mango Tree
- an attractive outdoor restaurant near Silom that caters to a mix of gay and straight tourists. The tables were strewn around an open house and a large garden, which was cluttered with Thai antiques. After reading some reviews of the restaurant online that stated that the kitchen staff tone down the spiciness of their dishes, I had come prepared for bland food and high prices. The prices were certainly high, but thankfully the food wasn't bland at all. The huge menu had a wide range of interesting Thai dishes- and though I came close to ordering a salad that was within my teacher's salary range, thankfully I eventually splurged on the yellow crab curry. The dish was unbelievable- by far the best I've had. The crab was tender, and the herbs and Chinese celery added a nice sharp note to the otherwise creamy curry.
5. The next day, I was looking for lunch on a market soi near my school when I came across a large pot of yellow crab curry (pictured below). The dish looked beautiful: red-and-white pebbled crabs and fresh vegetables, bathed in a creamy yellow sauce. The flavor, however, was unbelievably bland. To some degree, I was relieved- I might have had some regret had I paid several times more for the same dish the night before. Though I think finding a cheap, delicious yellow crab with curry three minutes walk from my schol would have made up for that.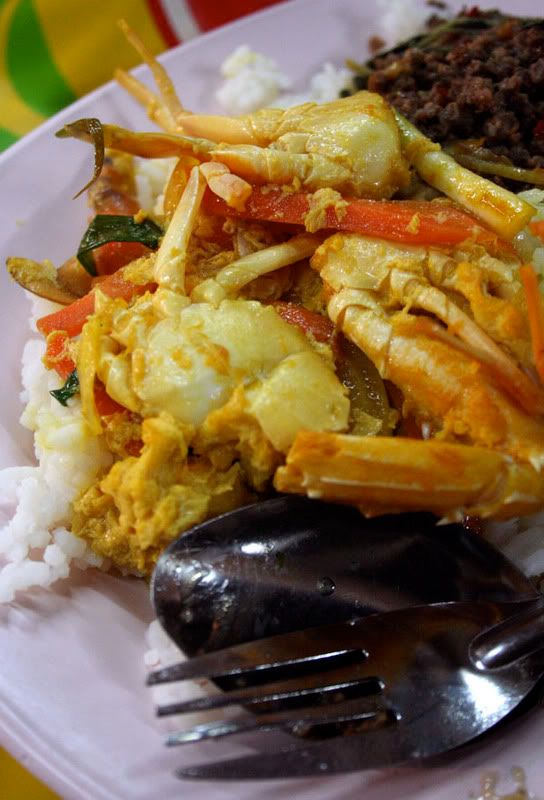 Anyone else know where I can get a good dish of yellow crab curry?