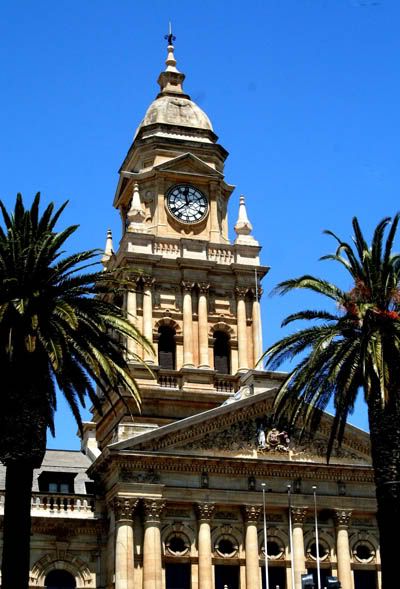 In a recent
entry
on Girl in Asia, Saigon based blogger Liz described some of the differences between her life in Asia and life back home, in Australia. She compares the standard of living in the two locales, citing things she misses back home, but noting the things she'd miss if she returned. I think it's simply part of the innate difficulty in being an expat—unless you left your home because you really couldn't stand it there, there are likely lots of things you miss. I have to admit that I kind of have a continuous inner monologue that runs "but in LA we had…" Really, it's gotten to the point that I've probably given Cape Town an inferiority complex. That wouldn't be fair-- because really, this is a pretty fantastic city too. So as an exercise in being happy with what I have, I've listed below a few of the things that Cape Town has over LA.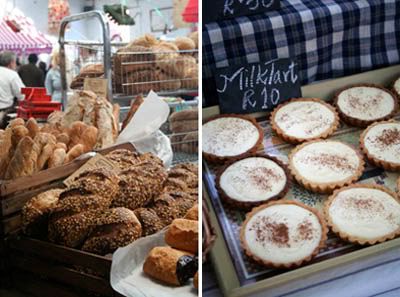 1) The Neighbourgoods Market at the Biscuit Mill—LA does have some great farmer's markets (not just the big touristy 'Farmer's Market', but also loads of little once a week neighbourhood markets)—but none quite compare to the market at the Biscuit Mill. It's a combination specialty food market, gourmet food court, and young designer shopping centre. There are always delicious foods to try, fun new food products to take home, and beautiful people to watch.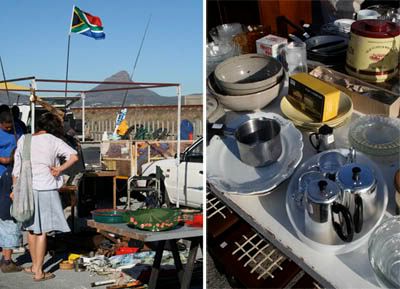 2) Shopping vintage—I never got too into second hand shopping in LA; I don't know if I just had bad luck, but I always felt like I was never actually able to find anything good. It seemed to me that the second a handsome vintage item hit the Goodwill or a flea market, it was snapped up by a designer to be marked up and put in his shop on Beverly Blvd. Add to that the fact that the better markets, like the Rose Bowl, charge a steep entrance fee, and that prices for goods seem kind of inflated. So it's with some relief that I visit the Milnerton Market here in Cape Town, where I always go home with a few fantastic items, and all for next to nothing. My latest finds? A giant metal biscuit tin decorated with a 70's painting of impala, a set of 4 retro French dessert bowls, and a stream-lined footstool that is now acting as a magazine stand in our living room.
3) Independent businesses—One frustrating aspect about LA is that if you go to different shopping neighbourhoods around town, you'll likely find the same shops: Restoration Hardware, Gap, Pottery Barn, Barnes and Noble, and of course, Starbucks. Great independent shops and cafes do exist, but the city is definitely dominated by chains. I'm not always opposed to the chains (I wouldn't be adverse to an Ikea, a Target, or a Peet's Coffee opening up on these shores), but it's refreshing how in the absence of chain store monopoly, independent shops, cafes and restaurants have been allowed to flourish in Cape Town.
4) Cape Town really is a Town—I'm not exactly sure about this, but I'm fairly certain you could fit the entire area of Cape Town within the dimensions of Candy Spelling's Hollywood estate. So basically, where LA is massive and sprawling, Cape Town is tiny and manageable. This does have its downsides—less to explore, and I sometimes feel the small pond thing-- but it has some major advantages, as it makes everything within the city so much more accessible. While LA also has beach and mountains nearby, I almost never took advantage of them because with the traffic, distances, and crowds, it seemed like too much of a mission. If I felt like going to the beach, it would mean packing up, getting in the car, struggling for two hours on the freeways, parking a mile from the waves, and then squeezing into a space on the sand between two other families' towels. Here, we often do make the impulsive decision to go to the beach or take a picnic up the mountain, because it's always less than twenty minutes away.
But just for fun, what does LA have over Cape Town? Trader Joe's, the milder winters, cheap Ethiopian restaurants, the jasmine scented air, taco trucks, art museums, palm-fringed hills, gorgeous 1920s architecture, Zankou… ok, I need to stop again.