Long a gateway for visitors to the ruins of Angkor, the town of Siem Reap has in recent years been seeking to promote itself as a destination its own right. It now boasts hip hotels, attractive art galleries, and inviting coffee shops. Bordeaux and I visited Siem Reap last August; after a bit of rough traveling through Southern Laos, Siem Reap offered some wonderful comforts. We could have well-prepared espresso drinks, eat delicious baked goods, and find some other hard-to-find treats from home (this may be the only city in the Mekong Delta where you can buy Dr. Pepper). On this return trip, we enjoyed being able to resample some of these treats.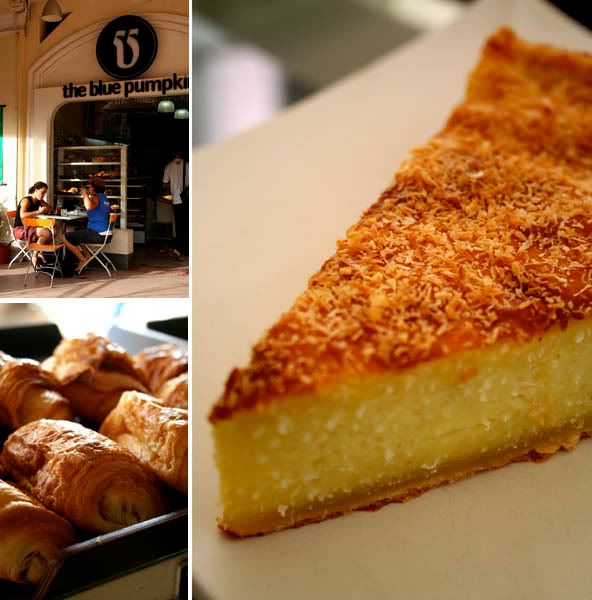 For coffee and cake, we headed directly for
The Blue Pumpkin
. Located across from the Old Market, their kitchen bakes up treats that strike a good balance between East and West. I tried the milky Coconut Flan, while Bordeaux had the tasty Pandan Coconut Cake. With its spare white walls and stark furnishings, the upstairs lounge may be a little too
Bed Supperclub
, but with comfy lounging space and strong air-con, it's hard to complain.
Blue Pumpkin also deserves mention for making what may be the most delicious ice cream in Southeast Asia. In addition to perfectly executed Western standards like mint or strawberry, or superb Asian options like durian and coconut, they make a few more unique flavors. During our first visit, Bordeaux developed a very strange affection for their cashew and caramel flavor, which he nurtured on this return trip. I opted instead for the ginger and black sesame. It was sharp and flavorful, but still creamy enough to offer refreshment on a balmy tropical evening.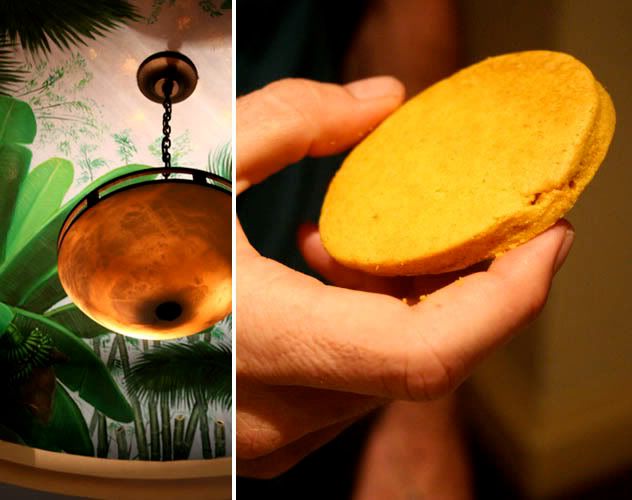 We visited the Raffle's
Grande Hotel d'Angkor
primarily to check out the retro '30s style, but I was also tempted by the glass jars of cookies in their tea shop. The most interesting was a turmeric cookie, which had the crumb crunch of buttery shortbread, with a softly spicy taste.
And to end our evenings, we headed to the
FCC Angkor
for cocktails. The FCC is housed in the former Governer's Mansion, a two-story art deco pile with swirling fans and delicate columns. On a rainy evening, we sat upstairs, listening to the sound of the monsoon downpour as it splashed onto the garden. On a clearer night, we sat on the patio downstairs while overhead giant fruit bats stretched their wings in the sticky night air.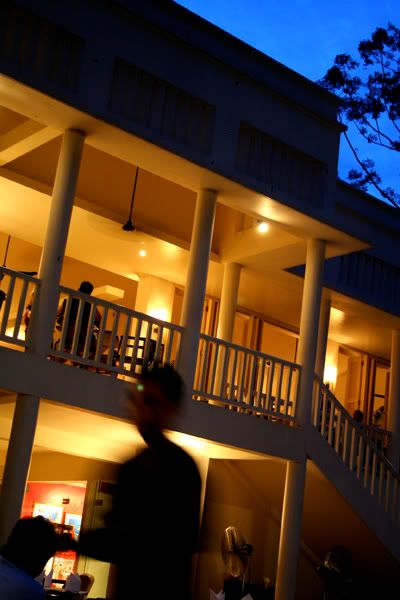 *These sweet treats and dry drinks aren't the only reasons to linger in Siem Reap. For more ideas on things to do, eat, or buy in Cambodia, check out the listing at
Stay Another Day
. They seek to connect interested travellers with organizations, shops and restaurants that are helping to preserve local culture, and benefit local communities. A few examples they suggest in Siem Reap include
Singing Tree Cafe
, which offers healthy Khmer dishes in a relaxed garden setting, and
Senteurs d'Angkor
, a shop that stocks local spices and handsome silk scarves.