Recently, my jet-setting friend
Tim
found himself in Taipei, where he encountered a number of the
tasty and unusual treats
that I wrote about during my time there. Coincidentally, I was also in a new city on the same day that he posted his
entry
, and I too was following the tips of another blogger in order to track down some delicious dishes. However, while I had for Tim only an odd collection of stumbled upon snackfoods to recommend, my informant-- Robyn, of
Easting Asia
-- offered me a fantastic list of well researched tips.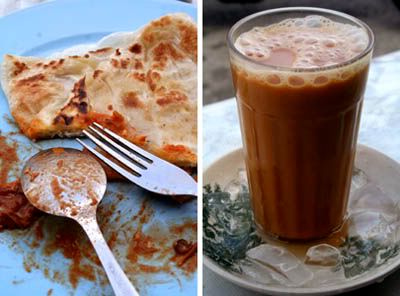 Her first tip led us to Jalan Transfer, where we found a sidewalk roti stand. We joined the other patrons, who were eating on communal tables under the shade of a slanted metal awning. Bordeaux and I were each served a toasty roti fried with egg, and a bowl of a rich tomato based chicken curry. Though I'm normally a coffee drinker, I ordered instead a glass of hot milky tea. It was served lightly frothed, and so hot that the glass had melted the ice cubes placed around it even before it got to the table.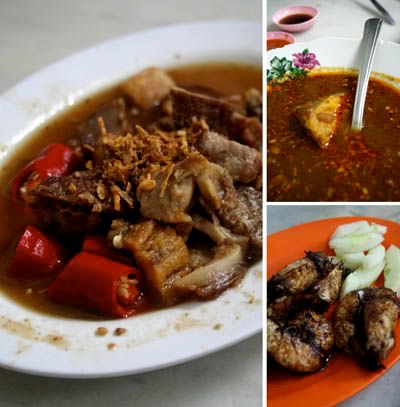 We followed her next tip to dinner, to a Chinese Nyonya restaurant called Shing Kheang Aun. We were lucky to find a vacant table, because the place was packed-- crowds of families and groups of old friends all enjoying their dinner. I had come with a list of recommendations, and while my efforts at pronouncing our order amused the proprietor, it worked perfectly. We were treated to an outstanding dinner of kiam hoo masak Belanda (pork and salted fish with sweet red chilli), assam heh (crispy shrimp coated in a tangy tamarind sauce), and our favorite dish, gulai tumis (fish in a red curry soup).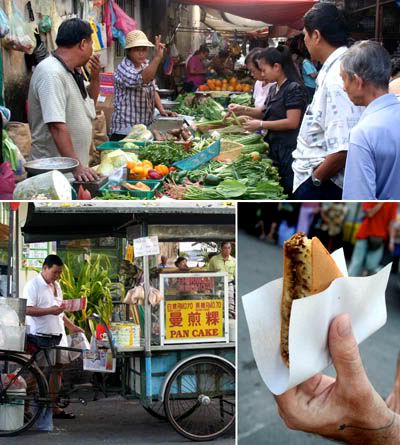 All of these dishes were just a prelude to our next morning, where a tip from Robyn directed us to the Pulau Tikus market. There, we had a long palm-sugar sweetened breakfast as we sampled various treats and snacks. Our first stop was a 'pan cake' stand, where we got a slice of giant spongy pancake. It was filled with a layer of dark palm sugar, laced with crunchy broken peanuts.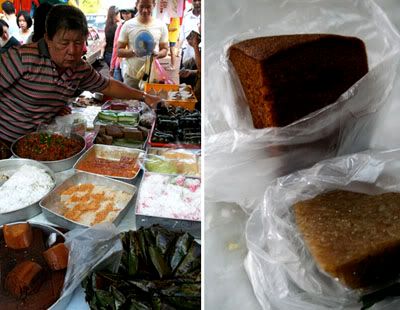 Next we ordered some treats from a table serving Nyonya sweets. We ordered our soul savoury bite, a slice of white carrot cake. It had been a favorite dish of ours in Taiwan, but we especially liked how it was served here, topped with chili and garlic. Next, we ordered two sweet snacks-- a glutinous bar of brown rice, and a moist slice of a darkly flavoured cake.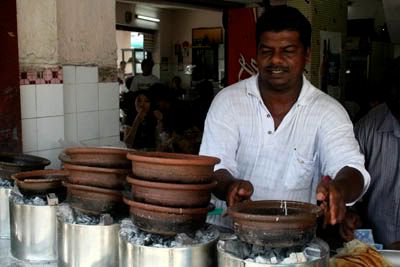 Finally, we managed one last stop, to grab a coffee and check out one more recommendation: appom, Indian coconut milk pancakes. They were baked in clay pots over charcoal stoves, and had a nicely toasted flavour, tempered by a slight creaminess. It was the perfect morning of sampling new treats, even if I did get a little sweetened out-- though I did still have to stop by the first stand again before we left, for another slice of the giant palm-sugar pancake.
Thanks again to Robyn for the outstanding tips! If you're interested in food in Asia, you're probably already reading her blog-- but if not, be sure to check out
Eating Asia
.
Be sure to check out
I am a Viking
too, for his entries on unusual food discoveries in the British Isles, original cartoons, and essays on Japanese culinary culture.