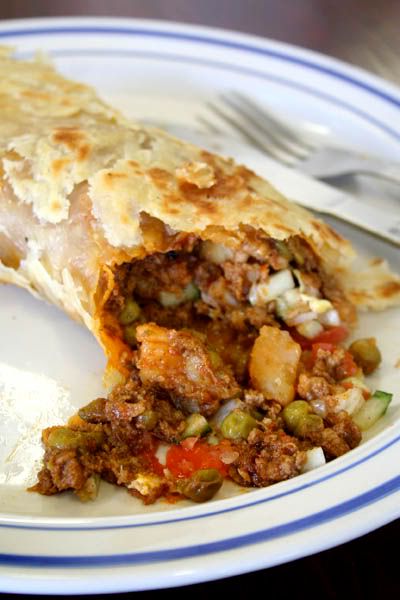 When someone cares about the food that they're serving, you can really tell. The people at Victoria Foodworld care. The first time we happened on their shop, we were ignorant about most of what they offered. What is a salomie? What is a gatsby? They answered our questions proudly—curry wrapped in a roti, and a long sandwich filled with meat and salad and fries, respectively-- and in almost poetic terms.
Most importantly, we could tell that they cared by how the food tasted. We had to wait, as this wasn't simply fast food slopped onto a plate. It was carefully constructed in the secluded kitchen, from which we could just detect the fragrant scent of meat and spices. People wandered in off the street, buying bottles of cold soda, or single cigarettes. Finally, our food was set before us. We had each ordered a salomie; the golden rotis were set before us, filled with fragrant curry.
The salomie is a simple combination of three main parts: roti, curry, and salad (optional). Should any one part be lacking or mediocre—the roti dry, the curry commonplace, the salad wilting-- the whole composition will suffer. But every element was executed with precision. The roti was flaky and buttery, the curry so freshly made that seeds and pods of spice burnt as we bit into them, creating a mild fire that the crisp cucumber salad helped to cool.
"Do you work in Woodstock?" the proprietress asked us we paid the check on our last visit. No, but we'll definitely come back for the salomies.
Victoria Foodworld, Main Road, Woodstock.