Roadtrip, Part 1
Benihana
and
The Elephant Bar
were replaced by obscure steakhouses with names like
Beef and Beer
and
Cask and Cleaver.
Eventually the city fell away completely, flickering out in sudden outlet shopping malls and fastfood drive-thrus as groves of joshua trees replaced houses. After stopping briefly in the town of Baker to pick water (and to stare up at the World's Tallest Thermometer), we continued on our way. We crossed over a sandy ridge, and exited from the desert wasteland of interior California...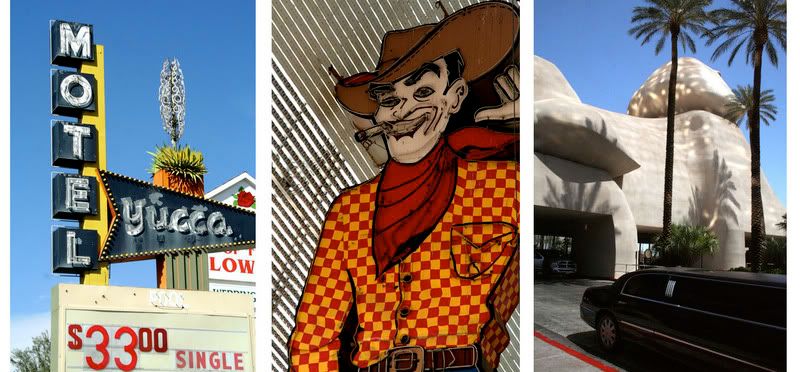 ...into the neon wasteland of Las Vegas, Nevada. I had tried to prepare Bordeaux for Las Vegas, but how could I? The lights were far brighter, the casinos much nosier, the cocktail waitresses far more haggard, and the people far more obese than I possibly could have put into words. We traveled to downtown Las Vegas, where we met up with friends who were enjoying cheap drinks and mingling with tattooed showgirls. Despite the alleged "revival" of Downtown Las Vegas, Fremont Street still had a sad pall of desperation. The casinos looked rundown, the showgirls even more so; a large screen flashed images of naked women, concealed with cartoon explosions featuring incongruous interjections, like "yikes!" and "gabzooks!" After losing three dollars playing blackjack at the Golden Nugget, we checked into our room at the Flamingo. The first hotel opened on the strip, and formerly the most expensive hotel in the world, the Flamingo is one of the last symbols of old-Vegas glitz still in operation. With its Miami-deco styling, palm-leafed tropical theming, and elderly clientele, the hotel has the feel of a retirement home loaded with slot machines. We passed our 24-hours in Vegas by trekking between casinos, playing nickel slots (through which I lost another three dollars, and Bordeaux won five), and searching out free drinks.
After stealing souvenirs from the Luxor's
Pharoah's Pheast
buffet, we refilled the gas tank and got out of town. Driving away from the noise of Las Vegas, we turned south from the 15, and entered the painfully quiet Mojave reserve. The Mojave was a stark landscape of sand, rock and joshua trees, interrupted by the occasional splintering ruin. As cotton-tails darted away from us, we walked around an abandoned corral, wondering why the ground was strewn with dirtied ladies' summer-wear.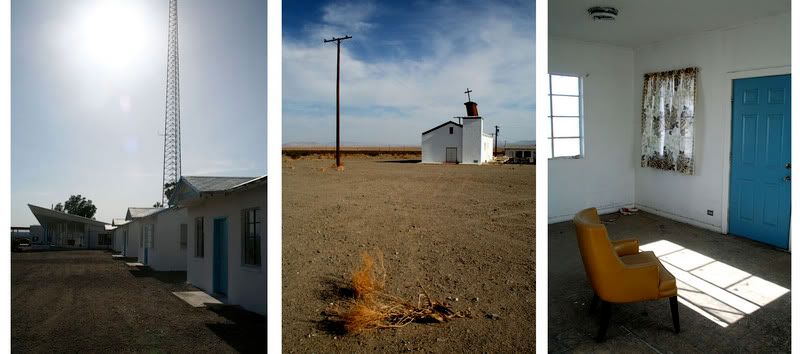 Just out of the Mojave, we pulled into a service station in Amboy. Less a town than a series of abandoned businesses, Amboy offered a diner (non-functional), a motel (abandonded), a school (in ruins), a church (in disrepair) and a post-office (closed). We walked into the service station, and picked two bottles of water (Amboy Water, with self-printed labels) out of the fridge. Unsure of whether to just leave the money on the counter, we waited until the owner, a scrawny man with an untamed beard, arrived in his golf cart. He came with two small dogs; one of them immediately hopped up on the lunch counter, and reclined, panting, on the cool formica.