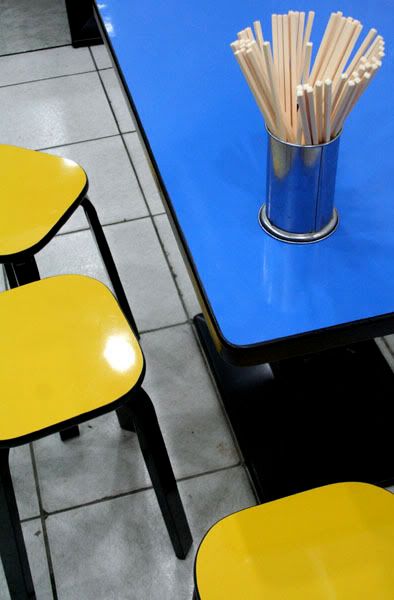 In advance of our visit, I attempted to research Taiwanese food. Whether it was because most Taiwanese dishes are still classified as Chinese, or whether it was because there simply hasn't been much interest on the subject in the English language press, I wasn't able to find out much. I did learn, however, that Taiwan is well known for its xiaochi, its 'little eats'. So upon our arrival we set out to sample these little eats. To do so, we passed up on big meals or restaurant menus. Instead, we spent our 36 hours in Taipei among night markets and noodle stands.
Not to be deterred by any weariness from our flight, we began our search for a local meal immediately, and after dropping off our bags we headed out to the Guangzhou night market. Among the rustling tiles of mah jong tables and the whirring gears of claw machines, we searched for our dinner. In the end, we had a bit of dumpling overload: we had expected to get beef soup with pork dumplings, but instead got
dumpling
soup with pork dumplings. No matter- the dumplings were tasty, and the deep rusty herb-flavored broth was sufficiently exotic to signal to my stomach that we were in new territory.
Before heading out for a morning pilgrimage to a nearby temple, we stopped at a simple breakfast shop. There, we ordered two plates of danbing. A choice of tuna, cheese, or bacon is grilled with a scrambled egg, and rolled up in a thin pancake. It was splashed with sticky sauce, and served on wax paper in a plastic basket. Taken with a glass of warm soymilk, this deceptively simple breakfast offered the perfect kickstart for the day.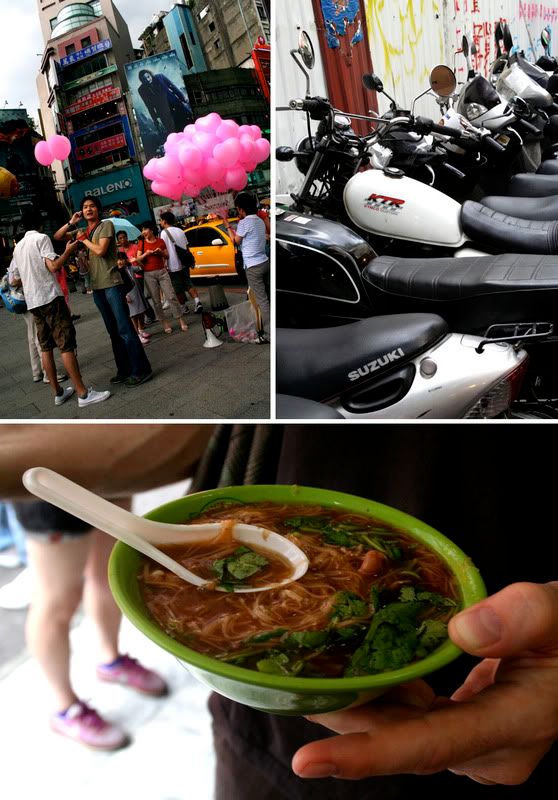 Midday saw our arrival in Ximending, a hip youth-oriented neighborhood of t-shirt shops and sunglass stands. Following the crowds, we stepped into line at Ay-Chung Flour Rice Noodle, where we were served a viscous noodle soup in green plastic bowls. Garnished with peanut sauce and a fresh cilantro leaves, it made a tasty lunch eaten standing up.
Seeking refuge from an afternoon downpour, we ducked into Dante Coffee, a willfully generic Taiwanese chain. Though the decor was bland and the coffee just above mediocre, our tea-time snack, a Portuguese egg-tart, was surprisingly good. It was taller and deeper than most I've had, which meant that there was more buttery crust and more room for rich custard.
We travelled our farthest for dinner, which we took at the massive Shillin night market. I had expected something with the borders and definition of Bangkok's Chatuchak, but Shillin seemed to spread its web of toy stands and clothing boutiques over a confusing tangle of alleys and streets. In between the health elixirs and the racks of neon cargo shorts, there were stands offering more types of food than could be imagined- not just noodles and dumplings, but Japanese salad rolls, Indian chai, and Californian burritos. Out of reverence for Taiwan, we stuck largely to more local fare. Between a cup of almond milk and a last glass of cranberry juice, we tasted baked pork buns, grilled whole squid, and barbecued spring onion in a bacon wrapper. Filled up, and with tastebuds satisfied, we squeezed into the crowds of teenagers and were jostled to the exit.