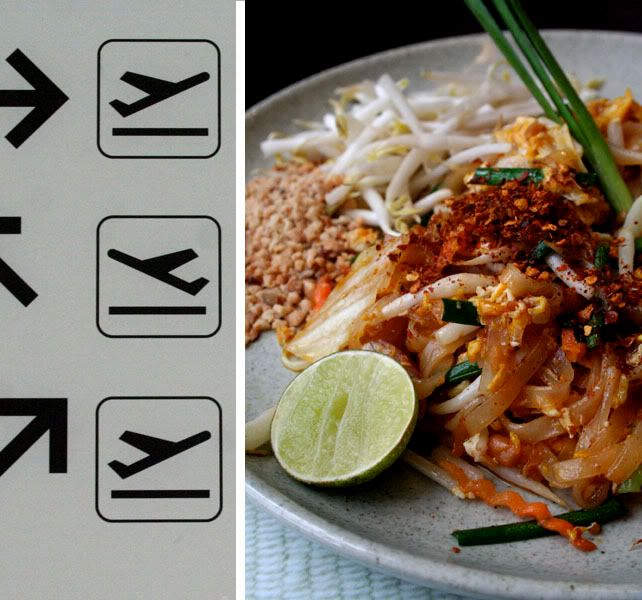 In the week before we left Thailand, Bordeaux and I made the conscious effort to get as much Thai food as we could. But since one of my favorite things about Thailand has been the incredible diversity of flavors and tastes, I decided not to order old stand-bys out of nostalgic value. Instead, I tried to order almost exclusively meals that I hadn't yet tried. And so, in my final 48 hours in Bangkok, I tasted a sour salad of pickled bamboo; savored a spicy red curry with stuffed squid; and dined on a flaky salad of crispy fried catfish topped with a green mango dressing. All were delicious, and reminded me of what an amazing country it is.
On my way out of the country, we stopped for one final meal at the Bangkok Airport's branch of the
Mango Tree
. Their abbreviated menu didn't offer a great variety, so I decided to go for their phat thai.
Phat Thai
is a dish that I almost never order in Thailand. I think there are a number of reasons for this- firstly, there are so many different amazing foods in Thailand, I don't have many things that often. But more to the point, ordering phat thai always seems like something to be slightly ashamed of- it's the most well known Thai food among foreigners, and one of the most commonly ordered. So to go into a Thai restaurant and order it makes me feel a little like I walked in and ordered a hamburger.
But when the plate was set in front of me, I was reminded of something: phat thai is really damn good. The salty noodles, crisp beansprouts, crunchy peanuts, tart lime juice, and potent chilli flakes make for an intensely Thai combination of textures and tastes. It's food like this that I tasted in Los Angeles that made me curious about Thailand in the first place.
So maybe there was a lesson waiting in that tasty noodle dish. That we can lose sight of even the best things in life, and that when things are wonderful it's easy to become jaded. We'll be returning to Bangkok at the end of August, and though we already know we won't be staying in Asia too much longer, I'll be sure not to take another bite for granted.