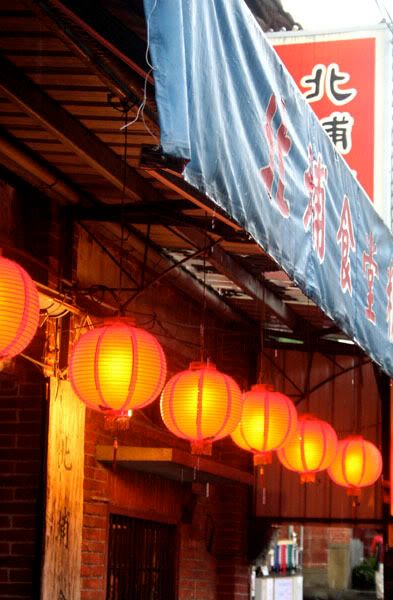 On a rainy Sunday afternoon, Bordeaux and I braced ourselves against the drizzle and zipped into the mountains. We passed through distant Hsinchu suburbs, among Castle kindergartens and shop-sized Taoist temples, before rising above the city into the green bamboo-clad mountains.
Our destination was the town of
Beipu
, a popular mountain retreat at the heart of the ethnic Hakka Community. Once parked, we slogged through puddles into the town center. Weaving through the snack-stands and crowds of weekend tourists, we found a cobblestone lane lined with intimate teahouses. We selected an especially inviting one, and ducked in to shake off the last coat of rain. The waitress showed us to a heavy wooden table, set under a delicately glowing paper lantern. We knew one thing we wanted-
lei cha
. The rest, we asked for our waitress to suggest.
As we waited for the tea to arrive, our waitress brought us a selection of hearty Hakka snacks. There were tiny rice-cakes, coated with sesame seeds; crisp sweet potato chips; spicy fried eggs. Most intriguing of all was the
kejia mashu,
a heavy blob of glutinous rice, coated in a powdering of crushed peanuts. We were grateful for the dark clouds outside- on a sunny Taiwan summer day, a stodgy meal like this would have felt completely out of place.
The arrival of a black ceramic plate covered in pine nuts, sunflower seeds, peanuts, and black and white sesame seeds announced that we were ready to make lei cha. A clay pot was set in front of us, a layer of forest green tea leaves resting at the bottom. With a heavy wooden dowel, we ground the tea leaves until they were a dark pulpy paste, then we poured in the seeds. The grinding continued, until the whole paste was smooth- not an easy process, but thankfully we were assisted by a friendly Taiwanese tourist who showed us the proper way to grind. The waitress peeked at our progress from time to time, but not until she was satisfied did she bring the kettle of hot water. Pouring it in, she instructed us to stir, and finally, we had our tea.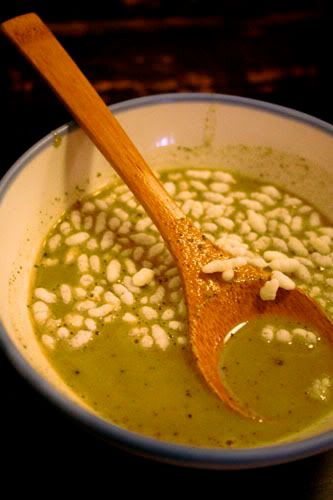 We dished it out into ceramic bowls, and topped the thick matcha green liquid with a flurry of puffed rice. Though lei cha is considered a kind of tea, it is eaten by spoon, making it fully deserving of the title of 'cereal tea.' It was tasty and nutty, only a hint of the green tea flavor peeking out from the predominately peanuty taste. Most importantly, it filled our stomachs, and warmed us so completely that as we set out to visit a nearby shrine, we barely felt the grey drizzle that enveloped us.