I was invited by Cate of the
Caffeinated Traveller
to share some of my travel 'secrets'. While I can't really say that any of these places I'd like to share are really secrets, these are three places that truly surprised me.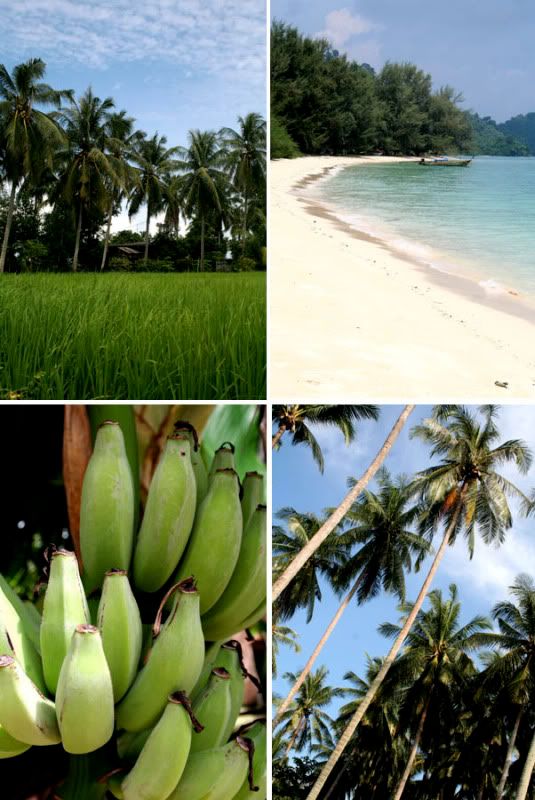 1. Islands of Trang Province, Southern Thailand
The story goes that all of Thailand's islands are already too commercialized, the sand boarded over with discount beach bars filled with tacky Western backpackers. But if you're willing to head beyond Ko Phi Phi and Ko Phang Nga, you'll find that there really are some fantastic islands left in Thailand, like the islands of Trang province. I was lucky enough to visit the islands on an assignment that required me to go to each and every one. Of these, I gathered a few favourites. There was
Ko Libong
, a wild island inhabited by hornbills and encircled by dugongs; isolated
Ko Kradan
, with one incredible place to stay in a palm encircled clearing right in the middle of the island, perfect for nurturing Robinson Crusoe fantasies; and
Ko Sukorn
, with its pastoral allure of rice paddies and quiet villages. But perhaps best of all was
Ko Lao Liang
, an unbelievably secluded island, hours from land by boat, so small that it can only fit one place to stay, an encampment of simple tents right on the beach. In short, everything you've ever dreamed of in a Thai Island.
2. The Karoo, South Africa
I first visited the Karoo in between one destination and another, having little idea at the time that it would become my favourite part of South Africa. It's an evocatively desolate landscape, of golden dusty desert and shadowy valley towns. The best way to enjoy the region is to visit some of its town, whose sedate avenues of early twentieth century homes are steeped in retro charm and soaked with Afrikaner culture. Some of the best spots to visit are
Barrydale
, a suprisingly artistic community with an offbeat gay vibe,
Prince Albert
, with it's storybook houses and untamed surrounds, and
Nieu Bethesda
, home to the Owl House, a surreal museum to one local woman's mania. These are all great places to try real South African cooking, as well: succulent grilled lamb, creamy milk tarts, and artisinally made cheeses, breads, and preserves. Karoo is certainly not a secret to South African travellers-- most of the region's more attractive towns are well set up to accomodate visitors. But the region mostly remains just off the maps of most international visitors to South Africa, who are more interested in visiting Cape Town and Kruger National Park. A shame, because to visit the Karoo really is to visit the heart of South Africa.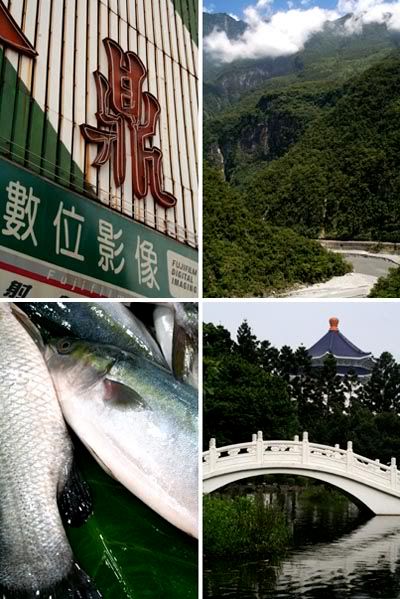 4. Taiwan
Ok, clearly Taiwan isn't a secret place-- everyone who lived in the '80s saw the name printed on the bottom of their plastic products, right? But what seems to be a secret is that Taiwan is an unbelievable, unforgettable destination. It's a quirky island, whose sometimes bleak cities are brightened up by frenzied night markets and funky local fashions. Packed in within the confines of this tiny island, there are an astounding array of different places to go. Fast-paced and fashionable
Taipei
, engaging
Hsinchu
, romantic and sultry
Kaoshiung.
And amazingly, the island also has incredible natural beauty: the low areas of rice paddies give way to towering peaks cloaked in bamboo; on the east coast, the scenery is even more spectacular, epitomized by the dramatic valleys and mountains of
Taroko Gorge
. People are friendly, the food is fantastic (every city and region have their own delectable specialties to search out). And with the high speed rail draped along the whole west coast, getting around the island is easy, comfortable, and incredibly fast. But really, I'll be saving more about Taiwan for another entry coming up in the next few days or so...
Any of you willing to share your secret destinations?