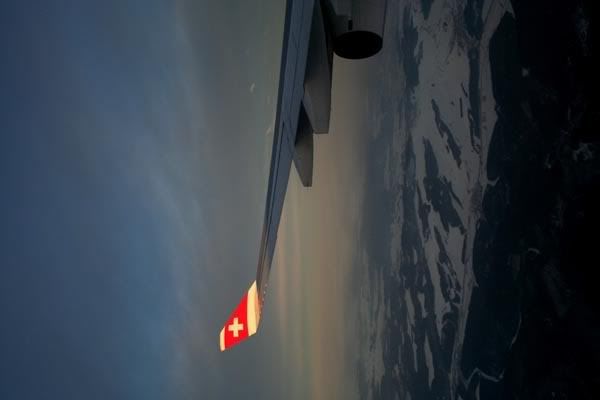 While we're on the
subject of air travel
, let's talk about airlines. Air travel should, I feel, be somewhat glamorous. Being lifted from one destination to another, the glitz of the jet age, and all that. Yet it so rarely is. There are all sorts of things that can go bad on a flight: uncomfortable seating, poor quality entertainment, inedible food, bad service from attendants. And sometimes, all of these things go bad on one single flight.
Last year in the US, Bordeaux and I took flights on a variety of US airlines, most of which were rather poor in quality. They charged for everything short of water, flight attendants were unfriendly and disheveled (what's with the US airline custom of having flight attendants wear factory-reject jackets with giant shoulder pads? who does that look good on?), and the airplanes were often rather unclean-- we once found tissues waiting in of our seats, and an old pair of socks in the other's. Yet really, none of that prepared us for our United Airlines Flight UA940.
The flight was shared with a European airline, the flight attendants of which grudgingly greeted us as we boarded the plane. The first thing Bordeaux did as he sat down was to adjust the tiny movie screen in the seat in front of him-- and its plastic cover immediately popped off. Bordeaux laughed awkwardly, and the flight attendants laughed with him-- and then did nothing to help as he tried in vain to get it back on. That tiny screen was of very little use anyways, as we soon found out we had only three movies to choose from, none of which were even remotely watchable. I believe 'Wild Hogs' was in the mix. Something to drink usually helps a lengthy and boring flight, and it would have helped here-- unfortunately, United Airlines charges for alcohol on flights between the US and Europe, even wine.
By the time our meal arrived, we were starting to see the humor in how bad the flight was. Which helped, as when pulled back the little tinfoil cover, we were greeted with a pile of tomato sauce glop that even after eating I still couldn't identify. Was it cannelloni with cheese? Lasagna with chicken? On the side was the obligatory white bread roll (freezing cold and rock hard), and a side salad that literally was composed of shredded lettuce, and not a single other ingredient.
We were quite happy to leave this flight... until we got into the airport. I should also mention that this flight was followed by our layover in Frankfurt, which meant we got to follow an awful flight with an awful airport.
Air travel can still be rather attractive, I should point out. I've had great experiences with South African Airways-- decent meals, good entertainment, and a fantastic and free-flowing selection of South African wines (their customer service off the airplane, however, is another matter). I have good memories of Air Tahiti Nua, where the fantastic crew (and their heavy hand when pouring drinks) made us feel like we were already in the South Seas from the moment we took off from LAX. Perhaps the best flight I've been on recently was with Air Asiana. At meal times, which always included some Korean options, the attentive and professional staff accented their already stylish uniforms with embroidered aprons-- a really fantastic touch to add a little more style and character to the flight.
What have been your best airline experiences? Your worst?