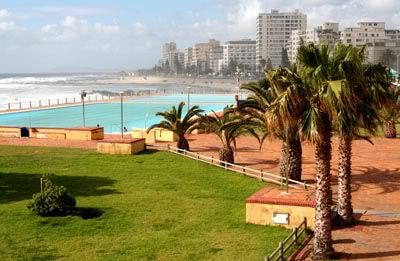 Well, as you might have caught on from that
last entry
, we're getting ready to pack up and skip continents once again. I'll explain more about our next steps-- in short, we're heading back to Asia-- and maybe I'll share some of the reasons why we decided in the end not to dig our roots into South African soil. We're both much happier now that we've decided to leave, and really can hardly wait to get back to Asia. But while it's easy for me to think of all the things I'm looking forward to, I do have to keep grounded by remembering the things I'll be giving up in Cape. Here's a few of the major things I've been grateful for in Cape Town, and that I'll be missing once I'm gone.
1) Excellent, affordable wine-- Not only is causal wine drinking affordable in Cape Town, it's part of the lifestyle in the Cape. A glass of red at dinner, or a chilled bottle of white over a summery afternoon, fits in perfectly with the relaxed and casual atmosphere of life on the Peninsula.
2) Blue sky-- Ok, it was pretty gray for a lot of this year, but now that summer is here, I'm trying to spend as much time as I can admiring the clear blue sky over Cape Town-- I certainly won't be getting much of that in Asia. I'm really going to miss these brilliant, clear golden days, perfect for lounging at a sidewalk cafe, or getting a cone from a seaside ice cream parlour.
3) Cheese and bread-- While trading at the Neighbourgoods Market, we often get complaints from people avoiding dairy and gluten that practically all the food is based around bread or cheese. That does suck for them, but I can't say I'm complaining. South Africa has some delicious local cheeses and artisinally made breads. Combined with some wine (see #1), they make a perfect lunch for a lazy summer day (see #2).
4) Staying active-- The combination of sun, sea and mountain in Cape Town make it an ideal place for staying active. This lifestyle is made even easier thanks to Cape Town's small size, since hiking trails and public pools are always just a short drive away. You can hike Lion's Head before breakfast, or take laps in the Long Street Baths before work. Beyond that, the city's tiny size also means that practically everything is walking distance within the City Bowl.
5) Eating locally-- I believe in making an effort to eat locally, and Cape Town really can be paradise for a committed locavore. The wine, cheese, crusty breads I love so much... they're all available from local producers (even the wheat comes from the Western Cape). And with the help of
Wild Organics
, who offer inexpensive weekly bags of local organic produce, it's even easier to limit your food miles in the Cape.