Our departure:

9:30 AM from Taoyuan International Airport.

Our plan: to spend our last night in Taipei, hanging out, eating, catching a few hours sleep in a
love hotel, then grabbing an early breakfast, and heading to the airport at 6AM.

Our results: a few hurdles, but it all worked out in the end...
21:00-- Having caught the HSR in Hsinchu, we arrive in Taipei early enough to catch the city still awake. We stow our luggage in the train station lockers, and take the MRT into the Ximen. In this hip shopping neighbourhood, we browse for shoes and cardigans, and join the crowds at Ay Chung for a bowl of noodles.
23:00-- After meeting up with a friend, we duck into a small restaurant for a small dinner. I opt for the braised chicken on rice.
24:00-- We walk to the nearby Red Theatre Square and order some drinks. Located behind the historic Red Theatre, the square is a night-time neighbourhood of gay bars, shops, and restaurants where friends gather at tables under lantern light.
2:00-- Saying goodbye to our friend, we head back to the area around the train station to find a love hotel. Since we don't need a full night's accomodation, a love hotel is perfect-- they're willing to rent a room out for only two or three hours (the name making sense yet?). We ask around at a few spots we know, but everyone is booked up. After scouring the neighbourhood, we're realizing our luck might have run out. We start to wonder if there are any 24-hour Starbucks in the city.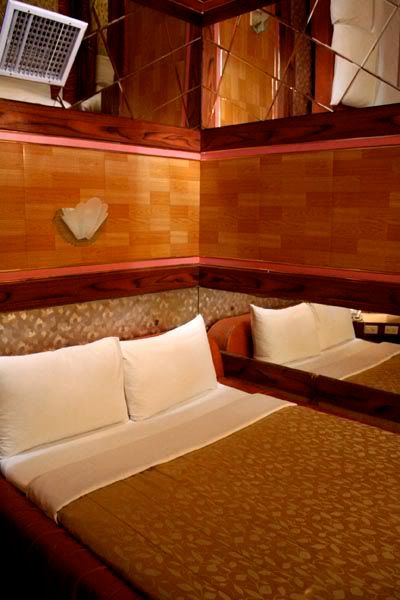 2:30-- Luckily, we'd noticed a few love hotels while we were wandering around Ximen, so we grabbed a cab and headed back there. It felt bizarre to be on the streets of Ximen so late at night-- the small lanes that had earlier been packed with crowds were now totally deserted. We took the elevator up to one love hotel, and the doors opened to a darkened cavern strewn with rubble-- we quickly pressed the 'door close' button, and headed back downstairs. Luckily the hotel nextdoor was still open, and we got a suspiciously cheap room for two hours. The room is tiny-- it feels as if it were built around the bed-- and the walls are lined with mirrors. Eek. We're exhuasted, so who cares.
4:15-- The alarm goes off, and against our protests we get out of bed and take a quick shower. One thing helping us wake up-- we're heading for a really good breakfast. We hop in a cab with a friendly driver, and after a little confusion, manage to explain to him where we want to go.
4:45-- He drops us off at
Yungho Soy Bean Milk and Porridge King
, which, luckily, is in fact open 24 hours. Unlike in the morning, the place is quiet-- a fraction of the usual staff, and only a few tables of students eating. We order two bowls of warm soy milk, a steamer of shaolingbao, a donut for Bordeaux, and some dan bin for me. Not a bad final meal in Taiwan.
5:15-- Finished, we catch a taxi to the train station, track down our luggage, and then walk to catch an airport bus. As we drive down to Taoyuan in the breaking light, we both doze off a little...