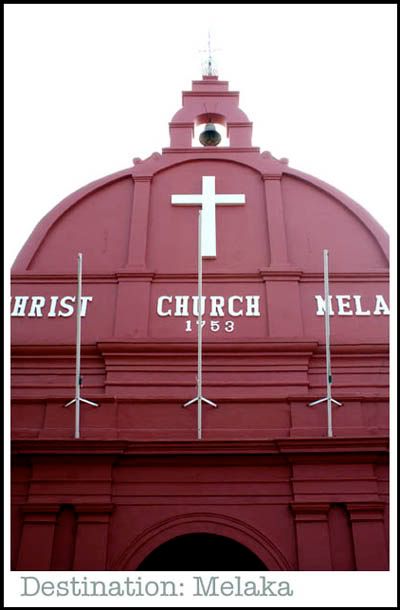 We were having a good time in Sabah, but we had to admit—not a great time. When we were living in Cape Town, we'd really missed the great food, the dynamic cities, and the offbeat style of life in Asia—and we felt like we were still sort of missing that in Sabah. After leaving Sepilok we arrived in Sandakan, and in seeking lunch found a rather bleak market serving mediocre fare. This wasn't why we were in Malaysia, we decided. So we bumped up our tickets, left Sandakan three days early, and made our way to Melaka.
I'd been curious to see Melaka, though having heard of what a tourist spectacle it's become, I was a little nervous as well. Thankfully, our timing was good. We arrived on Sunday afternoon, just in time to see the dust settle from the crowds that had filled the town that weekend. In the place of the tourists, we found a fairly quiet town that seemed to be quietly going about its own business. And while we found some streets and neighborhoods that were terribly bland and characterless, we found much of the city to be inviting, engaging, and well supplied with places serving fantastic food.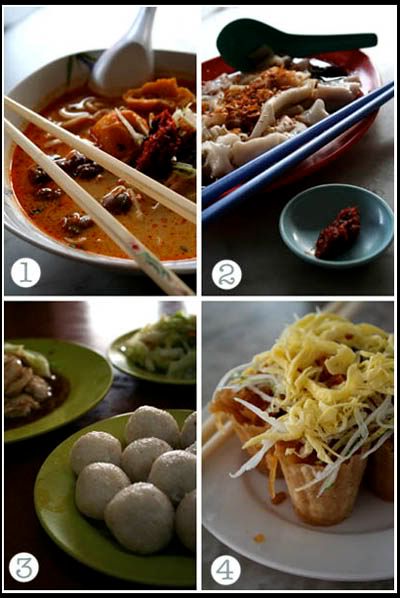 Which is important for us. For while we spent time browsing among the shophouses, and visiting mosques, churches, and temples both Hindu and Buddhist, our main activity was eating. Before leaving Sandakan, I browsed through the archives of
Eating Asia
—easily the best way to make sure of having a good meal in Malaysia. Between following Eating Asia's leads and a few lucky discoveries of our own, we ate spectacularly. Some of the highlights of our eating included:
1. Several bowls of
laksa lemak
, a creamy coconut-milk noodle soup with a slightly spicy curry bite.
2.
Chee Cheong Fun
, sheets of rice noodle folded over shrimp and pork, topped with crispy fried garlic.
3. We'd had some fantastic chicken rice in Malaysia, but the
chicken rice balls
at Hoe Kee were not only a novel take on the straits-favorite, but an incredibly delicious version as well.
4. Perhaps the strangest local specialty we tried with the
pai tee
, crunchy cups filled with braised yam bean, and topped with chili, shredded egg, and fried garlic.
Not pictured above, but just as delicious: oyster noodles and soft shelled crab at Teo Soon Long Chan, banana leaf curries and crispy roti tissue in Little India, and several bowls of cendol all over town. The town really exemplifies the diverse mix of cultures and cuisines that make eating in Malaysia so rewarding.
Before we changed our tickets in Sandakan, we briefly wavered, wondering if we should just stick it out in Sabah. I'm glad we didn't. For though I'm sure you can have a great time in Borneo, we were really after a particular experience that we just weren't getting. We'd been away from Asia for so long that it really felt great to reaffirm what we love about it: the culture, the style of it, and, most importantly, the great food. Because really, life is too short to put up with eating poorly. And in Asia, you've got no excuse.