Despite the mystery and allure evoked by its name, something about
Kota Kinabalu
keeps it from being a particularly engaging city. It's a city of placid avenues and grid-like concrete buildings, too modern to be characterful, but just a little too worn to be graceful. But if there is one moment when the city may be redeemed, it's when its residents sit down to eat.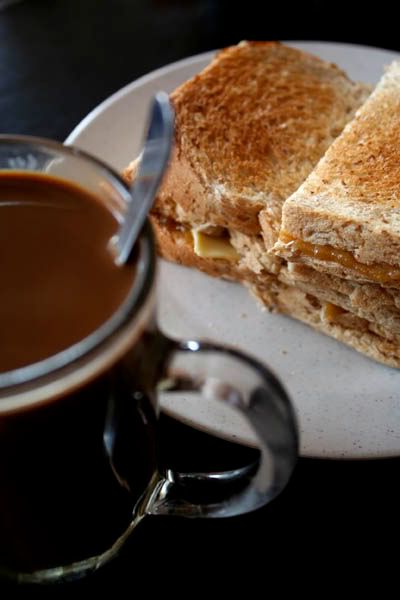 Many people take their meals under the swirling ceiling fans of
kopitiam
,
Chinese style coffee shops. For breakfast, this is where to go for a warm, sticky glass of coffee, sweetened with condensed milk. If you're lucky, you'll also be able to find a plate of bread with
kaya
, a rich coconut jam.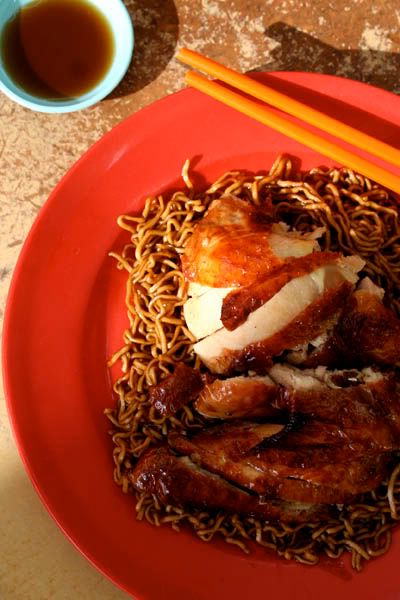 The kopitiam stay in business all day; you'll be able to swing by again for lunch. Items on the menu range from Chinese favorites, like
char siew
(barbecued pork), to Malay, like
laksa
(noodles in a coconut milk curry), to Straits specialities, like chicken-rice (poached chicken served with a delicate soup and a mildly garlicy bed of rice). Sometimes the most satisfying meal is the most straightforward, like the above
mee ayam
: a pile noodles (mee) that have been wok-fried in
kejap manis
(a dark, sweet soy sauce) are topped with cleaver-cut slabs of delicious crispy skinned chicken (ayam).
Elsewhere, Indian style restaurants sell a diverse range of curries, made with chicken, lamb, and vegetables, or even squid and shrimp. A few select shops serve their curry on a banana leaf; more often, a more humble presentation involves a plastic plate and a mound of rice. Look for the large griddles to identify a shop specializing in
roti canai
, unleavened bread served with small dishes of curry, or
murtabak
, a folded roti canai filled with meat or vegetables.
You'll still find the city's restaurants and kopitiam awake at night, but for a more lively dinner, head toward the
night market
on the waterfront. The stalls at the centre of the market seem oddly lacking in variety-- most sell fried rice, fried noodles, or
soto
, a spicy soup-- but you'll likely find a cheap, tasty meal at least. Around the periphery are dessert shops-- perfect for the sultry Borneo evenings are shops selling
cendol
, a pandan flavoured dessert served over ice with a dash of coconut milk.
For a more unique dinner you'll need to penetrate the clouds of smoke toward the back of the market. There, you'll find yourself among the grills of the Filipino Barbecue, where vendors display dazzling piles of seafood-- massive prawns, formidible lobsters, and technicolor fish-- all available to be grilled and served with a dressing of chili. It's perhaps the cheapest spot to indulge in the incredible catch available off Borneo's coast.
To walk through the city at mealtime is to hear the sound of spoons scraping at woks and of roti being slapped onto the griddle, to see piles of gorgeous seafood, ducks hanging in shop windows, and trays of colorful curries. It's encountering the unique mix of cultures-- Chinese, Indian, Filipino and Malay-- and the contrasting geographies-- from the tropic seas to the fertile forests-- that make up KK. You might not always be able to see what's exciting about Kota Kinabalu, but at least you can taste it.