Bring the style home with you.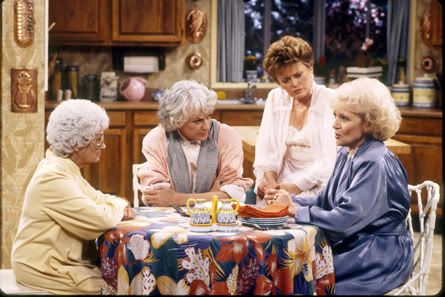 I've long been a fan of the
Living In
feature on
Design*Sponge
, in which Amy Merrick dissects the style elements of different movies. I'd been curious to adapt a version to Primitive Culture, focusing on style inspiration from different cities, places, and geographically situated movies, books and TV shows-- but I couldn't think of a good starting point. Then last night, while watching The Golden Girls, I started thinking about interior style (that's the gayest sentence I've ever typed), and got a nostalgic craving for the tropical pastels of the late 80s and early 90s. So I began to think about how you could pull a few of the best elements from their style into a Golden Girls inspired lounge.
Set in Miami, the Golden Girls lived in a world of seaside pastels: seashell pink, bamboo green, seafoam blue. With domestic activity focused around their palm-draped lanai, there was an attractively tropical element to their lifestyle. There was also just a slight touch of Grandma-glam bling that really made them fun-- it showed up in their outfits in giant sunglasses and purses, and in their home through dramatic Palm Beach decor, like the banana paper wallpaper and stacked crystal block lamp below.
So slip a flamingo print on the wall, pour yourself a long drink, and relax on a chaise lounge like the girls.
Clockwise from top left:
martinique wallpaper
, flamingo print by Etsy seller
Orange Willow
,
martini pitcher
,
macau armchair
.
Flamingo print from Etsy seller
Chloe Croft London
, potted traveller's palm, white coral,
Robert Abbey Minerva Eggshell table lamp
,
Jonathan Adler Lacquer Table Tray
,
Jonathan Adler Zebra Pillow
.