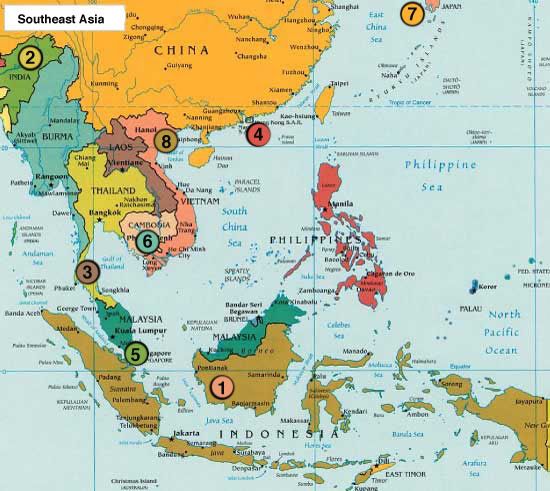 I started this blog in early 2007 with a
travel list
, so I have decided to start 2008 with a new one. This isn't meant to replace the previous list, which was meant to be a world-spanning inventory of long term goals. Rather, the 2008 list reflects my current location and growing interest in Asia. These are the places that are currently on my mind, and with any luck, which I will get to see in 2008.
8. Northern Vietnam- Not at the bottom of my list because it draws me the least, but because it is the only destination that I am certain of visiting. On March 7th Bordeaux and I are flying to Hanoi for a ten day vacation. We'll be mainly enjoying an urban holiday, through hopefully we'll also get out to either Ha Long Bay or the Red River Delta. Though Ho Chi Minh was unquestionably alluring, Hanoi seems to be emerging as Vietnam's premier art-city: a lakeside capital of Soviet-style monuments, independent galleries, and informal cafes. I can already taste the pho, and the strong sludgy coffee.
7. Japan- I never would have expected that Japan would make my travel list, as for years I offered it very little thought. But several factors, like my increased interest in Asian cities, the advice of a
friend
, and a curiosity to explore the anonymous urban landscapes described by Haruki Murakami, have lead to me finally developing an interest in the country. I would love to see the galleries and monumental development of Tokyo, and the snow-piled towns of Hokkaido.
6. Cambodia- I actually visited Cambodia in 2007. However, I saw so little of the country, and was left with such a desire to see more, that it made its way onto this list. The few places I visited in Cambodia- colonial and jungley Siem Reap, elegant and sophisticated Phnom Penh, rural Mekong towns - certainly intrigued me. I would love to go back, to see the mangroves swamps and beaches of the south, the overgrown forests of the North-East, and the misty wild hills of Central Cambodia.
5. Singapore- As a resident of Bangkok, Singapore seems a prim and orderly neighbor- yet I'm drawn by visions of its elegant shopping streets and seething ethnic neighborhoods. It's a design capital in Southeast Asia, with elegant architecture, cleverly-styled cafes, and incredible museums. But most interesting to me is the way that Singapore represents a parallel vision of Urban Southeast Asia, and I'd love to compare life down on the straits to life up here on the Chao Phraya.
4. Hong Kong and Macau- Like Japan, China had intentionally been left off my travel list for most of my life. But the islands of Hong Kong and Macau stand out to me as intriguing anomalies: a pair of former European colonies, now a world powerhouse, that are equal parts exotic enclave and cutting edge metropolis. It's also a great place for food, with a distinct style of Chinese cooking, unusual street-food, and an inherited legacy of Portuguese pastries.
3. Kao Sok National Park, Thailand- Without question, the one place in Thailand I want to visit more than any other. As a child I was drawn to Thailand by images of pristine rainforests- though that was before I found out that 90% of the country has been deforested. Kao Sok represents one of the best preserved wild spices on Thailand's stretch of the Malay peninsula. It's home to many of Thailand's most distinctive inhabitants: tapirs, elephants, giant hornbills, and the bizarre rafflesia flower. It's also a rain-soaked landscape of limestone hills, mist-clad lakes, and towering trees shrouded in the song of the resident gibbons.
2. Assam, India- The place on my list furthest afield, and perhaps the spot which I am least likely to visit. India is too big for me to understand as a whole, so in my mind I have broken it into digestable pieces. The most appealing corner is Assam, the nearly geographically severed province to the east. In my imagination it is a landscape of lush tea plantations, towns grasping to the foothills of the Himalayas, and tigers and rhinos stalking through emerald shoulder-high grass.
1. Indonesia- In recent months, Indonesia has grabbed me with a strong curiosity. Few names evoke mystery and adventure as much as those in this archipelago: Java, Sumatra, Borneo. In many ways, Indonesia seems the most exotic corner in Southeast Asia, a wild kinsman to Thailand and Malaysia. Volcanic islands rising from turquoise Indian waters, a pulsing and polluted capital, Buddhist monuments and Hindu shrines, and ancient jungles shading orangutans and tigers.