The train from Bangkok to Petchaburi was slow and dragging. It left the Hua Lamphong Station almost forty minutes late; and once on its way, the train made no efforts to hurry as it casually glided out of the capital. Even so, the journey was beautiful. Out of Bangkok, we passed through groves of coconut palms and wooden houses perched over reed-choked canals. We stopped briefly at small town stations, where the tracks were hugged by busy market stands. We were sheltered in tunnels of jungle growth, and cut through expanses of rice paddies hemmed in by distant jutting hills. By the time our train finally rattled into the station, dusk was beginning to settle on Petchaburi; the sunlight cast on the hillside temples starting to glow a pale orange.
The three of us (Bordeaux, our friend Tim, and I) climbed into the back of a pick-up tuk tuk, and made our way across town to the Rabieng Guest House. At first glance, it looked ideal: a thin leafy alley lead onto the teak veranda of an old river house. But the rooms were less appealing- dark cells with sunken mattresses, swarms of mosquitoes listlessly swimming in the sticky trapped air. We crossed the bridge to the nearest guesthouse, the Chom Khlao hotel. While their lobby was a chaotic mess of mismatched furniture and motorbike parts, the rooms were surprisingly pleasant. Though the bathrooms were basic and the furnishings rather worn, the high ceilings and tall windows gave the rooms a sun-soaked appearance, and the room's pale blue doors opened to look out over the Petchaburi river.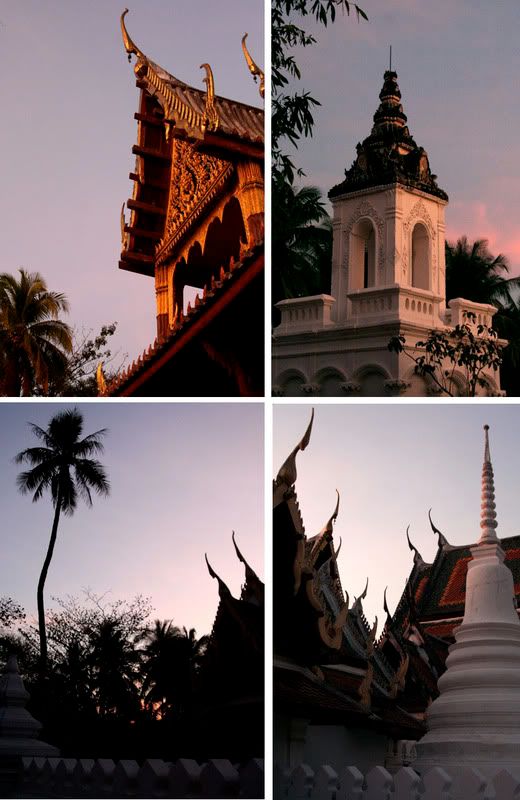 The town of Petchaburi is dominated by the spires of its temples; they look down the town from hilltops, and rise out over the city's rooftops. As the light seeped from the dark sky, we set out to look around town. We had time to visit only one temple, Wat Yai Suwannaram; in the fading purple twilight, we were barely able to make out the ornate features of the temple.
In search of dinner, we walked around the city's market, but found only a few forlorn roti stands and a cluster of unappealing noodle shops. We followed Bordeaux's instinct until we came across a baby elephant being lead by it's mahout; it in turn pointed us to the busy night market. There were numerous stands, offering simmering pots of curry, oily fried noodles, and of course, the famous Petchaburi sweets. We had no trouble putting together an impressive spread for dinner: a bowl of rich massaman curry, a deliciously fresh papaya salad, and a particularly flavorful haw mok (pictured above). Unlike most haw mok I've had, whose steamed fish custard was fragrantly seasoned with kaffir lime leaves and lemongrass, this one used strips of chili to give it a fiery, spicy burn.
The next morning, we found the town's market much more active. Old ladies filled their shopping bags with fresh greens and recently butchered meat, and the local men gathered at corner coffee shops. We put together an ad hoc breakfast as we browsed. We stopped for rich Thai coffee, where we were treated to a plate of oily Chinese donuts. Attracted by the scent of fragrant charcoal smoke, Tim ordered some delicious marinated grilled chicken. Bordeaux stood in line for a bowl of johk (rice porridge). As we waited, we chatted with a Thai woman who had lived in Reno, Nevada. She told us that the first time she visited Las Vegas, she was so excited to see it that she got a speeding ticket. Just before she left on her motorbike, bag of porridge in hand, she told us that this stand was famous for having the best johk in town. When we finally tried ours, and tasted the savory hot porridge, we had to agree.