When I tell people that I lived in LA, they frequently show no hesitation in informng me how much they hate the city. Perhaps they expect that I'll feel the same because it isn't my place of origin or because I chose to leave, or maybe they don't care what I think about it, but it always seems a little tacky to me. I love LA, so I have to admit I do feel a little offended when I hear that. I certainly don't expect everyone to like Los Angeles: I know of course that tastes and preferences vary, and that people have legitimate reasons for disliking LA. But it often seems that people simply repeat the sentiment without good reason, as if to dislike 'Hollywood' is a rejection of the qualities associated with it. And those qualities attached to LA, that it's vacuous, unintellectual, and shallow, strike me as a hollow cliche.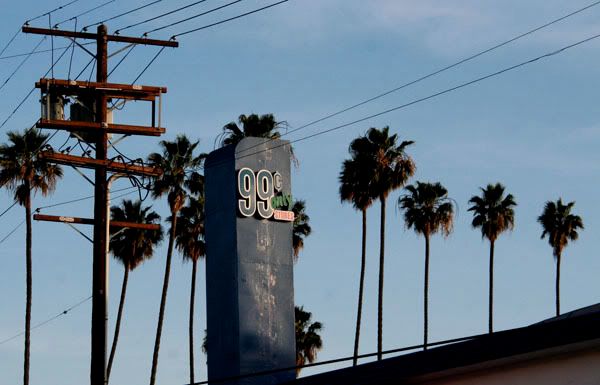 I find LA to be a vibrant, exciting city; it's a centre for progressive art and design, and a cosmopolitan mingling of diverse cultures. Beyond that- and this is where many disagree with me- I think that it's simply a beautiful city to look at. Then again, I'm not much helping that cause. Exactly one year ago, I started this blog with my
first photographic entry
, a piece about photographing Hollywood, which was written in and about Los Angeles. However, in the year that's followed, I've only written six more entries devoted entirely to the city. I have hundreds of photographs of LA, but I've probably published less than thirty of them on Primitive Culture. So I'm starting a new series:
L.A.ndscapes
. I'll be combining urban photographs with stories, pieces of history, or tips for traveling in the city of angels. I don't expect to change anyones mind about Los Angles- but I hope to at least show why I love it.