Sitting on low wooden stools in a smoky interior, we watch the door for our waitress. Across from us, two college students play chess, alternating moves on the board with long slow sips from the glasses perched on the edge of the table. Next to us, a young mother chats happily with her friends, pausing briefly to mind her young daughter as she buzzes around them in boredom. Finally, our waitress climbs over the threshold of the stairs, a tray held firmly level in her hands. She lowers down to our table, and sets out our order. Two short glasses of dark, rich Vietnamese drip coffee, resting on a cushion of creamy condensed milk. We stir it together, the viscous milk hesitating before swirling lethargically into dark brew.
Now, I'm sorry, Thailand. I know you have great bag coffee, and hill-tribe grown arabica, and even a fairly decent local chain in Black Canyon- but the best coffee in Southeast Asia is undoubtedly in Vietnam.
Vietnamese coffee is well known, not just for the quality of its French-introduced beans, but also for its unique form of preparation. Ground coffee is spooned into a tin filter, which is placed on top of a short mug or glass. Hot water is poured into the filter, and the coffee slowly drips into the cup below, usually onto a soft bed of condensed milk. It can be served hot- the thick brown coffee practically melting the sweet milk- or cold, with cubes of ice chilling it into the perfect refreshment for a steamy afternoon. The filter works slowly, as the coffee drip drip drips into the glass below- forcing the drinker to wait and unwind, and fostering a subdued atmosphere for relaxation. Vietnamese drip coffee can be enjoyed all over Hanoi- in settings as diverse as smoky alcove shops, and stylish European style cafes.
Even outside of Hanoi, coffee in Vietnam can bring some surprises. Looking over a menu in an orchid filled coffee garden in Sapa, we were confused by the listing of drip coffees identified only by the numbers 1 through 9. We enquired, and were informed that they were grades of coffee- Coffee #1 being the cheapest and also the most inferior, Coffee #9 being the best. We ordered two glasses of #9, and we weren't disappointed. We were treated to two short mugs of unbelievably rich coffee. Blended with the sweet milk, it had a strong flavor of delicious dark chocolate.
But drip coffee isn't the only Vietnamese specialty. At Café Pho Co, a well-known Hanoi hole-in-the-wall with great views of the old quarter, Bordeaux ordered a mug of café trung. Its name, meaning 'egg coffee,' comes from the fact that it's topped with a cap of whipped egg; it's a local take on a cappuccino. Not only does the egg give the foam an impressively thick texture, it also adds an unbelievably rich creaminess, making every spoonful taste like an airy, coffee-tinted custard.
Perhaps best of all is the incredible variety of places in which to enjoy the flavorful local brew. With no Starbucks in the country, a local Vietnamese chain, Highlands coffee, has been able to flourish. Among the lattes and espressos on the menu, local drip coffee receives a prominent place. It also features in their pastry case, in the form of a Vietnamese coffee cheesecake. The bottom layer emulates the sweet condensed milk, while the top layer evokes the dark flavor of strong coffee. And best of all, these treats can be enjoyed in some outstanding locations. In Hanoi, you can sip Highlands coffee in a hip patio below the Opera House, among potted palms on a graceful deck looking over Hoan Kiem lake, or in a lush bamboo garden under the flag tower.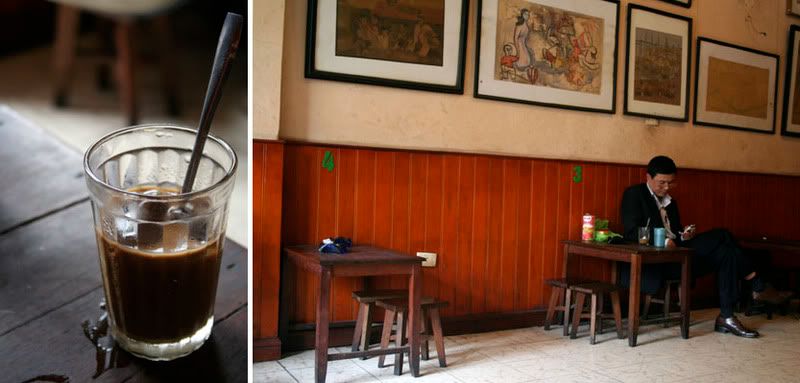 For a more distinctly Vietnamese experience, there are local cafes and coffee stands spilling onto most city sidewalks. Hanoi is packed with independent cafes, their names advertised in pastel hued awnings. They're often very informal, with low tables on the edging out the door, and a few oil paintings scattered on bare white walls. Some, like Café Lam and Café Pho Co, have become institutions. However, you can get coffee that's just as rich and flavorful at many of the lesser-known establishments.
Is it worth traveling abroad simply for the coffee? When the brew is as good as Vietnamese drip, the coffee shops as elegant as Highlands Coffee, and the streets as packed with independent cafes as Hanoi: certainly so.