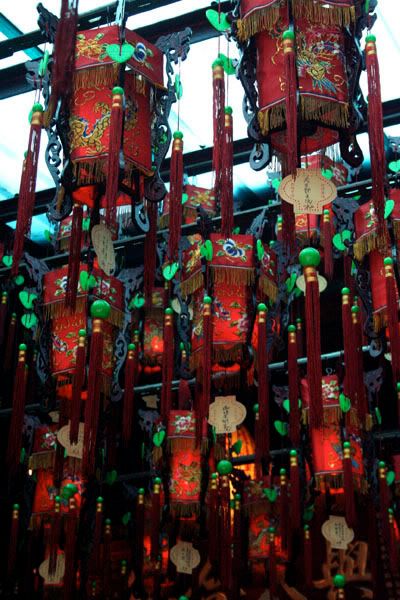 I should point out that despite appearances here at Primitive Culture, I'm not actually in Taiwan anymore- and haven't been, in fact, for several weeks. But several factors have kept my blogging stranded on the island- partly a busy transient schedule and irregular internet access, but mainly I think a surplus of material to write about. There were so many incredible places I went, delicious foods I ate, and strange drinks I tested that I still haven't been able to wrap up my coverage of Taiwan. But I really should get moving on- and I can always write about Taiwan in the future- so I'll finish up my coverage of Taiwan with two final dinners.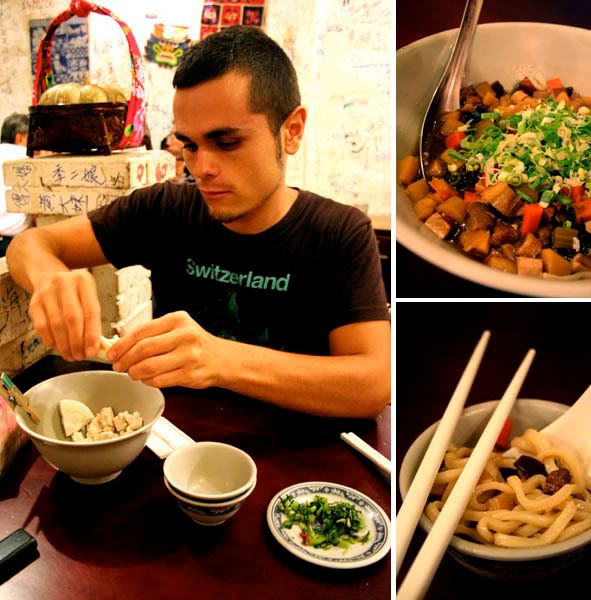 One of the pleasures of eating across Taiwan is that in addition to local
Taiwanese specialties
, you can sample from a broad range of Chinese cuisines. The main style of Chinese cooking in Taiwan is from the Fujian region, but Szechuan, Cantonese, Hakka, Beijing, and Shanghai style are also present. Additionally, one can search out more obscure regional styles as well. Before we even landed in Taiwan, Bordeaux and I read about a restaurant in Taipei that served Shanxi style cuisine. We put it on our 'must eat' list, but every time we visited Taiwan something kept us from dining there. Finally, on one of our last nights in the country, we actually made it.
The place was packed, and seemed popular with groups of work colleagues, who ate with loosened ties. We surveyed the menu, picking a sour noodle soup, a fried pork dish, and a lamb stew with unleavened bread. After taking our order, our waiter checked to make sure we really wanted the last dish- and emphasized that there would be some work involved. We assured him we did, and within several minutes we were presented with a round disc of hard, fleshy dough. Our task was to prepare it to be added to the soup, by tearing it into little pieces- "the smaller the better", our waiter suggested. We tore the pieces smaller and smaller, until his look of disapproval changed to a nod, and he whisked the pieces of dough back to the kitchen. They returned several minutes later in a hearty meat and vegetable stew, the tiny pieces of dough now soaking up the slightly sour-broth. It was tasty and very filling, the flavours more subdued than our other dishes: a deliciously vinegary bowl of noodles, and crunchy pork coated in dry spices.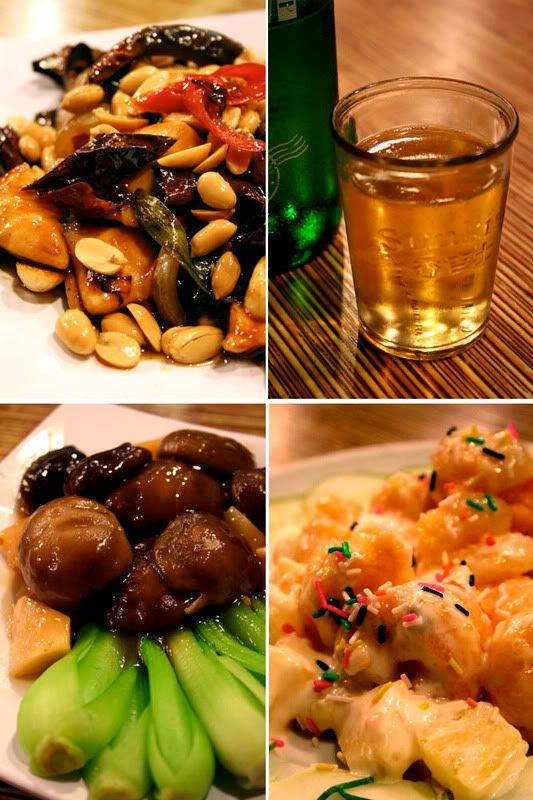 Our next farewell dinner was ordered after we returned to Hsinchu after a week spent travelling around the island. Bordeaux and I returned to one of our favorite restaurants, a place we knew simply as 'The Big Chief.' It got its name among the expat community several years ago, when the restaurant had displayed a carved Native American head over its entrance. The style and owners have since changed, the Native American head removed, but the name has lingered none the less. It's a large, two story restaurant, whose spacious haphazard interior is crowded with tables and banquet chairs. It's usually packed with families, the soundtrack for dinner a mix of boisterous conversation and playing children.
We ordered three dishes for our final meal: a favorite dish, a new dish, and a strange dish, all of which we enjoyed with the obligatory green bottle of Taiwan Beer, an unusual rice-based beer. The favorite dish was a Szechuan style gongbao chicken, which we'd enjoyed frequently over our two months in Taiwan (the Big Chief also does an incredible gongbao scallops). The tender chicken had a spicy, smoky flavor thanks to long strips of dried chilli, but the spicyness was cut with the crunch of peanuts. Our new dish were the evenings vegetables: a plate of steamed bokchoy and stir-fried mushrooms and bamboo shoots. And our unusual dish was a Taiwan specialty: shrimp salad. The first time I heard of it, I thought it sounded like something that would be served at a suburban '60s luau: crispy battered shrimp, slices of juicy pineapple, and a tangy sweet mayonnaise dressing topped, all topped with colored sprinkles. It never really won me over, but the Big Chief managed to make the dish exceptionally well- the shrimp buttery crisp, nicely sweetened by the dressing and fresh pineapple. I ordered it mainly to get a picture of it, but really it was the dish that made the meal Taiwanese- by adding just the perfect element of sillyness.