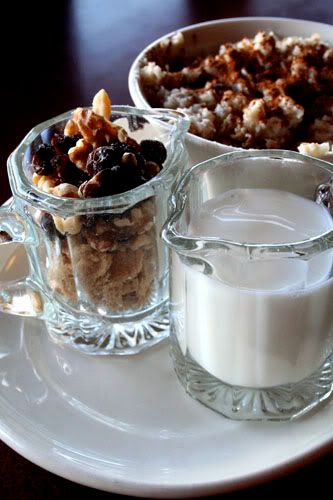 Has the theme of my last post suggested what I missed most in Bangkok?
Seasons.
Ok, we had hot, cool, and wet-- but in Thailand I was missing autumn, winter, spring and summer. In addition to being able to dress for the seasons, or enjoy a change in the weather, I'm happy to be eating seasonally again.
We had our first snow fall this morning (it was light and didn't stick, but it counts!), so I started the day with a warm breakfast. My current favorite breakfast is a bowl of oatmeal, garnished with berries, nuts, and either dark brown sugar or maple syrup. Pictured above is a bowl of oatmeal with walnuts and dried fruit from
Flying Star
, the Albuquerque Cafe that I mentioned in my last
post
. It's a great local spot for breakfast, from the above, to delicious muffins, to big plates of huevos rancheros.
What are you eating for breakfast?