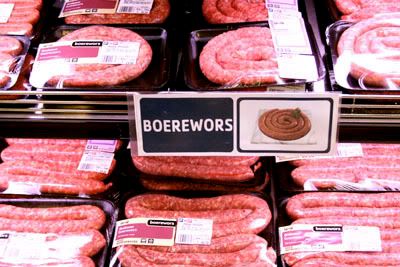 Though I've approached South Africa from overseas four times now, this was the first time in which I didn't arrive in Cape Town. Instead, I was welcomed back to South Africa by the city of Pretoria.
Having Pretoria serve as my entryway back into South Africa was an odd experience. Unlike Cape Town and Johannesburg, which are distinctly world cities, Pretoria has an oddly insular atmosphere-- despite being home to a range of foreign embassies and consulates. Beyond that, it has a traditional vibe, with distinctly Afrikaner overtones. You can see it in the city's landmarks and architecture: the orange brick apartments, the towering Voortrekker monument. You can see it in the style: men wear their shorts a few centimeters higher above the knee, blond children walk into grocery stores completely barefoot, and women favor a red henna tint in their hair (I refer to it as a Pretoria rinse). And to some degree, you can see it in the food, where hints of boerekos work in among the dishes on refined café menus.
In the past, South African food had a reputation for being heavy, bland, and uninteresting. Thankfully, opinion has changed in recent years, with more people paying attention to the country's diversity of culinary influences, unusual local ingredients, and traditions of homecooking. I have to admit that over my last period of residence in the country, I didn't pay much attention to the food. So this time, I'll be making that one of my focuses. In particular, I'll be focusing in on boerekos, 'farmer's food': traditional South African cooking, a mix of Afrikaans, English, African, and Malay traditions. In many ways, the above boerewors is a classic example: farm style sausages made with dry Malay spices. While it may not be as photogenic as the Thai curries and Cambodian salads I've previously featured on this blog, let's hope it's just as tasty.