Opinions in eating.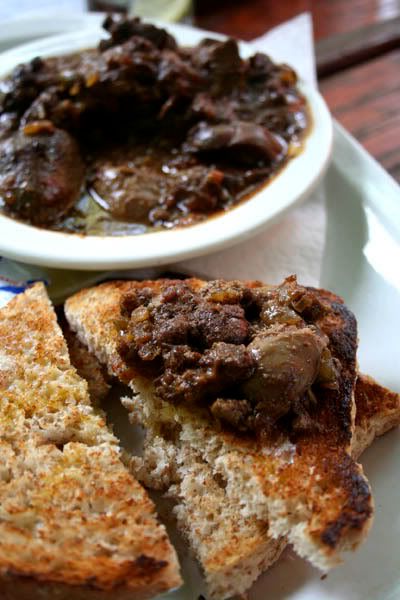 Are there any foods you don't eat? Bordeaux and I have been cooking for other people quite often lately, so we've been finding out a lot about what different people won't eat: no egg, no basil, no cilantro, no tofu, no chili. In comparison, I tend to think of myself as really eating almost everything-- though every now and then, I do run up against something that I'm not exactly eager to try. Like liver.
Had I ever eaten liver before? I doubt it-- but somehow I got it into my head that I wouldn't like it, perhaps from some mass pop-culture aversion to the stuff. But my mission this year is to learn all about boerekos, and it's impossible to do that without at least eating a little liver. And really, I admire the eating of liver-- if you're going to eat an animal, it's more responsible to eat the whole animal.
So at an outdoor cafe in Pretoria, I ordered a simple meal of chicken livers on toast. The dark grey livers arrived in a small bowl, bathed in peri peri, a South African hot pepper sauce. I spread it on the toast, and gave it a try. I have to admit, my first taste was a little off-putting. The slightly metallic tang, the stodgy texture. But it grew on me-- despite its downsides, it has some rather redeeming qualities. It certainly has far more flavor than most meat, possesses a richer taste and complexity, and took on the spice of the peri peri well. I could certainly see ordering it again-- with less hesitation next time.