Eating the world, one bite at a time.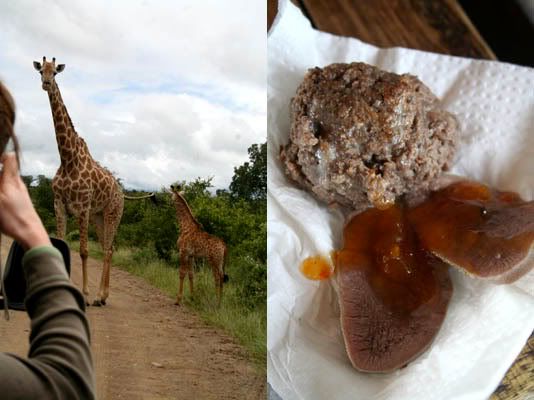 Less than a week after arriving in South Africa, we headed into Kruger National Park. Though I've been in the park before, this was my first time doing it South African family style. Instead of staying at a lodge, we rented out restcamp cabins, and catered our own meals-- starting with a stop for some
padkos
on the way in.
Though the Afrikaans term padkos could be translated as 'road food', it bears no resemblance to the street-side noodles and sidewalk satays I enjoyed in Asia. Instead, it's food for the road, packed ahead and meant to be eaten on a trip. For our first stop, we had two dishes: frikadelle and sliced beef tongue. Though a little heavy for a morning snack, the frikadelle was easily likable, as it was well spiced with cinnamon, nutmeg and coriander. And though I hesitated a little before biting into the tongue, it was surprisingly tasty as well. It paired particularly well with a tangy peppadew chutney, giving it the distinctly South African combination of savoury and sweet.