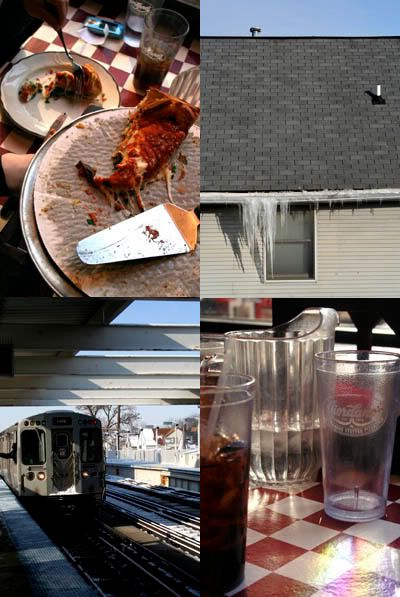 I had only been to Chicago once before, and even then it was only by chance. My parents and I were flying to Spain, and a several hour layover at O'Hare became a 24-hour delay. So after a night in the only dodgy hotel we could find with a room, we spent a few hours strolling downtown and gazing at impressive old buildings. Not enough really to give me any sense of the city. So when my friend M___ invited us to visit on our way to South Africa, I decided to rework our route.
And in a way, Chicago was a fitting city for my departure from the United States. Though it's not a city I know, it was the setting for some family history, where my grandmother lived and worked as a young woman, and where she met my grandfather. Beyond that, Bordeaux and I had come to the partly to experience winter, and we would certainly get one last dose of it in Chicago. And lastly, we entered the US with a weekend of eating American in Los Angeles—where better to go out eating a few last American meals than in Chicago?
The few days we spent in the city were obviously not enough to see much, but it give us a glimpse at least. We checked out the Art Institute, admired old houses as we rumbled past them on the El, and visited incredible independent bookshops, cafes, and design stores. Our few days also gave us a chance to see why so many people consider Chicago to be one of the best cities for eating in America. Chicago boasts an incredible variety or international cuisines-- including at least two Thai restaurants per city block, one of which we enjoyed a delicious bowl of khao soi in. But really, it was two American standards we were after: hotdogs and deep-dish pizza.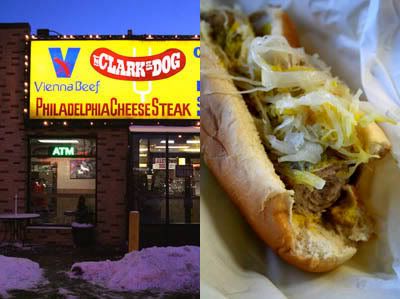 Hotdogs weren't difficult to find. We passed tiny counter restaurants, and catering trucks that steamed the cold air. But how to find a good one? Though it's not always a reliable method (think of overrated Pink's, in LA), we opted for one of the classic shops: Clark's. Bordeaux ordered a chili dog, and I had a Polish sausage with sauerkraut and mustard. The food cooking behind the counter looked relatively ominous, with sausages boiling in brown water, and chili bubbling an intimidating shade. Thankfully, it all tasted good. Years of a developed sense of New Mexican superiority over anything resembling 'tex-mex' have disabled me from ever ordering chili, but I have to admit that Bordeaux's hotdog was much better than mine.
The next night, after a little experimental Chicago theatre, we returned to M___'s apartment, where her boyfriend had ordered us a pizza: a massive deep dish pie filled with sausage, onions and green peppers. It was my first time eating deep-dish, and it was more fantastic than I could have imagined. Though pizza rarely makes a featured appearance on Primitive Culture, I have to admit that it's actually one of my favorite foods. It can be modified and played with so easily: made with different crusts, topped with delicious and unusual cheeses, and serve as the ideal base for experimental ingredient combinations. This one definitely deserves a spot as one of the best I've eaten.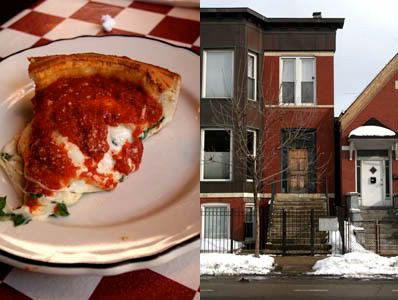 It was so good, in fact, that we sought out another deep-dish pizza for lunch the next day. Hours before the flight that would take us over the Atlantic and out of the US for who-knows-how-long, we had one last delicious American meal.