Dispatches from the world of food and eating.
School Lunch
Most of us are probably glad that we no longer have to eat lunch from the school cafeteria, but after seeing the school lunches from
China and Malaysia
that Robyn posted over on
Eating Asia
, we may start wishing we could enroll for 2nd Grade in Chengdu or KL. Aside from the pure aesthetic appeal of the images, the photos are worth examining to get a glimpse into the food culture of China and Malaysia. What we feed our children says a lot about how we think about food-- a rather troubling thought, if I picture the Salisbury steaks and soggy square pizza slices I got as a kid.
Pictured above is a school lunch I enjoyed while teaching in Taiwan last year-- tofu and braised pork eaten with wilted greens and thick slices of bamboo.
Crack an egg on it
I've been following
ReadyMade
magazine since it's third issue, and while its always been good, I've been blown away by how fantastic each issue has been over the past few months. Part of why I feel it's improved is that they're increasingly adding more and more features on food and cooking. They're really taking advantage of people's growing interest in knowing what they're eating, and where their food is coming from. Recent issues have featured articles on making your own vinegar, on raising chicken's for eggs, and on why you should have a a dough hook or offset spatula in your kitchen. And every recipe we've tried, like the
breakfast pastry
Bordeaux made in San Francisco, or the
rhubarb tart
I featured in yesterday's post, have been fantastic.
Now ReadyMade has even launched their
own food blog, Feast
, so you don't have to wait for the semi-monthly issues to come out. I've been visiting it daily lately, salivating over their pictures, and getting some ideas to implement at dinner. One tip they featured recently was that
cracking an egg
over certain dishes can instantly elevate the style and flavor of the meal. We'd actually been experimenting with that lately ourselves; our best successes have been egg on pizza (crack it on, then bake for a further 6 minutes to set the whites but leave the yolk runny), and poached over a salad of bitter leaves, which Bordeaux pulled off perfectly for our recent spring dinner.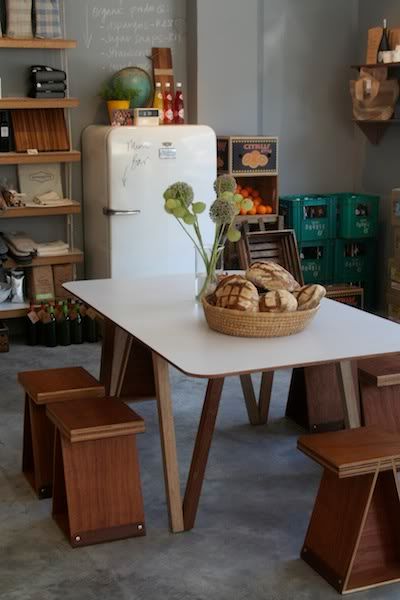 Super Superette
Cape Town has always had some great cafes, but none as wonderful as the fantastic Superette, which opened up last year. Located in the grungy neighborhood of Woodstock, Superette was worth a visit if only to relax in the cafe's sleek interior-- gray concrete floors, a homey communal table, local artist's work on the walls, and an old-fashioned lunch counter showcasing the salads of the day (it shouldn't come as a surprise that the cafe's owners had previously founded a gallery, a design collective, and the wonderful
Neighbourgood's Market
). And the ever-changing menu, which focused on local organic produce, always had something good on it- like home-made cereal with preserved guavas, or a rich bread and butter pudding. Unfortunately, I won't be getting back in for a meal anytime soon-- so I was happy to find out that they've got a
blog
going, showing the activity their kitchen is up to. Even if you won't be visiting Cape Town soon, their blog is worth a visit just to admire their style or to get some inspiration for your own kitchen.
PS
- If anyone has seen any great recipes, cooking blogs, or food photos online, I'd love to hear about them! Share in the comments.