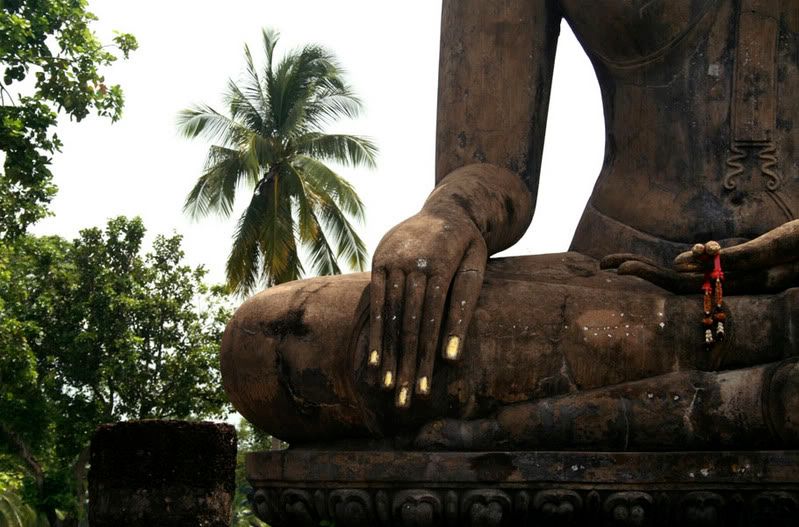 Almost on a single axis north of Bangkok are Thailand's two previous capitals, Sukkhothai and Ayutthaya. In their own time, each was a glorious metropolis. Sukkhothai was a center for the arts, where Thai Buddhist sculpture developed a unique style and sensibility. Ayutthaya was an international city, drawing traders and diplomats from all over the world, and with a population larger than its contemporary London. Now each features a tourist-oriented historical park, offering the chance to visit wats in various states of ruin, to sleep cheaply in pleasant guesthouses, and to eat at restaurants serving bland Western style food.
Of the two old capitals, Ayutthaya is the more popular, as it is only one hour north of Bangkok by train. The city's ruins are scattered throughout the city. Some are simple brick wats, now fairly rundown, and overgrown with the creeping roots of fig trees. Some wats are fortunate enough to be protected by their own grassy lawns, while others are now surrounded by busy intersections, where they're bathed in dust and smog. Ayutthaya's major sights are mainly visited by tour groups on day trips, so they are generally surrounded by clusters of brightly colored tour buses.
Several of the more impressive sites, like Wat Phra Mahatat and Wat Phra Si Sanphet, are located in a vast but populous complex in the center of town. Below towering stone chedis and ruins, stands are set up to sell souvenirs, postcards, and icy-cold cans of Fanta. Elephant tours depart from a small corral- when we visited there were nine or ten elephants standing chained side-by-side, shifting nervously on their feet. An audience of mainly Thai and Japanese tourists watched as one of the elephants performed tricks, such as standing awkwardly on top of an upturned barrel. Inside the walls of the wat, the scene was no less manic. There was a school tour on the day we visited, and the grounds were filled with groups of children playing and posing for photographs.
Though also popular with school-groups, the Wat Yai Chai Mongkol, located across the river, felt much quieter. Inside a brick wall perimeter lined with mango trees were a row of white faced Buddhas, each with a small amulet or votive in its elegant sculpted hand. The shady garden gave a sense of calm, even as we were surrounded by Thai students wanting to practice their English and take photos with us.
Sukhothai, located several hours further north, is a far different experience. Where the Ayutthaya ruins are located between apartments-blocks and shops and highways, the Sukhothai ruins are actually located some distance from the newer city development. And while the ruins are even more beautiful, and the art even more striking, not nearly as many people visit.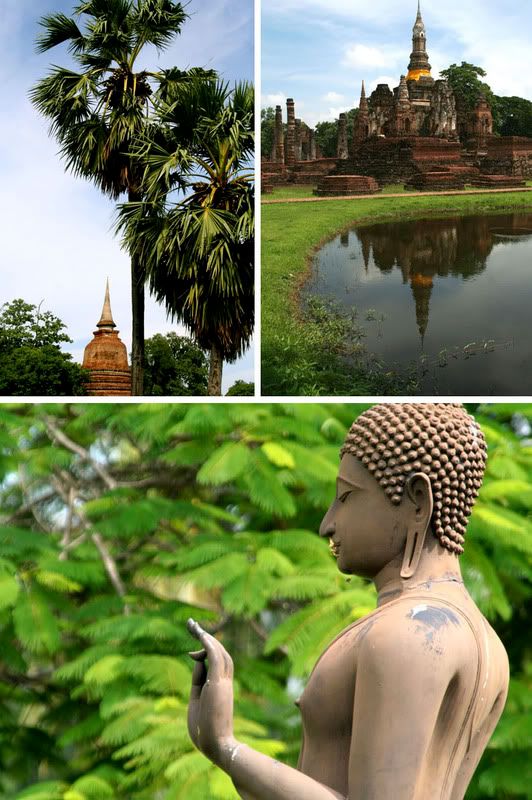 Not only is old city complex less crowded, but the site itself is designed to give a sense of calm and symmetry. Sukhothai was declared a world heritage site, so the grounds of the complex have been restored with the help of UNESCO. The vast gardens have been shaped with canals and planted with coconut palms and mango trees, and many of the ruins have been carefully restored. The waterways and ponds at Sukhothai were designed specifically to reflect the wats, so they offer a sense of balance to the crumbling ruins. Though the grounds of old Sukhothai were never empty, the crowds felt much less hurried than at Ayutthaya. Backpackers relaxed on shady lawns, and locals ate their lunch leisurely at waters edge. It created a calm environment, where there were no distractions from the beauty of the graceful ruins.