One of the things I worried about when coming to Southeast Asia was the possible lack of good coffee. I've developed a pretty strong dependency, but aside from that, I love the taste of coffee, and getting coffee is among my favorite leisure activities. Thankfully, getting good coffee in Bangkok has not been a problem.
The most common coffee in Bangkok is the Thai iced coffee, which can be found at cafes, restaurants, and stands located out on the street. Since seeking out good street-food is another hobby of mine, this is an added bonus. In some places, Thai iced coffee is served in a plastic bag, but so far I've only had it in tall generic paper cups. Thai iced coffee is incredibly sweet and rich, with a smooth texture resulting from the combination of sweetened and condensed milk mixed in with the coffee. The coffee itself is admittedly very weak, especially when thinned out and served over ice, but it's enough to meet my cravings, with the added bonus of soothing Bangkok's heat.
As Bangkok is an extremely cosmopolitan city, American Style lattes and European espressos are not hard to come by. There are numerous tourist coffee shops and student cafes that sell good coffee, and of course, the globally swelling Starbucks. When traveling in the Middle East, I developed the habit of going into Starbucks whenever I visited a new country. Coffee in the Middle East was amazing, so it wasn't out of lack- rather it was to see the ways that the American chain is adapted to fit into different climates. So far I've only see Starbucks in two areas in Bangkok- next to a McDonalds at the Western tourist oriented Khao San Road, and at the exclusive shopping malls of Siam. Bordeaux and I visited one at Siam Paragon, a label-heavy shopping center in Siam. The main draw for me was the posters outside, which showed frappucinos with one of my favorite flavors: red bean. They were surprisingly good- with the perfect offbeat redbean flavor, and vaguely nutty texture.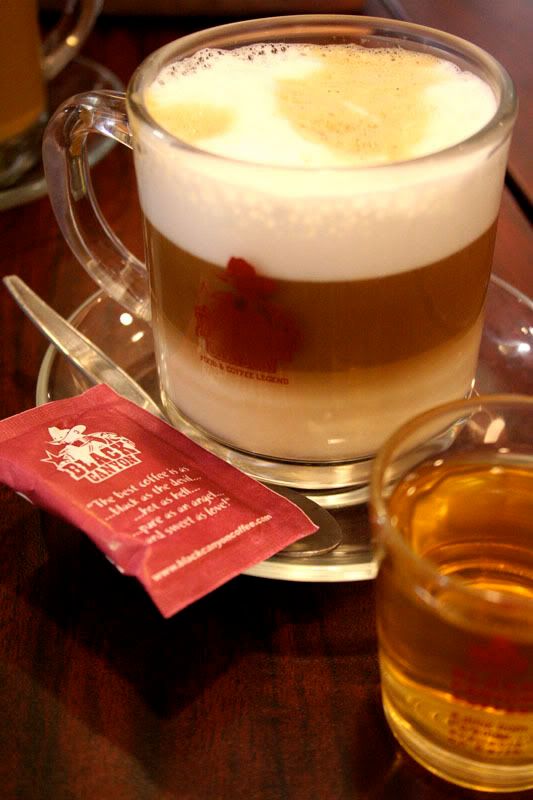 Bordeaux and I searched out Black Canyon Coffee, a Thai chain that's been competing locally with Starbucks. We finally found on, inside Siam Center shopping mall. The experience was a little disappointing. The menu seemed more oriented toward meals than coffee, and the very stylish interior of dark wood and polished metal was marred by tacky elements, like the bubbling fountain in the corner and the cheesy platitudes in the menu. Still, the coffee menu was extensive, and the latte was good, so I can see why Black Canyon Coffee has been able to compete with the global giant.
Editors Note: (October 14, 2007) I wrote this entry when I had been in Bangkok for less than a week, so I have a few corrections or qualifications. I've since grown a lot more fond of Black Canyon- most of the branches lack the oddly tacky elements of the location in the Siam Center. Furthermore, most outlets don't even offer food, so most places feature a menu geared primarily toward coffee drinks. I still have some reservations about them- they tend to favor really cheesy slogans and phrases in their marketing- but they make a number of delicious coffee drinks. As for Starbucks, there are branches all over the city- not just in the two neighborhoods I mentioned. And sadly, the red bean frappucino may have only been temporary.