1. Vida e Caffe, Kloof Street, City Bowl
I'm willing to put up with the pretensions of a coffeeshop that has its own name-dropping magazine for the quality of the coffee at Vida. They do have something to be arrogant about, I guess, as their sleek, stylish interiors of cork and zebrawood got them featured in Wallpaper* as the hippest coffee chain in the world. Unfortunately, Vida has lately made a habit of opening in soulless shopping malls and bland business parks, which is why I name the Kloof Street location specifically. Its crowd is always a good mix of artfully dressed students from the nearby Michaelis art school, stylish Gardens locals, and business men and women in suits.
2. Empire Cafe, Muizenburg
Named for the long derelict Empite Theatre, this two-story cafe sits quietly at the end of a cul-de-sac, just across the train tracks from the crumbling Muizenburg seafront. Mid-morning is the best time to come, to take a long brunch, or just for coffee and one of the baked goods on offer downstairs. Though the food is stellar, and the baked goods are delicious, it's the atmosphere in this coffeeshop that sets it apart. From the second floor, you can look out past Victorian shopfronts to the deep blue water of Vals Baai. Trains rumble past as you enjoy a leisurely meal, while wet-suit clad surfers stop in, dripping saltwater on the floor.
3. Love Birds Cafe, Street, City Bowl
Something about this coffeeshop always intimidated me, and so I left South Africa at the end of 2006 without ever having gone in. Thankfully, I finally made a visit on this trip. The interior was brilliant, spare, with a simple wooden table acting as bakery counter. Unusual elements, like chandeliers shapes like swans and seat covers embroidered with fairytale illustrations of wolves, blend perfectly with more homey touches, like the long communal wooden tables that make you feel like you're eating in a farmhouse. And best of all, my breakfast, which was served in a range of quirky bird themed dishes, was phenomenal. The house mix coffee was rich and flavorful, and the scone I ordered, which was filled with sultanas, nuts, and melting chocolate pieces, was undoubtedly the best I've ever eaten.
4. Afro Cafe, Between Long and Greenmarket Square, City Bowl
As a student of African Studies, I feel it's my duty to indulge in ridiculous Afrocentric style now and then. Afro Cafe is like the spatial realization of a hip Afrocentrism, with wax-cloth tablecloths, chandeliers made from recycled plastic, and a mural of a black mermaid looking out over Table Bay. The menu lives up to the interior, with a range of coffees and teas that reflect the flavors and tastes of the continent.
5. Cafe Neo, Mouille Point
The logo for Cafe Neo is a turquoise blue evil-eye, which hints to the Greek character of this little cafe across from the Mouille Point lighthouse. The interior, a long curving space, is a mix of Mediterranian domesticity and modernist design, with bleached wood tables and black and white family photos. You can sit at one of the small ocean-view tables that spill out onto the deck, or you can sat with your laptop at the long communal worker's tables. The menu, written on the wall-sized blackboard, includes breakfast, large meals, and offerings from the Middle Eastern deli. Though the coffee list is extensive, the best drink is, understandably, the Greek coffee, which comes thick and strong, with a glass of water to cleanse your mouth in order to fully appreciate the coffee's flavor.
6. Portobello, Long Street, City Bowl
One of the best things about Cape Town is that because of places like Portobello, it's a cheap city for vegetarians to eat well. The menu offers all-veggie sandwiches, soups and salads, and the coffee menu is extensive. The interior is bohemian without being grungy, and there's usually a variety of local art on show. The loft upstairs is the perfect setting for a quiet lunch- though waitresses have a habit of forgetting they have customers up there.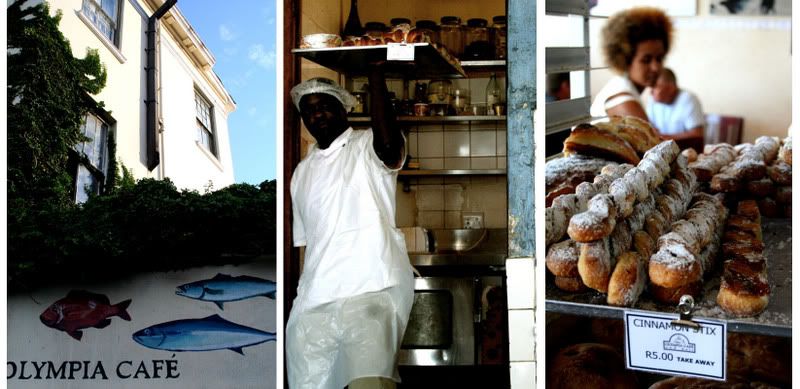 7. Olympia Cafe, Kalk Bay
Olympia Cafe may be a sign of Kalk Bay's gentrification, but at least it makes the process livable. Though a few signs around the door proclaim a fondness for "hippies," the interior is thankfully clean and spare, with an elegant design. Instead of looking at the 'art' that hangs on the walls (often local amateur photographers playing with photoshop), turn instead to face the stacks of baked goods; beautifully crafted crossaints, brownies, and breads. The muted color in the faded blue walls balances perfectly with the hazy stretch of ocean that sits opposite Olympia's glass windows.
8. Lazari, Vredehoek, City Bowl
Lazari is less than two blocks away from the apartment where I lived when I first came to South Africa in 2004; I spent many hours there working through homesickness and developing a crippling coffee addiction. Going back is always a comforting experience, as I am welcomed back by the creamy lattes, the non-threateningly handsome manager, and sheltering shade of nearby Table Mountain.
9. Freida's, Bree, City Bowl
Among warehouses and quiet furniture stores at the north end of Bree street hides Freida's, a coffee shop marked only by a thin orange storefront. The tiny exterior is deceptive- Freida's stretches all the way back to the end of the block, a long thin space with a soaring ceiling lit with giant paper lanterns. Diners can either eat at communal dining tables, or in the intimate living room style setup in the back. The decor is mainly 1950s domestic kitsch, lunchboxes and board games on the shelves, and movie posters and yellowed landscape paintings on the walls. Between the extensive daily sandwich menu and the changing offering of specials, there's always something good to try if you feel like having more than coffee.
10. Queen of Tarts, Lower Main Road, Obz
I'm not really a fan of Obz- there are some great old buildings, and the neighborhood has touches of charm, but all of that is marred by the grungy stoner vibe of the area (take a look at the purple wizard shop for evidence). But Queen of Tarts makes a trip to Obz worthwhile. The tiny interior is decorated like a homey 1950s kitchen, with white porcelain dishes lined up on shelves against pale blue walls. Though the menu offers delicious warm soups and open faced sandwiches, it's much better to just come to indulge in the dessert. For a while it seemed as though the owner was becoming something of a local celebrity, and understandably so- for the quality of Queen of Tart's iced cupcakes and two-inch thick brownies alone.
(The above were listed in no particular order.)