Winter in Egoli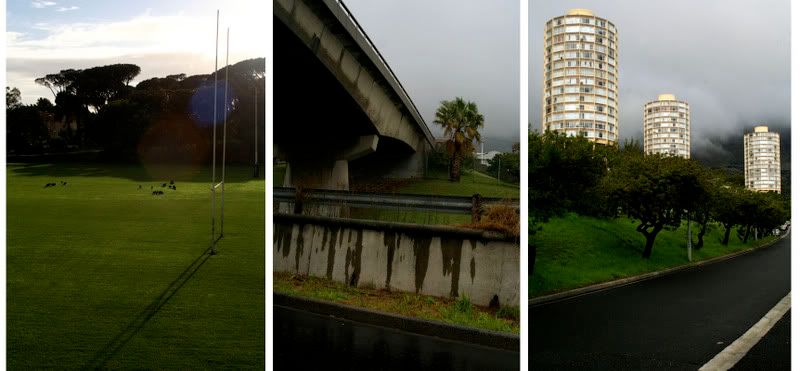 Cape Town, in winter, is wet. Grey clouds, heavy with cold rain, roll over Table Mountain and hang low over the city. Storms stain the roads shiny black. Lawns become so lush that every blade of grass drips with green.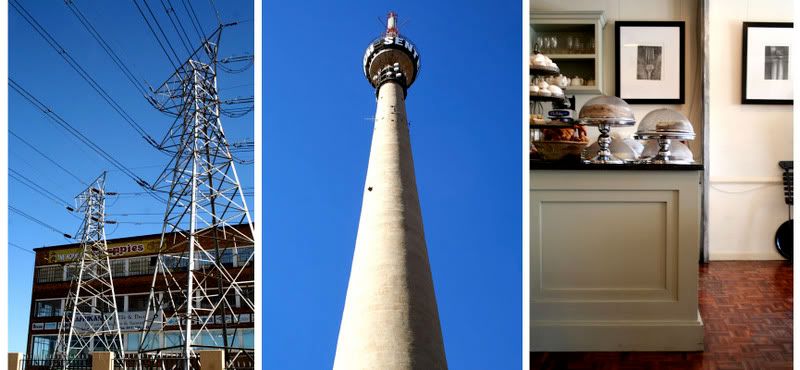 Johannesburg, in winter, dries out. Egoli lives up to it's name- place of gold- as the grass turns crisp and becomes golden, standing out brilliantly against the stark cloudless sky. The sky becomes overwhelming, so harsh that it reflects in blue hues in the concrete and brick of the city. To escape the cold, I had coffee in Melville at Service Station, my favorite coffee shop in Johannesburg (though that might not mean much as, admittedly, I know next to nothing of Johannesburg).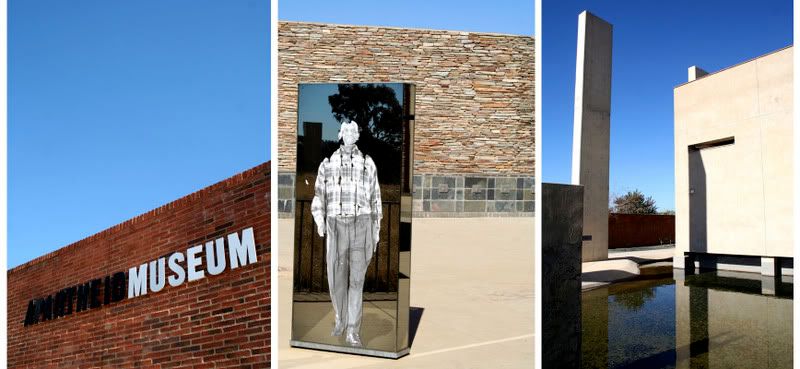 Following directional signs through the city, I eventually reached the Apartheid Museum. I pulled under the turreted entrance arch, sign reading: "Gold Reef City Theme Park and Casino- and Apartheid Museum." Walking from my car to the entrance, I was unsettled by the sound of screams- a disturbing sound installation meant to evoke the horrors of apartheid?- until I realized it was coming from the roller coaster at the amusement park that shares the property with the Apartheid Museum. The museum itself was designed a little like a theme park, with separate entrances for whites and non-whites meant to evoke the racial segregation. The exhibits curved through chainmetal and brick, past photos of domestic workers and Apartheid's architects. The archival video footage was particularly interesting. At a section on Afrikaner nationalism, they showed a 1930s film made to chronicle South Africa's history. Ships pulled into Table Bay, and a gallant Van Riebeek was greeted on shore by a group of kneeling, worshipping khoi-khoi. Another room featured footage of the ultimate right-wing reaction to the fall of apartheid, which manifested itself mainly in obese men dressing themselves in khaki and forming a militia. The museum was designed to tell two stories at once; of a people fighting and praying and dying for freedom, and of a group terrified to lose the way of life they felt they had earned.
Leaving the Apartheid Museum, I looked out at the city skyline through the rides at Gold Reef City. I walked through the parking lot at Gold Reef City, which was of course much more full than the parking lot at the Apartheid Museum. It reminded me of something I had read in the apartheid museum: that in the face of apartheid, most people, white and black, chose to simply go on living, and to make the best of it that they could. Looking at the plaster statues of miners and crowds of children, I opted not to go to the themepark, but chose instead to pursue my own playground. I headed back to Melville, for lunch at the stylish 7th street cafe, Loft.