Few legendary destinations live up to their reputations of romance and exoticism. Louang Phabang certainly comes close. Admittedly, part of its glamour must have been a result of our means of arrival; after two days traveling by slowboat through the jungle of the Mekong, Louang Phabang served as a very welcome port of call.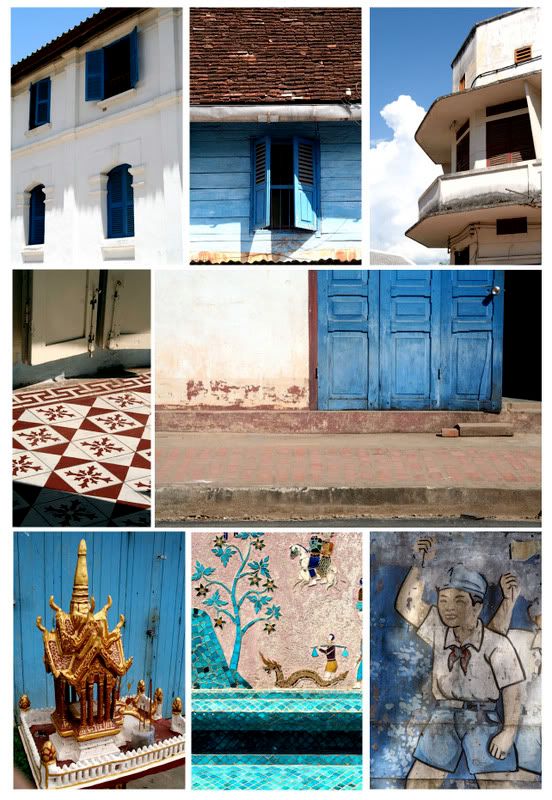 Apart from it's soothing views of the Mekong, the Nam Khan river, and the distant forested hills, Luang Phabang also boasts beautiful French architecture, numerous markets, and cafes brewing coffee grown in southern Laos. A city of cool white walls and blue-green shutters, Louang Phabang has a reputation for sophistication among the Lao. Unlike most of the country, which hasn't yet been able to fully emerge from years of economic isolation, there are few comforts or luxuries missing in Louang Phabang. Aside from a crumbling Socialist Mural perched above the Hmong market (Soclalist art always being recognizable by groups of united youth and the presence of a man holding a wrench), the only visible sign of communism is in the hammer and sickle t-shirts for sale. One could almost imagine that the city had gone smoothly from royal capital to French outpost to chic tourist destination.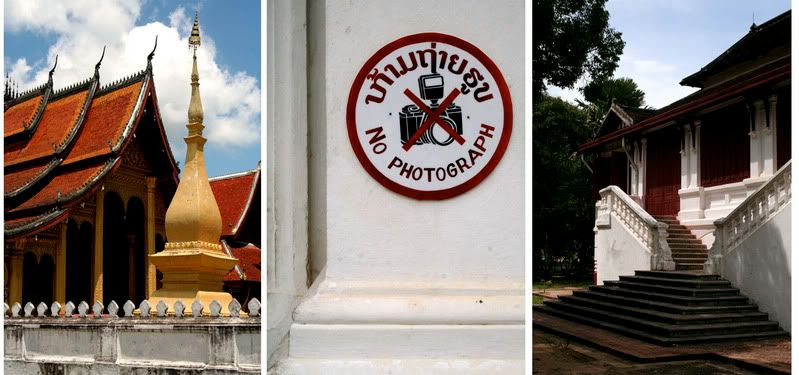 For being a relatively small city, Luang Phabang offers a few rather impressive sites. There are a number of wats, shimmering gold inbetween the gardens of neighboring villas. The most impressive is Wat Xiang Thong; the exterior walls of its pavillions and chapels are decorated in glass mosaic tile, depicting elephants, peacocks, and characters from Lao folktales. The premier site in town, however, is the Royal Palace, home of Laos' last king and queen. The entrance halls of the palace, which were redone in the late 1950s, feature colossal mosaics in metallic tile. Shards of colored glass create an entire universe of Lao folklore... In another chamber are a series of murals depicting the passage of one day in Louang Phabang. Painted in 1930 by Alex de Fautereau, the mural seems to have been an effort to mythologize Laos in the same way that Gauguin did for Tahiti. However, where Gauguin favored Polynesian women, it seems possible that Alex had a strong fondness for young Lao men; while the women in his mural are fully-clothed, often tucked away in shadows caring for childen, the men of Louang Phabang appear bare-chested in tight (and sometimes short) sarongs, standing in intimate conversation with one another. Beyond the entry halls are the royal residences, which are striking for their simplicity. Though they favored rather ostentatious ceremonial rooms, their own bedrooms have plain white walls and simple wooden furnishings. Behind the Royal Palace there are a number of galleries, which show surprisingly sophisticated work. In one old room there was even a show of work by Janine Antoni, featuring pieces she created in dialogue with several Hmong women.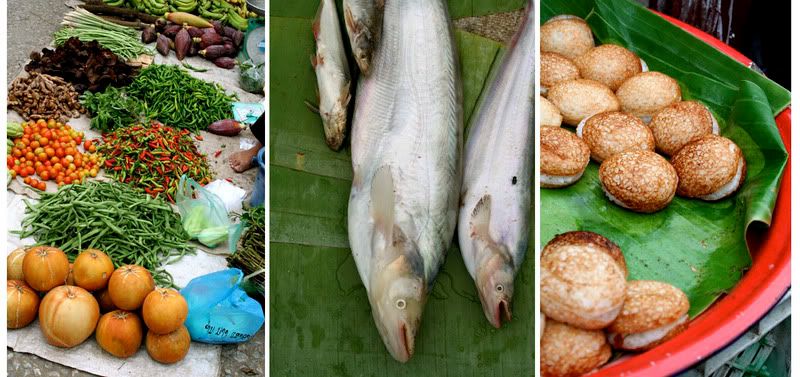 On our last morning in Luang Phabang, Bordeaux and I woke especially early. Starting at sunrise, the local monks walk through town, receiving alms from the local women. Since monks cannot cultivate their own food, they must be given it through this daily ritual. The woman sat patiently, often chatting and laughing with their friends, waiting for the procession of monks to arrive. At last they appeared, a long train of men, young and old, in orange robes. The woman would gather a handful of sticky rice from their basket, and give it to the monks. Once the last monks had passed by, the women would say a small prayer, and return to their homes. Leaving the morning ritual, Bordeaux and I headed to the morning market. Blankets were set out and small stands set up on a thin alley, where it seemed almost possible to find any kind of Laotian creature on offer. Plastic bags quivered with live crickets and crabs, water rodents tried to chew out of bamboo cages, and large birds lay dead on the ground, their splayed wings still covered in dark feathers. Bordeaux and I opted for a somewhat safer breakfast; rice porridge tarts, their edges browned to the flavor of a warm pancake, their insides still dripping hot.