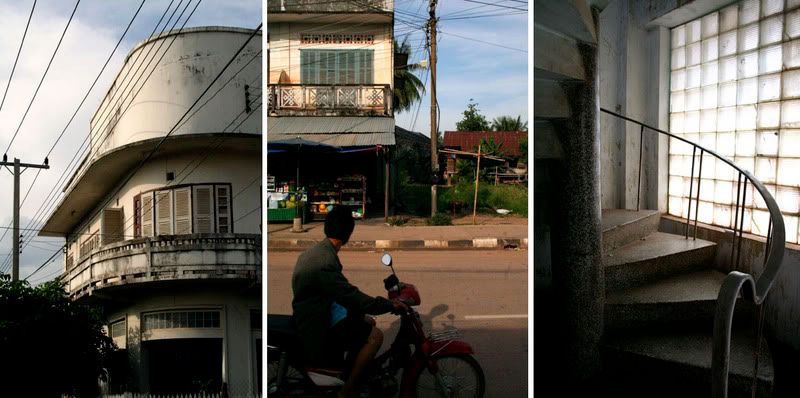 Departing from Vientiane, Bordeaux and I left behind the comforts of Northern Laos. The bus from Vientiane to Savannakhet should have been a good indication of what was to come: our bus turned out of the station, stopped directly across the street to load on more passengers, waited while they got settled on plastic stools in the aisle, started up, slowly crawled a block, then stopped again to let on vendors, who climbed in over everyone to sell grilled chicken, fried crickets, and bottles of coke. An hour after we were scheduled to leave, we were barely leaving the city.
We reached Savannakhet in the late afternoon. Savannakhet is mostly notable for what it could be, or almost is. It's almost a charming city; it could be, as the guidebooks optimistically describe it, 'the Luang Phabang of the south.' And to be fair, it certainly has a lot going for it: a pleasant location on a bend on the Mekong, a white walled church set at the head of a large open square, and beautifully faded French architecture from the 1930s to the 1960s. But somehow it seems as if none of this is living up to its potential. The city lacks the cafes and restaurants of Louang Phabang or Vientiane, has little to offer for accommidation, and has few sites worth visiting. It would be nice place to relax if only there were a comfortable place to do so. At the time of our visit there was a new cafe opening up on the square, but even that looked like a generic import. Still, despite its lack of amenities, the charms of this rusted and aging city make it more than likable; I only wish there was more to reward that affection.
The major sign of modern life in Savannakhet was present in bright, lurid, plastic colors. Near the riverside noodle stalls and fruitshake stands we encountered a funfair in the process of being set up. They had already set up a small train, a merry go round, and a see-saw, and a massive bouncy playground was slowly plumping and growing. Though the entire fairground was populated by cartoon characters, none were recognizable, aside from a few minor look alikes; there was a rather jaundiced Mickey Mouse, and a nightmarish Donald Duck. Most of the other cartoon characters were simply creepy- most particularly the menacing Rabbit in a mini-skirt, who powered the seesaw with her brawny plastic arms while making a series of ambulance alarm noises. Some characters were simply incomprehensible, like the martian-rodent that wore a military uniform, rode a log covered in hearts, and pointed a gun; when a young girl rode the train sitting in front of him, it looked as though she were being held against her will.
Our bus ride to Pakxe was even worse than our ride to Savannakhet. Of six hours traveling, we spent at least 3 hours stopped, either loading on passengers and cargo, taking bathroom and smoking breaks, or sometimes stopping for no clear reason. One night in Pakxe was enough to take in the atmosphere, and we left early the next morning. From Pakxe we took a boat further south, to the quiet riverside town of Champasak. There wasn't much in Champasack- a row of houses and shops, a few dingy guesthouses, and a beautifully faded yellow villa. The quiet Mekong location was perfect for relaxing though, so Bordeaux and I spent time resting above the brown river, drinking banana and lao coffee shakes.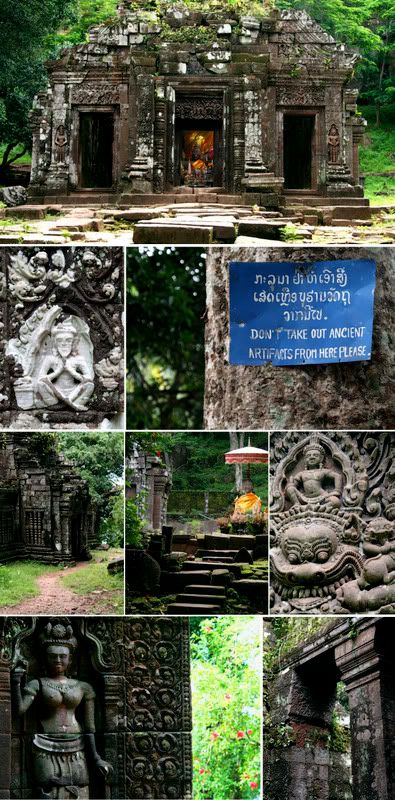 Southern Laos' major site is Wat Phou, an incredible hillside Khmer ruin. At the base of the hill were two large complexes known as the palaces. The artwork on the temples remaining was incredible, with fierce nagas and demons still guarding the corners of the ruins. Up a crumbling staircase, under a canopy of strangler figs, was the real wonder of Wat Phou. In a shady glade was a humble temple, a gold-sashed Buddha flashing from within its center. Carved guards and aspara dancers stood on the walls, curving bodies specked with moss. The wooden braces that held the temple up inside revealed the degree to which it was on the verge of crumbling, or being pulled down by vines and roots. The site was strange, dark, and perfectly mysterious. The quiet wonder of Wat Phou on its own makes the slow and uneasy trip through Southern Laos well worth it.