When we left for Laos, I was hoping that the rainy season would have passed through already. I imagined warm sunny weather, and clear blue skies perfect for photographing the city. My dream didn't last long. Within an hour of crossing the border, the gray sky released a torrent of pounding rain, setting the tone for our short visit. It actually wasn't such a bad thing. It turned out to be the perfect excuse for us to spend our time in Vientiane hanging out indoors, enjoying the many inviting cafes the capital has to offer.
Our first stop upon reaching the city center was at JoMa, a coffeeshop and bakery we'd be longing for since we last left Laos. We ordered two lattes, which were just as rich and creamy as we remembered. Bordeaux ordered a slice of smoked chicken pizza, which came on a home made crust and was flavored with a nice mix of peppers and onions. I ordered the tuna melt on rye, knowing it was the only place in Asia to satisfy my craving for my favorite comfort food. We grabbed a few issues of the Vientiane Times, and grabbed a table upstairs by the window. As we savored our coffee we watched the pouring rain and flooding streets, comfortable inside the sleek urban cafe.
As much as we were tempted, we decided not to spend our entire visit lounging inside JoMa. We decided to visit the Scandinavian Bakery, which we didn't get to during our last trip across Laos. It's alledgedly the most popular coffee shop in Vientiane, and I was curious to see whether it deserved that honor. We each ordered a mug of coffee, and we split a large chocolate muffin. The coffee was passable, but rather bland and a little too acidic. And despite have a small courtyard right across from the central fountain, I wasn't impressed by the atmosphere. The chocolate muffin, however, was rather good. It was topped with cashews, and sprinkled with confectioners sugar. It seemed at first as though it was going to be rather dry, but it became nicely soft and moist the closer to the center we got, and there was an unexpected center of strawberry jam. So while the coffee and the ambiance might not be deserving of a visit, the pastries alone might make it worth while.
For lunch on our last day we tried another cafe, Le Banneton. I was first drawn to it after seeing someone leaving the shop with armfuls of fresh, crusty sesame covered baguettes. The atmosphere inside was warm and inviting; with glowing yellow lights and dark wood furniture. There were a wide range of breads and pastries behind the counter, and some hip photographs of Lao people on the walls, creating a nice combination of European style and local flavor. Bordeaux ordered a grilled panini, made with curried chicken and apple. I had a rustic baguette sandwich, filled with an omelette, oyster mushrooms, and slices of potato. The bread used in our sandwiches was incredible, and the fillings were delicious; impressive in a city where Western food is rarely more than a passable imitation.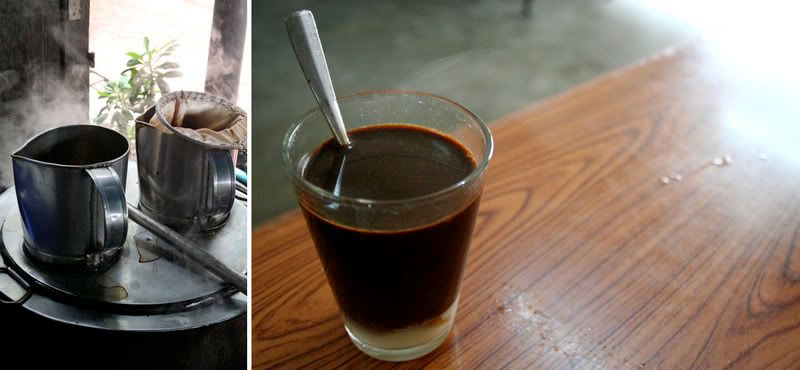 Not only does Vientiane have a wide range of European cafes and American coffee houses, but it also offers the chance to sample the local Lao coffee. This is brewed in metal pitchers, and served in short glasses with a thick layer of condensed milk at the bottom. I had tried Lao Coffee numerous times throughout my last visit, and had rarely been impressed. It was often too strong and bitter, turning into a bitter goo when stirred together with the condensed milk. Walking through the city center on our first day we passed a sweet looking foodstand that appeared to be quite popular. Seeing their boiling coffee pots, I became curious to give Lao coffee another try. We ordered two glasses, and took a seat at one of the plastic tables inside. Amazingly, the coffee was actually quite incredible. It had a smooth, rich texture, creamy like melted chocolate. The coffee brew itself was rich and strong, with hints of cocoa.
Despite the incredible range of cafes we'd found, and the others that we still hadn't tried, when it was time to leave, we made one last stop at JoMa. We got two last lattes and a few delicious pastries- the perfect treat to tide us over until we return.