The cool season in Thailand has scratched by this year with little rain, but surprisingly warm days. The effects were starting to get to me. Dust caked to the sidewalk, pollution layered on buildings like thin coats of gray paint. Early last week, a cool moist wind curled into the city and thankfully it carried rain. The first pelting drops of drizzle washed away the grime and dirt, and revealed the beautiful Bangkok underneath. In the faint purple mist, the city came alive in technicolor: waxy tropical leaves dripped dark green, traffic lights bled crimson on the slick tar-black roads. In this city of candy colors, I stumbled upon a temporary cake factory on my daily commute.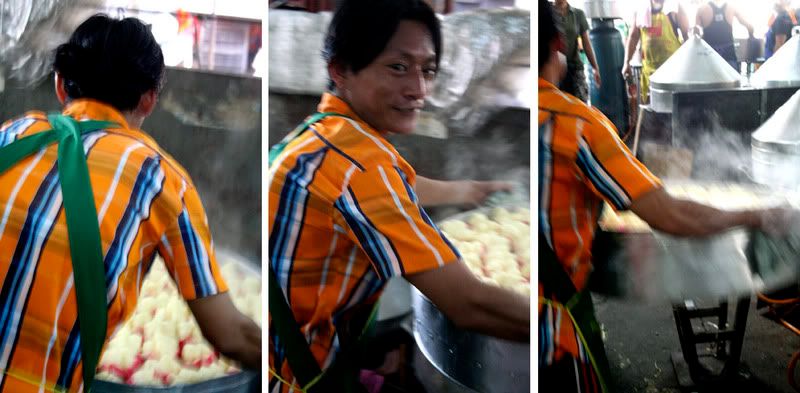 I pass by the Khlong Toei market on the way to and from school five days a week. As I've written before, it's often a good spot for strange
sightings
. But I had never seen anything like this. Ordinarily, there are a number of different stands, operating fairly distinctly: someone selling women's fashions, another with piles of marigold offerings, a small team dishing out plates of curry to waiting customers. But on Monday, it appeared that everyone was working together, operating like pieces of a machine. Children folded rose colored tissue paper into bamboo baskets; women tipped long ladles, overflowing with creamy white batter; marathon lifters transported them over to metal steamers, where another man waited for them to bake; after an old man fanned them cool, a small team packed them up in boxes and cherry-red plastic and sold them to the line of waiting customers. The result: fragrant banana cakes for Chinese New Year's.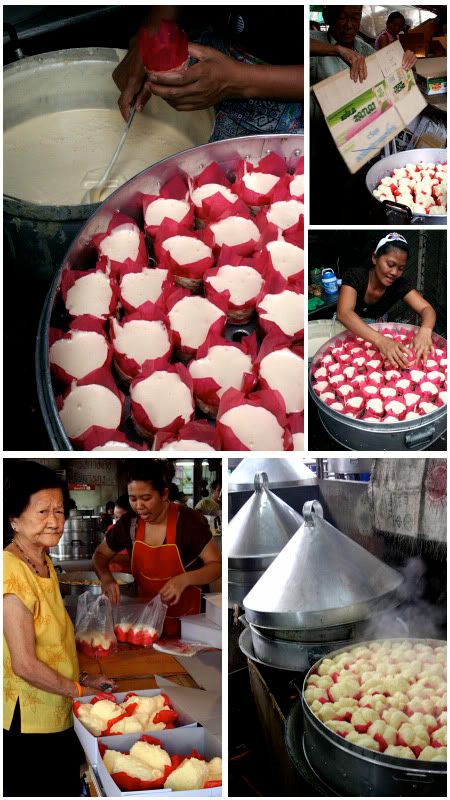 It would have been ridiculous to admire this whole process without taking some home, so I bought one each for Bordeaux and I to enjoy at home. The spongy white cakes were a friendly welcome into the New Year.