Tourists get a pretty bad rap. They're considered ignorant, out of place, careless. And I'll admit- when I'm on the skytrain and I hear some tourists complaining about how dirty Bangkok is, or how backwards Thailand is, I get pretty annoyed. But being a tourist can have its virtues. In mid-January, Bordeaux and I got a day off of work for Teacher's Day. Since it was a Wednesday, we couldn't use it as an excuse to get out of the city. Instead, we decided to become tourists in our own city, and to take a Bangkok mini-break. For our destination, we visit the relaxed and funky neighborhood around Soi Rambutree and Phra Arthit, where tourists and Thai students mix in cafes and bars. It's the area where I stayed when I first came to Bangkok, and the place where I began to realize how beautiful the city is. It was a wonderful opportunity to act like tourists, and enjoy the simple exotic pleasures of our tropical home.
After checking into our favorite guest-house off Soi Rambutree, we headed for coffee on Phra Arthit. It's one of my favorite streets in Bangkok: lined with fig trees, and curving between hip art cafes and the churning Chao Phraya. There are so many good coffeeshops on Phra Arthit, picking one is always a difficult choice. We considered
On Art
and
Coffee and More
, but in the end chose
Ann Sweet
, a small cakeshop we hadn't visited before. We savored lattes on the sidewalk as the sun set, sketching and reading as the light faded from the whitewashed walls of the nearby fort.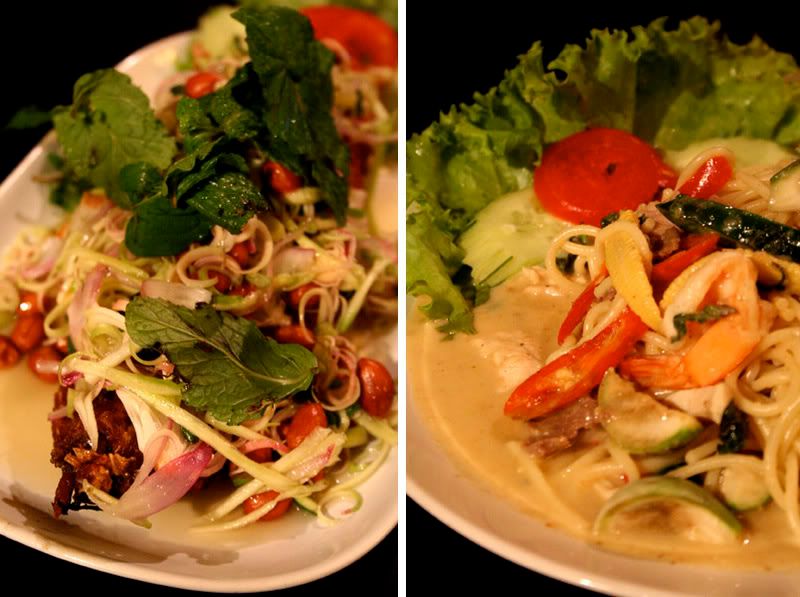 For dinner, we ate at
Rakk
. I had eaten there on my first day in Bangkok back in June; they served me one of the spiciest, most delicious green curries I've ever eaten. We opted for that again, but in a playful fusion dish of green curry spaghetti. Though not nearly as spicy as my first curry, it was still very tasty. The more exciting half of the meal was a fried fish in Thai herbs. The crispy white fish was covered in lemongrass, chili, banana flower, and peanuts, and garnished with fresh mint. The combination of crisp produce and crunchy fish was perfect, and brought alive with the spicy flavors of the Thai herbs.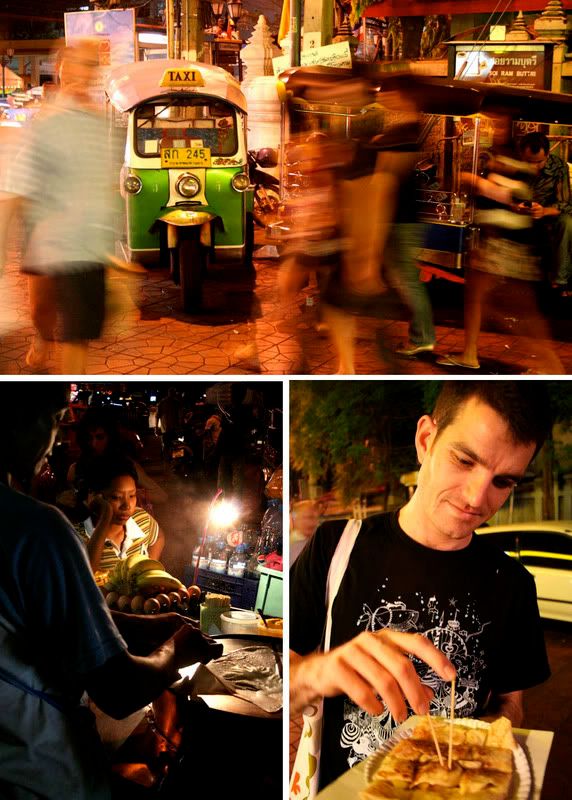 At night, we soaked up the touristy atmosphere around Soi Rambutree. We browsed at tacky t-shirt shops, and bought a few cheap souvenirs. We stopped for strong cocktails at
Sripoom
, a funky student bar with an extensive list of tropical cocktails. Afterwards we stopped for dessert on the street, where we ordered a rich, greasy banana pancake.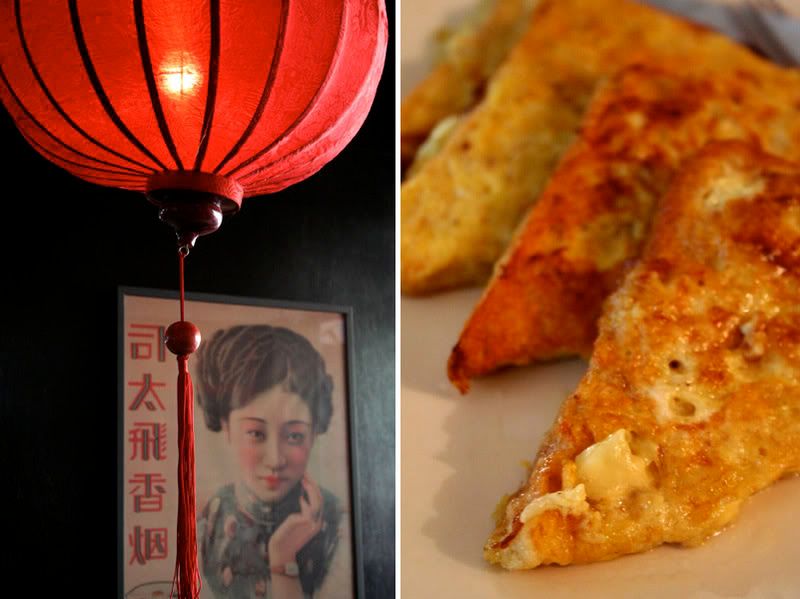 In the morning we went for breakfast at
Ricky's
, a popular backpackers cafe. The extensive menu has delicious breakfasts and sandwiches (I've never tried their Thai or Mexican dishes), served in a tiny two story building themed to a early 20th century Chinese shophouse. Since our last visit, they'd expanded into a neighboring space: though not as intimate, it carried the theme, with dark wood, red silk lanterns, and faded Chinese advertising posters. They serve some of the most amazing muesli I've ever had- crunchy oats flecked with sesame seeds and coconut, and always served with a delicious mix of tropical fruit- but this time I opted for the banana french toast. Thankfully, it wasn't a misstep. The thick, battered slices of bread were delicious, with a sweet creamy banana coating. It paired perfectly with their rich, flavorful coffee.
Before heading back to our normal life in Bangkok, we stopped at the colorful smoothie stand on Phra Arthit. We'd seen them before, and always felt tempted by their display of glistening fruit. Bordeaux got a mix of tropical produce, but I opted instead for a simple mango smoothie. Though the getaway was intended for us to feel like tourists, it had reminded me of how lucky I am to be a local here. Our night on Phra Arthit reminded me of what a great city I live in, how charming, exciting, cosmopolitan, and exotic it is. The creamy mango smoothie was the perfect tropical endnote.