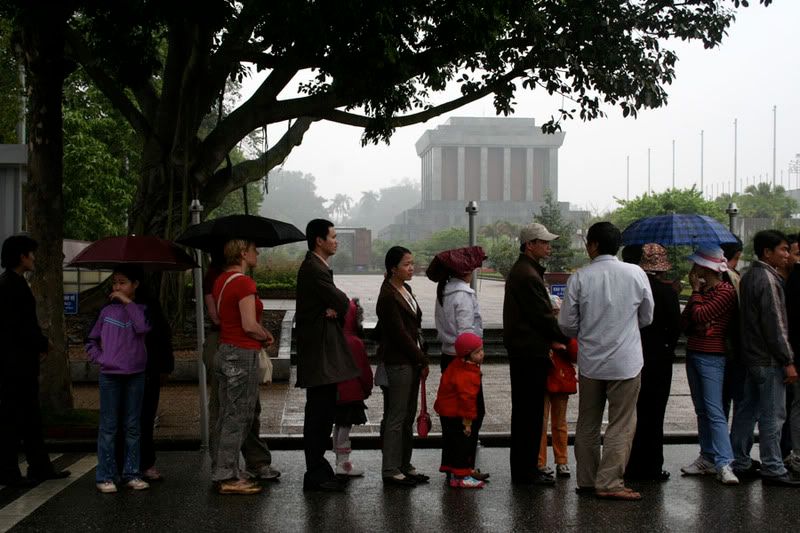 Upon returning to Hanoi, Bordeaux and I began visiting the best of the city's major sites. After a day among museums and Buddhist temples, we decided to follow the crowds and visit Ho Chi Minh's Mausoleum. Leaving behind tree-lined avenues of stately yellow villas, we reached the manicured lawns of the mausoleum complex. The sight of his monumentalist tomb rising above a snaking line of tourists struck me as bizarre, yet somehow I couldn't help but feel a twinge of recognition.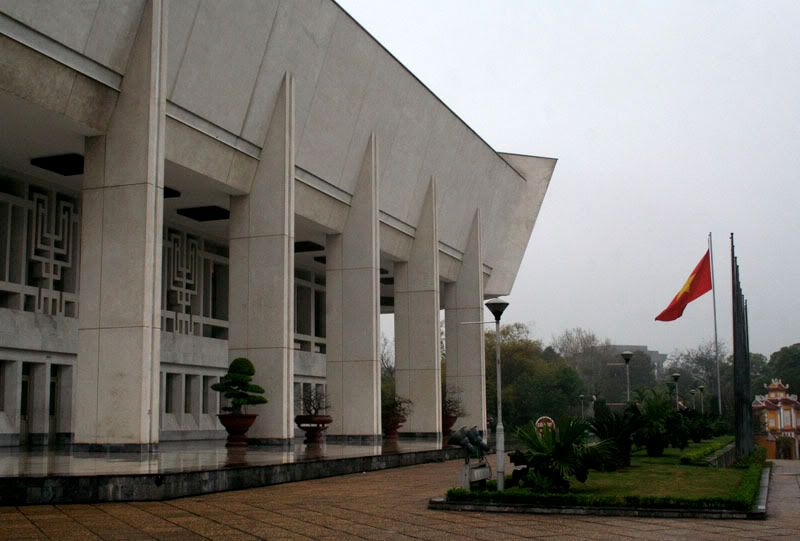 We endured the drizzle at the end of the line, standing quite some distance from Ho Chi Minh's Mausoleum, but eventually my interest waned and I gave up on the prospect of seeing Uncle Ho lying in state. Instead, Bordeaux and I visited the much less crowded Ho Chi Minh museum. Though the museum's building, which reflects the monumental Soviet influence of Ho's tomb, seems rather brutal, its concrete forms are actually meant to evoke the image of the lotus. This creative use of architecture is only a glimpse of the displays housed inside.
Inside, after paying homage to a bronzed likeness of the man himself, visitors are lead around a complex gallery that's meant to show the world and environment in which Ho Chi Minh lived. But more than a series of didactic displays, the Ho Chi Minh museum is a surprisingly complex work of installation art. Ho's child hood home, a simple bamboo thatch hut, floats on a lotus, showing how he managed to rise above the squalor of his surroundings. A display on colonial Vietnam shows recreations of homes belonging to the Colonial upper and lower classes; the rooms are divided by polished weapons and sharpened bamboo poles, a sign of the discord and unease that class divide created. An exhibit on the early 20th century takes visitors through a maze of mirrors, demonstrating the social and industrial upheaval taking place in the world. Giant fruit on a collapsing table illustrate the future promise of Vietnam's youth... ok, well that one I didn't get. While I can't say if Ho Chi Minh's Mausoleum is worth a visit, I can certainly recommend Ho Chi Minh's museum to anyone interested in Communist propaganda, the history of Vietnam, or installation art.
After leaving the museum via a shop selling Ho Chi Minh collector's plates, I again felt a surge of familiarity. The endless queues, the piped music and loud-speaker announcements, the stands of tacky souvenirs, the polished fountains and trimmed landscaping... it all seemed so strangely familiar. Suddenly, it hit me- I was back in Disneyland, circa 1989. Ho Chi Minh land. Everything about the gleaming white buildings and the stark grounds reminded me of Tomorrowland. Disney's Tomorrowland was such a retro vision of a future, that by my time it was less a vision of optimism than a graying relic of a future that never came to be. And a monument to Ho Chi Minh's idea of a great communist Vietnam isn't that different, really.