Our train pulled into Lao Cai in the late mornings of night, before the sun rose above the mountains. With luggage on our backs and a biting cold mist hanging around our shoulders, we climbed across platforms and stepped over train tracks, ignoring the inviting calls of touts. A minibus took us on the next leg of our journey. As we curved along mountain passes, we watched the morning light settle among quiet towns and groves of dark bamboo. We arrived at our destination under heavy cloak of fog. As they climbed out of the minivan, the other passengers bundled up against the bracing weather, but I breathed the sharp air in.
Most people visit Sapa for the hill tribe trekking; Bordeaux and I visited visited for the cold.
Living in steamy tropical Bangkok, few things seems as exotic as cold weather. So when we laid out our plans for visiting Northern Vietnam, we made sure to include this tiny hill station near the border of China. While I had known that the weather would be drastically different, I hadn't realized how profoundly that difference would resonate in the food.
Likely the most interesting sight in town is the busy market, which serves people from all over the region. All around the market, vendors sold different snacks. There were piles of vegetables, stacks of bamboo baskets, and bowls of delicately painted quail eggs. As we explored, Bordeaux and I were pursued by Hmong women, who sold beautiful patterned blankets in deep blues and electric greens. We were also called out to by seated vendors, who sold strange snacks from cover of umbrella.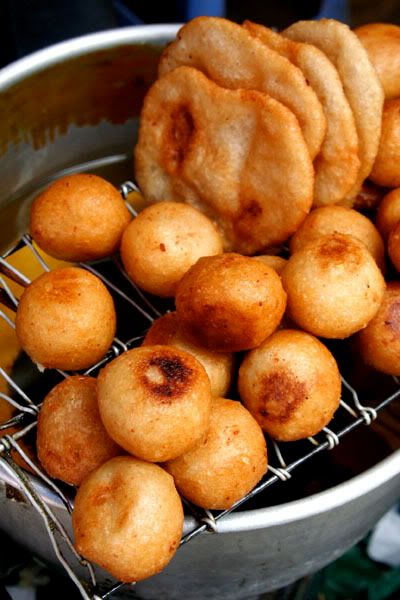 These first treat I tried was the above, which tempted me with its singed golden skin. Though they looked like round doughnuts, these were actually deep fried balls of sticky rice. The coating was tasty and crisp, with a soft rice interior that concealed a filling of pounded yellow mung beans.
Rather similar was this sticky rice treat. Rice was steamed into blocks in banana leaves, then grilled lightly in a large pan. The rice was soft, with a subtle flavor from the leaf.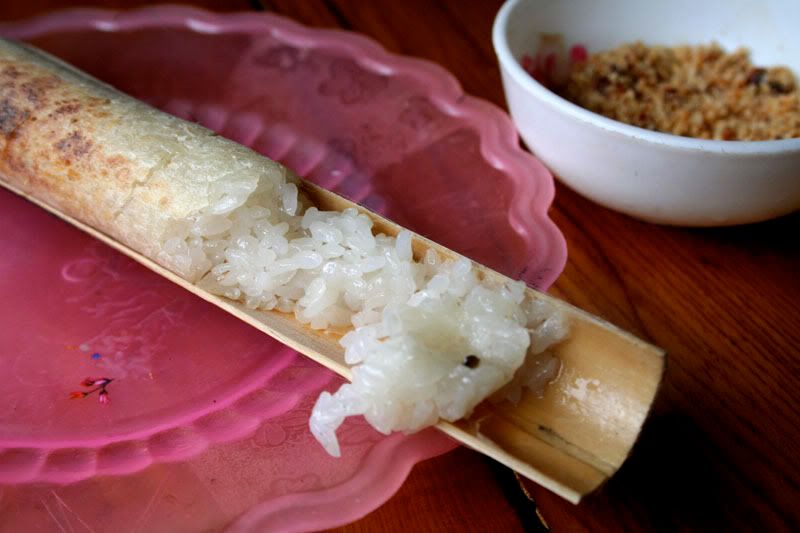 At a market restaurant, we ate a simple lunch of hot soup. Far more interesting than our meal, however, was the accompaniment: sticky rice grilled in a bamboo shell. It was served with a dish of crushed, salted peanuts. Dipped into the salty coating, it was like a Sapa candy bar.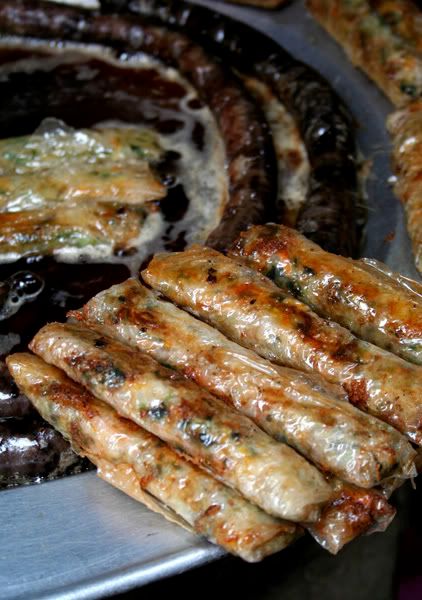 Not all of the dishes looked equally tempting. At first, I mistook this snack as a greasy sausage. It was actually an interesting take on a spring roll: a crunchy filling wrapped in silk-thin rice paper, and fried among a coiled sausage for added flavoring. It was hot and crispy, with a tasty filling of fresh vegetables. It was the most flavorful snack we ate- which really isn't saying much. The food in Sapa was tasty, but it was profoundly simple, and mostly very subtly flavored. It's a cuisine that makes sense, given the climate. Here in these cold mountains, among the starchy mild flavors of a long winter, we felt continents away from our spicy tropical home. Which, I suppose, was the point of the journey.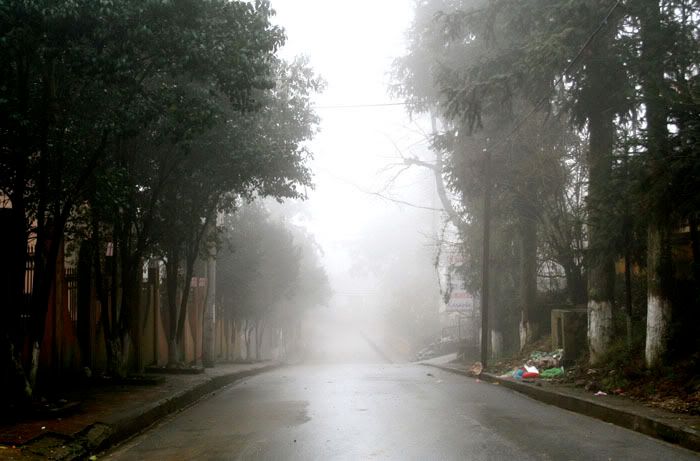 For a different account of our activities, be sure to check out Bordeaux's
entry
on Sapa at his blog,
Maritasays
.