I live in Bangkok, so I'm no stranger to street-side food and sidewalk kitchens. But even so, I was amazed by the variety of delicious food available on the streets of Hanoi. From sour
soups of bamboo and duck
, to steaming bowls of
pho
, to
baguettes filled with egg and pate
, the problem was never finding a good meal, it was choosing what to eat. On our last days in Hanoi, Bordeaux and I weren't only conflicted with how to do everything we wanted, we also struggled to figure out how to eat everything we wanted.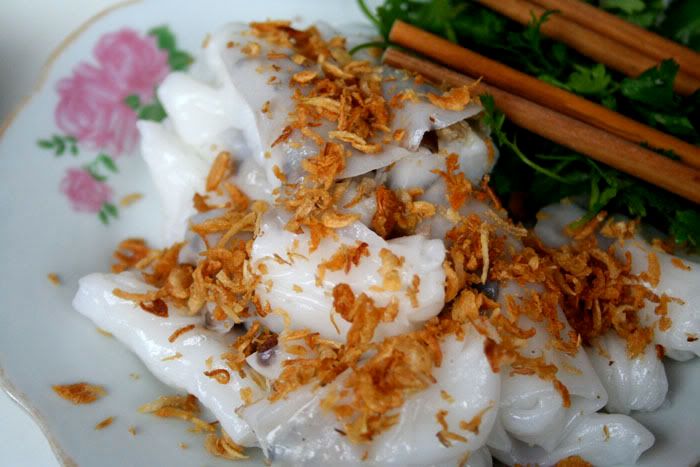 In Vietnam, the primary meal people eat on the street is breakfast. In the early hours of the day, the sidewalks are crowded with people lowered onto plastic stools, tucking into bowls of soup and glasses of strong coffee or powerful rice wine. On an early morning out, Bordeaux and I encountered a woman making
banh cuon
. She spread rice batter out on the taut surface of a steamer drum, smoothed it like a crepe, dropped in some minced pork and shallots, then gathered it all up into loose rolls. She piled these generously onto a plate, then covered the whole pile with fried garlic and shallots. The dish was so much more amazing than its parts- a crunchy, slippery and very flavorful dish to start the day with.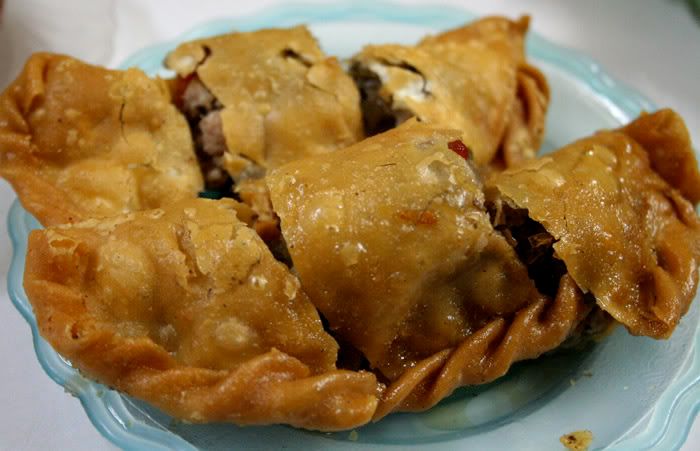 Like in Bangkok, good street food can be found almost everywhere in Hanoi. For example, though the elegant Cathedral district is known primarily for its chic espresso cafes and hip designer boutiques, it also boasts a good range of informal sidewalk kitchens. Just up from the Cathedral square, we visited a little fry-shop that featured a range of simple snacks. Though everything we ate there was good, the tastiest treat was
banh ghoi
(also: banh goi). It's a small fried pastry with a golden flaky crust that broke open to reveal delicious seasoned pork and mushrooms.
After exploring the neighborhood around West Lake, Bordeaux and I stopped for a snack on the little island of Ngu Xa. The local specialty is
pho cuon
, and though we weren't sure if we'd be able to find any, we quickly discovered that nearly every shop in the area was advertising them. It thus became not a matter of finding them, but a question of deciding which one to try. We searched out the shop that appeared the most popular, where a group of high-school age girls were busy packing up boxes of the snack for a line of to-go customers. We took a table, and one of the friendly girls brought us a plate. The smooth white wrapping was tightly packed around delicious strips of beef, which were seasoned with a sprinkling of fresh green herbs.
Spring rolls
and
salad rolls
are among the dishes most connected in people's minds with Vietnam, and we did take the chance to sample a few varieities. A tiny stand next to our hotel sold these tasty rolls, made with fresh vegetables, shredded pork skin, and of course, tons of cilantro. The shredded pork skin had an unexpected flavor and texture (salty, with a frayed surface that could almost be described as feeling "furry"), but they added an interesting element to the salad rolls.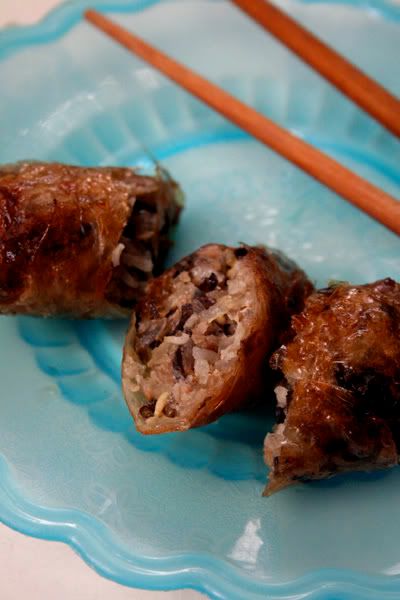 Another popular version of the spring roll is
nem cua be
, often sold at the same stands that make
bun cha
. These crunchy rolls of crab meat and glass noodles paired perfectly with the smoky pork and fish sauce soup.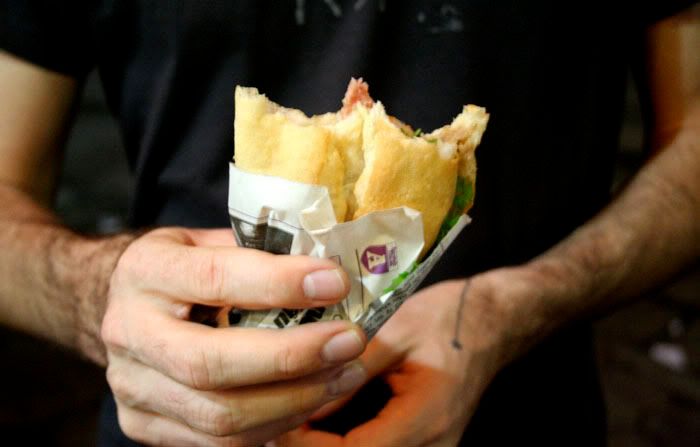 And, ok, I know I've already written about
binh my pate
twice (
here
and
here
), but few dishes can match it. On our last night in Hanoi, Bordeaux and I stopped to pick up one final baguette. Even though we'd had it several times already that week, this one somehow stood out above all the others. It was laced with a deliciously spicy chili sauce that contrasted perfectly with the salty pate and sharp cilantro leaves.
*PS- This is my 100th entry written about Southeast Asia! Rather fitting that it's about street-food, I think.