Before I conclude my coverage of Puerto Vallarta, I really should clear one thing up. I may have given the impression that all of my dining was done at sidewalk stands, or informal lunch counters. But that's not exactly the case. Now, it isn't completely untrue, either...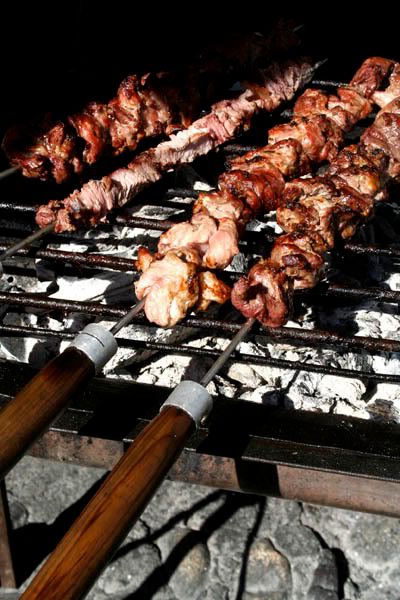 Our first lunch was, after all, picked up from a stand right on a cobblestone lane. We followed the smell of roasting carne asada, and bought a bag of tacos to take home. The grilled meat was so delicious that it needed little else added to it in the corn tortillas-- though a little onion and cilantro added a nice bite.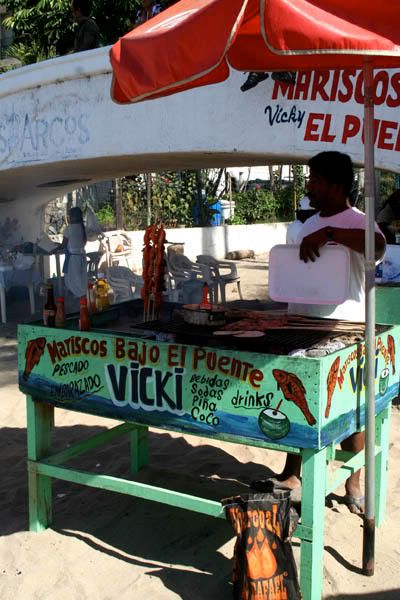 And there was the grilled fish on the beach, one of our best meals. We followed a rule learned in Thailand, to see where the local tourists go to eat, rather than the foriegn. We squeezed around a small table, and enjoyed grilled marlin, dusted with coarse salt and flavored with a squeeze from a slice of lime.
And of course the empanada, which we picked up on the way home, when we were too full from lunch, but still couldn't pass up. The flaky pastry exterior was frosted with sugar, and the milky custard inside was still warm when we divided it up at home.
But the best food we had-- by far, absolutely the best-- was at
Villa Rosa,
the house we rented for our visit. Though the place had funky kitsch decor, and a pool with a great view of the city, its best asset was Carlos, the chef. He managed to make every dish perfectly, from the lime tang of his guacamole, to shrimp simmered in coconut milk, to perfect flan, to french toast laced with orange zest and coated in cinnamon. But somehow, me writing about late breakfasts in my pajamas doesn't exactly fit with this blog...