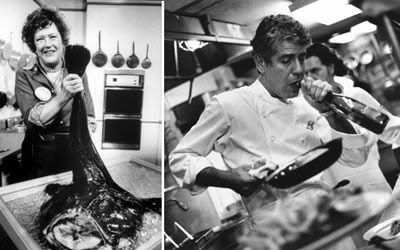 Does good food-writing have a gender?
One of my goals for 2009 is to develop my skills at writing about food; toward that end, I've been trying to read more food writing by a diverse selection of writers, chefs, and restaurant reviewers. And in early days of this process, I seem to have struck on something: I don't like male food writing.
To explain what is probably an unfair generalization, let me compare two very different works:
My Life in France
by Julia Child, and
A Cook's Tour
by Anthony Bourdain.
I completed
My Life in France
last week, and though the book was almost entirely set in France (a country that doesn't particularly interest me much), and while the stories are all about French food (which I'm not crazy about), I enjoyed the book. I started
A Cook's Tour
two days ago, and though the book is set in many countries around the world (several of which really interest me), and it covers both Vietnamese and Cambodian cuisine (both of which I strongly enjoy), I'm having trouble pushing myself to get past the third chapter. The difference, I think, is in their attitudes toward food.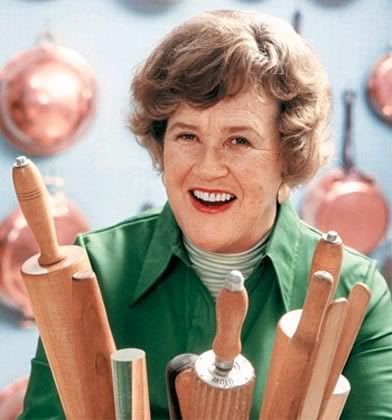 In
My Life in France
, Julia describes how she developed a deep love and passion for the culture and cuisine of Franceover a decade living in Paris and Marseille. Food plays a prominent role in every chapter, as her husband introduces her to the flavors of France, as she comes to know Paris through its bistros and food artisans, and as she cooks staggering meals in her awkward kitchen. She is always eating, but it's not just about the food; it is a means of connecting to others, and of experiencing the world.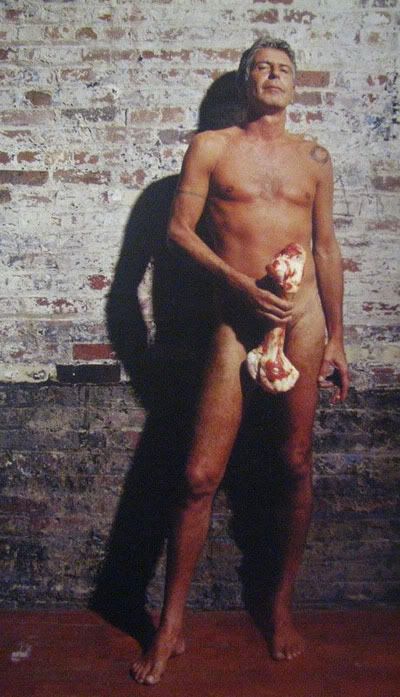 In
A Cook's Tour,
Anthony sets out around the world in search of 'the perfect meal.' I'd been curious to read it for a long time, but it didn't take me long to lose any interest. When, in the introduction, he attempts to evoke the experience of good food by comparing it to 'Your first taste of champagne on a woman's lips' and 'a few beads of caviar, licked off a nipple', I went beyond getting the heebie-jeebies to just being put off the book entirely. I don't think it's just this hetero-normative moment that turned me off though-- it's his writing style, his voice that annoys me. In the first chapter, he witnesses a pig being slaughtered for his consumption; it's a 'challenge' for him, but one he gets past. Things get much worse in the third chapter, in which he arrives in Vietnam. He stumbles around a Saigon market, alternating gorging himself on local foods, and casting an oggling glance at some local schoolgirls. Aside from just kind of thinking of him as kind of a creep (I picked the above photo selectively), I don't like the way he establishes his relationship with food. Food seems either an object of lust to be conquered, or a challenge that he is determined to master. Really, I'm sure he has a very healthy appreciation of food, and he's likely an incredible cook (this isn't something personal about Anthony Bourdain-- if I was going to get personal, I'd suggest the photos of him in the book make him a perfect candidate for
this website
)-- but I find his style of writing about food fairly repulsive.
What I came down to feeling was this: Julia's relationship with food is one of appreciation; Anthony's relationship with food comes across as one of domination.
Ok, now here's where my comparison might become a generalization. This seems to be a difference in male and female voices in food writing. With the exception of a few male-authored food and travel blogs that I enjoy (and hey, I don't think
I'm
so bad), I almost exclusively read blogs written by women. I got really sick of a few food blogs written by men where every entry seemed to be 'I have found the BEST version of this dish in the world'-- always seeming like there was something to prove, like eating was always some sort of challenge. With definite exceptions, the food blogs by women that I enjoy are much more about the experience of food-- evoking the setting, the flavors, and the people who make the meal important. Writing about eating is less about challenging others, and more about sharing with others.
As examples, here's an incredible piece about
marshmallows
by Molly Wizenberg for Bon Apetit-- it gives background on the treat, poetically describes the sensation of eating, while simultaneously evoking the human side of cooking-- and this articles on
sup cua
by Robyn of Eating Asia -- it not only makes you feel like you can practically taste the fresh cilantro garnishing the soup, but it gives a lucid picture of the setting in which it was enjoyed.
Anyway, I'm not done reading A Cook's Tour-- maybe I'll be turned around by the last chapter. In the meantime, do you have any favorite food writers? Any male writers to restore faith in my gender?