Opinions in eating.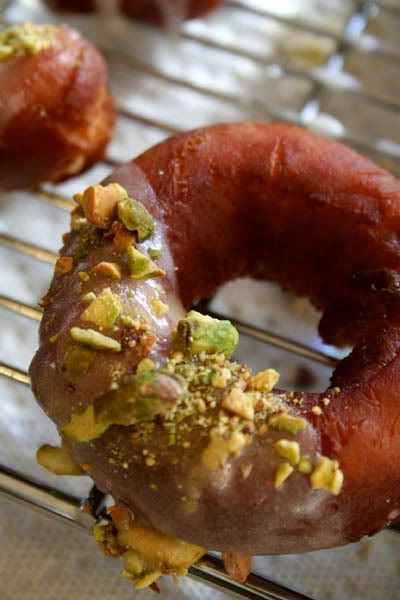 Are donuts the new cupcake?
The above is a picture of a lemon-pistachio donut I made over the weekend, trying to follow a recipe from San Francisco based
Dynamo Donuts
in the Dec/Jan issue of
Readymade Magazine
(the recipe isn't online). It is, unfortunately, the only donut pretty enough to photograph, as the project was a bit of a flop-- they didn't rise correctly, I had the wrong size of circle-cutter, I burnt a few of them in the oil. Oof. They still tasted good, for the most part-- although a little too lemony for me.
The rise of the donut might be the result of a few trends colliding-- the wane of the cupcake, the recession calling for a treat with less frills, and 'breakfast' being the restaurant trend of the year (according to
Bon Appetit
, anyway). I certainly like the American-ness of the treat, though I have to admit, most donuts aren't very good-- way too sugary, no flavor. But the same is true of most cupcakes, unless they're well made. I imagine a well made donut with creative flavors could actually be pretty good. Can anyone recommend a good donut place?
On the subject of breakfast, be sure to check out my boyfriend's
blog
this week, as he attempts a new breakfast for every day of the week. I just completed Day 1, a stack of
buttermilk pancakes with berry syrup
. Yum.