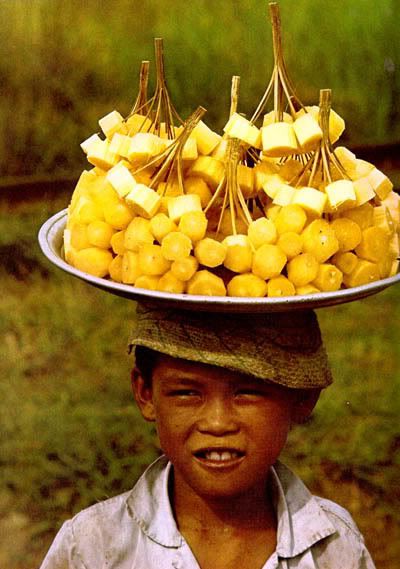 Even though we've left Asia, we thankfully haven't left the food behind. Just after we got back to the US, we attended a Thai cooking demonstration at an
Asian grocery store
in Albuquerque. We've had good luck with local Vietnamese restaurants (though not Thai), and we've been experimenting in the kitchen, on meals like
kaeng massman
, green mango salad with crispy catfish, and
canh chua
. We even started the year by making a New Year's Eve feast of Cambodian catfish sandwiches, banana flower salad, and grilled beef salad rolls (the vodka fizzes Bordeaux mixed to drink and the glazed bananas and cinnamon ice cream my sister served for dessert weren't strictly Asian, but paired nicely). The past year and a half were spent mainly trying new dishes and experimenting with unfamiliar flavors; this next year will hopefully be about making some of those flavors our own.
On the side, we've been pursuing some other food interests. I've been doing a lot more food-reading, and have been studying a diverse selection of cookbooks (including the Time Life volume on Southeast Asia, from which the above photograph was lifted). I've been enjoying breakfast, from simple bowls of muesli and fresh berries to decadent almond french toast. We've also been experimenting in baking: last weekend was a two-layer cinnamon and chile cake, this weekend will be homemade donuts.
What are you enjoying eating lately?