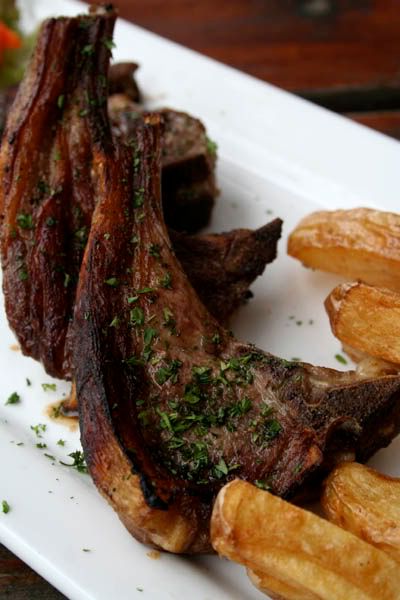 Despite the reputation small towns have for turning in early, we found ourselves among the first tables seated for dinner at Jessica's. We glanced at the menu, though really, we'd both decided what we would have when we had scoped out the restaurant earlier that afternoon. We were each presented with a white plate topped with three slim cuts of steak. It was the first meal of our trip, so we had both chosen the sample of local specialty meats, dubbed the 'Karoo Trio'. There was fillet of ostrich, served in a lime sauce; springbok loin with a sour cranberry compote; and Karoo lamb, presented simply in a light dressing of rosemary and red wine.
We took the meal slowly, enjoying rich mouthfuls of the trio between bites of roasted root vegetables and sips of a local shiraz. Everything was fantastic, yet as the meal wound down I noticed that we'd both saved a little of the lamb to savour last. It had been prepared beautifully, a thin layer of crisp fat on top contrasting with the meltingly rare meat underneath. The lamb truly stood out, however, in its flavour. For though the springbok was rich and delicious, it was almost indistinguishable from other game meats. The ostrich, similarly, could have passed for beef. The lamb, however, was distinct and recognizable for exactly what it was in each mouthful.
Walking back to our guesthouse, we observed the town of Montagu asleep. In the dark we could make out the town's low skyline of Victorian houses, the steeple of the church punctuating it right in the middle. Montague is a humble dorp, and a good introduction into the charms of Karoo life. It was the first night of our honeymoon in the Karoo, the vast semi-desert that sprawls across much of South Africa's interior. We had come for the desolate and romantic desert landscapes, and to relax in among the region's small towns. But on a more material level, our route had been planned by out taste buds. We had come for the lamb.
My husband Bordeaux and I are well paired in that we both love to travel, and in that we both think that tracking down a delicious meal is a perfectly acceptable excuse for doing so. We had come back to South Africa at the beginning of the year to get married; getting to know more about South Africa's cuisine was a bonus. And in the process of learning about that cuisine, I had come to develop a love for lamb.
I really didn't care for lamb when I was growing up, mostly, I suppose, because I don't come from a culture that really eats it. The meat counters at the American grocery stores of my youth were divided up between beef, pork and chicken; in the same way in which whole turkeys suddenly made an appearance just before Thanksgiving, lamb was only given deli space around Easter. And even when served it irregularly at holidays, I had little appetite for its strange and unfamiliar flavour.
Thankfully, by time I married into a lamb eating culture, a lot had changed in my sense of taste. Along with a growing distrust in the lack of flavour in factory-produced meat, I had come to really enjoy the taste of lamb because, well, it actually tastes like lamb. There's something wholesome and natural to it that seems to hark back to an era of farmhouse dinners and Sunday roasts, a subtle note of nourishing nostalgia in every bite. Karoo lamb is especially delicious; it seems to me to have a faint whiff of the dry spiced desert where the animals grazed.
Out of this newfound devotion, Karoo lamb had made its way to the centre of our wedding feast. A few days before the wedding we visited the town of Prince Albert, where we picked up two legs of lamb from a local butcher. Bordeaux's father roasted them with sprigs of fresh rosemary and cloves of garlic, and as guests arrived they were greeted by its warm, welcoming scent. So when we planned a quick midweek honeymoon near our home in Cape Town, it seemed the perfect idea to centre the trip around following the lamb back to its natural habitat, and enjoying it at home in the Karoo.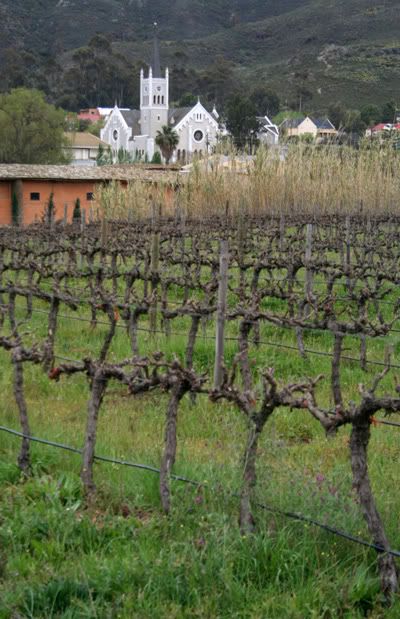 After leaving Montague we drove to Barrydale. We drove in under a sudden cloudburst, the town's scent of wood fire and lavender mixing with the smell of the baked earth receiving the rain.
After checking into the local hotel, we headed for lunch at Clarke's. The menu at this local institution is a selection of regional favourites, headlined by a lamb curry that Clarke himself tells his customers is the best thing he serves. But I was after something less complex, so I selected the lamb cutlets. They arrived as three neat packages of lamb practically caramelized by the grill, the meat hemmed in between bone and a thick ribbon of fat. The lamb was served with a vinaigrette made with fresh mint leaves, so different from the candied mint jelly of my childhood that I doubt they would recognize one another as distant relations. Splashed over the cutlets, it added a cool Mediterranean breeze to their grilled smokiness.
We sat that afternoon on our balcony, sipping a bottle of a regional red wine as the day slipped away. As dusk broke the hills around town blushed a pale shade of rose for one brilliant moment, then slipped into purple shadow. The sudden silencing of the sunset gave way to the rhythm of crickets, and the faint song of television sets blaring in distant living rooms.
After finishing the last sips of our wine, we headed to dinner up the hill at Jam Tarts. Amid the glow of a blazing wood fire pizza oven we enjoyed thick lamb burgers, the flavour of the meat melding with exotic spices of nutmeg and cinnamon. They were accompanied by florets of home-grown broccoli that had been prepared so simply that all you could taste was fresh and green. As we savoured the dinner, I felt almost positive that all of the meals on our honeymoon would be perfect.
Unfortunately, they couldn't be. Perhaps our mistake was in leaving the rustic, wholesome flavours of the Karoo? From Barrydale we drove through the Tradouws Pass, a winding canyon road brimming with golden flowering fynbos that took us out into the Overberg. Even someone without any knowledge of South African geography could guess that we had left the Karoo behind; the rugged wilderness of the desert had been replaced with an open sea of manicured fields. Green waves of wheat alternated with golden waves of canola, their placid surface rippled as wind rolled through their stalks. But even though we had left the Karoo, we spotted flocks of fluffy white sheep, a comforting sign that we were still in lamb country.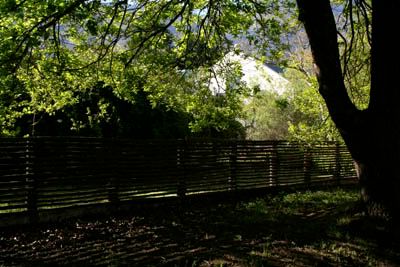 We spent that night in Greyton, a misplaced English hamlet set in a grove of similarly misplaced Bluegum trees. Though its quiet streets follow the same church-centred layout as Montague or Barrydale, the atmosphere in town felt oceans apart. Brilliantly green knee-high grass chokes the empty spaces between houses, a lush contrast to the dorps of the Karoo.
When evening arrived, we discovered that there was only one place in town open for dinner. Greyton is supposed to have some fantastic restaurants; this, unfortunately, was not one of them. We stopped by, checked out the menu, and then circled town hoping something else might still be open. No luck. So we headed back, took a table, and hoped the restaurant would defy our low expectations. We both opted for the lamb, which seemed the safest bet. Our plates were set before us. The potatoes had been reshaped into floury wedges as tasty as paper napkins. The vegetables had been boiled soft, and then in case they still looked too much like something that might have once come from the earth, covered in a gooey cheese sauce. We focused in on the meat. Mid-bite we paused, and looked to each other for confirmation. It was delicious. Beneath the smoky flavour of the grill was soft rare meat full of rich lamb flavour. It was natural and wholesome, the slight hint of wildness tempered by something nurturing and warm. It was a flavour as comforting as being welcomed back home. Or in my case, being welcomed to my new home.