On Sunday we woke to the sound of a steady rain drenching Cape Town. Thankfully, we'd had a busy Saturday, so it gave us the perfect excuse to spend a lazy Sunday at home. But we did need to buy some groceries (and to rent a DVD), so we had to make one excursion out. Outside, the air was oddly warm, yet not muggy. And everything looked beautiful slicked with rain, as if everything was just a little more lush and green.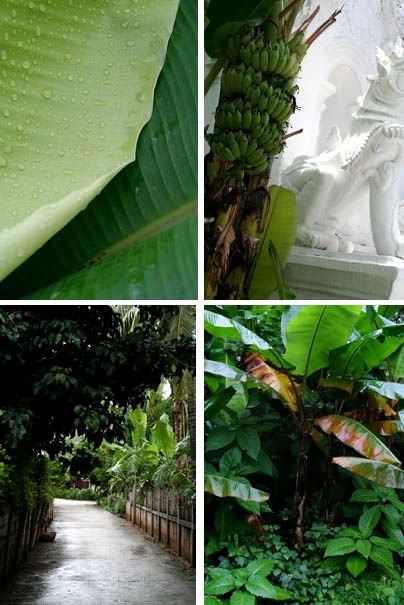 This might seems a bit of a stretch, but somehow that feeling really reminded us of being back in Southeast Asia. Particularly, of being in Northern Thailand. In 2007, Bordeaux and I took a
motorbike trip
through the mountainous region of Northern Thailand, from Chiang Mai to the city of Mae Hong Son, and back. The trip was not without its share of missteps: we ran out of gas in a tiny village without a gas station (thankfully it was in a village), we ended up sleeping in towns where we had very little luck finding dinner, and shared rooms with giant spiders and terrifying cockroaches. And most notably, our trip took place during the rainy season, so we ended up soaked for most of the journey in torrential rainfall. We would get to a hotel, and the first thing we would do would be to unpack our bags to try and dry everything out. But despite our soggy luggage, it was an incredible experience. We found some fantastic meals, explored a bit of Thailand, and spent most of our time in awe of the unbelievable scenery of rain soaked cloud-forest, verdant rice paddies, and staggering mountain passes.
We spent our recent rainy weather rather differently-- returned home, had comfort food for lunch, baked giant cookies, watched a bad TV series over coffee, and a Japanese horror movie over dinner. Which rainy-weather activities I preferred, I really can't say. As much as I love what travel can bring, I also appreciate the value in a day spent happy and comfortable at home. I guess, for me, a balanced life needs to have a mix of both?