I am obviously not the first person to develop a fascination with
capturing views
of Cape Town's neighborly mountains. On Monday we took a visit to the Castle of Good Hope, a fort built by the Dutch East India Company in the early days of settling the Cape, where we found a fantastic collection of early paintings of Table Mountain. I love images created in the early days of exploration-- they're always such an interesting mix of science and fantasy. Comparing them gave a real sense not only of the history of the Cape, but of changes in how artists depicted the natural world. Here are a few of my favourites. (I've included a recent photograph of the mountain at the bottom, labeled for convenience. You may have to click to make it larger, unless you have super sharp eyes).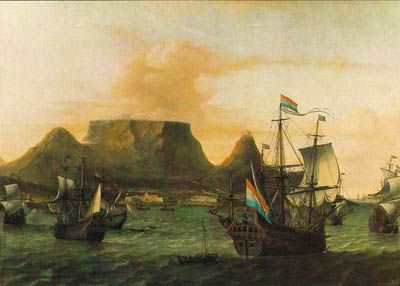 This rather early one was done by Aernout Smit, in 1683. It is a little odd for me to picture Table Bay swarming with galleons (they would later be replaced by whaling ships, later on by massive tankers of international trade). Though Lion's Head is looking a little bulbous, on the whole the city is depicted rather well. If you look closely, you can see how little of the city was developed-- just a few forts and buildings near the shoreline.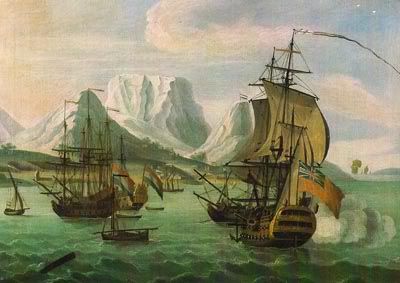 This one was painted about 50 years later, in 1730, by Samuel Scott, who I suspect may never have visited Cape Town. Not only is Lion Head here transformed into a steep pinnacle, and Devil's Peak is given a sloping hillside that fills up the whole of the city bowl, but the whole mountain is for some reason carved of a blue-white stone. It almost looks like some sort of antarctic glacier. A Table Mountain ice sculpture? Looking at this painting, one can really get a sense of what a strange and fantastical place the Cape must have seemed to people in Europe-- a settlement on a distant corner of Africa, in the far Southern reaches of the known world.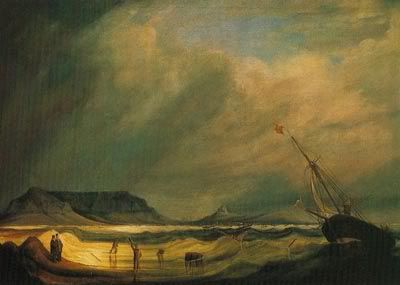 This painting by William Syme, done in 1850, uses light and shadow quite evocatively. The scale of the humans are miniscule, just a fleck of paint compared to the churning sea, the distant afloof mountains, and the broken, cloudy sky.
While I like the moodiness of Syme's painting, this view, painted by Thomas William Bowler in 1857, might be my favourite. I love how well he used simple, flat shapes to depict the different peaks of Table Mountain. Lion's head is particularly effective as just a dark shadow.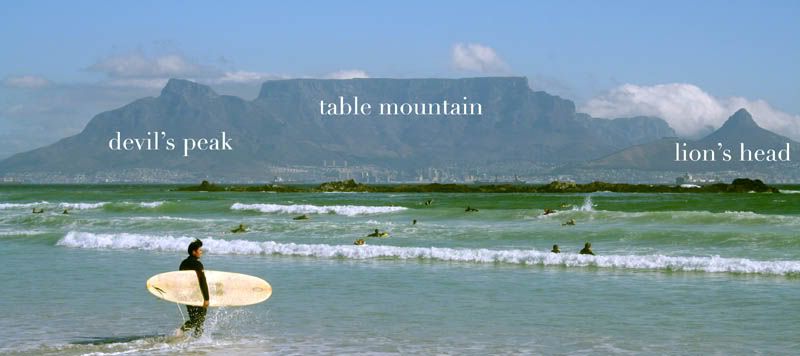 And here's my own view, photographed in 2006. A little less glamorous without all the wooden ships? If you click on the photo to make it bigger, and look very very closely to the right of Devil's Peak, you'll even see the three towers of
Disa Park
-- which look no less alluring to me from this angle.